News > Nation/World
1984 Alito memo supports warrantless wiretaps
Sat., Dec. 24, 2005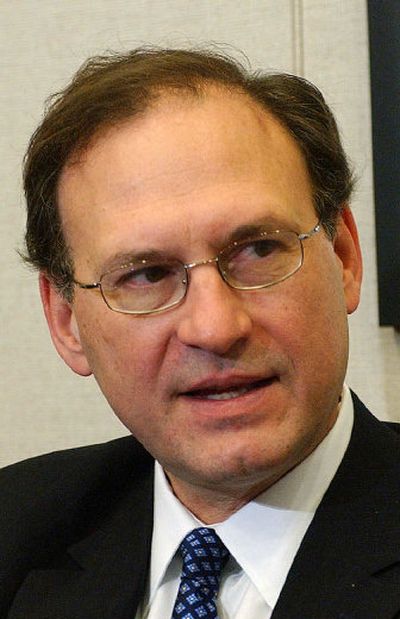 WASHINGTON – As a Reagan administration lawyer, Supreme Court nominee Samuel Alito argued that federal officials can't be sued for damages for wiretapping Americans without warrants in national security cases, a document released Friday showed.
Alito's position may complicate his prospects for confirmation because its disclosure comes amid an uproar over a four-year-old Bush administration counterterrorism operation that's been eavesdropping on Americans without court approval.
President Bush's argument that he has the legal and constitutional authority to direct the National Security Agency to conduct the secret domestic surveillance operation is almost certain to end up before the Supreme Court.
The operation, intended to track al-Qaida members and their allies in the United States, has provoked questions about its legality among Democrats and some Republicans, including Sen. Arlen Specter of Pennsylvania, the chairman of the Senate Judiciary Committee.
The judiciary committee is to begin Alito's confirmation hearings on Jan. 9.
Specter was traveling abroad Friday and couldn't be reached for comment on the June 12, 1984, memo that Alito wrote when he worked in the solicitor general's office at the Justice Department during the Reagan administration.
Specter has said he'll question Alito about his views on Bush's power to authorize the warrantless domestic eavesdropping operation.
The Pennsylvania Republican also promised to hold hearings on the eavesdropping operation, declaring on CNN on Dec. 19, "There are limits as to what the president can do."
Alito's memo was one of more than 40 documents totaling nearly 750 pages that the National Archives released Friday. The release was in conjunction with the nomination of the Philadelphia appeals court judge to replace Sandra Day O'Connor on the nation's highest court.
The memo dealt with a decision on whether the Reagan administration should argue before the Supreme Court that the attorney general enjoyed total protection from damage suits by Americans who are wiretapped without court warrants in national security cases.
"I do not question that the attorney general should have this immunity," Alito wrote. "But for tactical reasons I would not raise the issue here."
"There is a need to choose our cases in this area with particular care," he wrote. "In my judgment, this is not the case."
At issue was whether John Mitchell, while attorney general to former President Richard Nixon, could be sued for damages for ordering a wiretap without a warrant after the FBI received a tip that radicals planned to bomb tunnels linking federal buildings in Washington and to kidnap then-national security adviser Henry Kissinger.
Alito urged the government to defend Mitchell on grounds other than the blanket immunity argument.
He pointed out that then-Chief Justice William H. Rehnquist, whom he apparently considered a potential vote in favor of the blanket immunity argument, wouldn't participate in the case because he'd served at the Justice Department under Nixon.
"In addition, our chances of persuading the court to accept an absolute immunity argument would probably be improved in a case involving a less controversial official and a less controversial era," Alito wrote.
He apparently was referring to Mitchell's role in the Watergate scandal.
Alito's bosses overrode his reservations, and the Supreme Court found in 1985 that senior government officials, including the attorney general, could be sued for damages for ordering warrantless wiretaps because the surveillance violated the Fourth Amendment right to protection against unreasonable searches and seizures.
However, it held that Mitchell had limited protection against a damage suit because there was no law barring warrantless surveillance on Americans when he ordered the wiretap in 1970. The Congress passed such a law, the Foreign Intelligence Surveillance Act, in 1987.
The White House, already concerned about Alito's prospects for confirmation, accused Democrats of playing politics with the memo by trying to link it to the NSA domestic monitoring operation.
"The two have nothing to do with each other," said a White House statement. "Judge Alito's memo regarding a purely domestic threat is completely different from NSA's efforts to thwart threats from foreign terrorist organizations."
Local journalism is essential.
Give directly to The Spokesman-Review's Northwest Passages community forums series -- which helps to offset the costs of several reporter and editor positions at the newspaper -- by using the easy options below. Gifts processed in this system are not tax deductible, but are predominately used to help meet the local financial requirements needed to receive national matching-grant funds.
Subscribe now to get breaking news alerts in your email inbox
Get breaking news delivered to your inbox as it happens.
---