News > Spokane
Lawyer Kathleen Taft dies
Sat., Dec. 24, 2005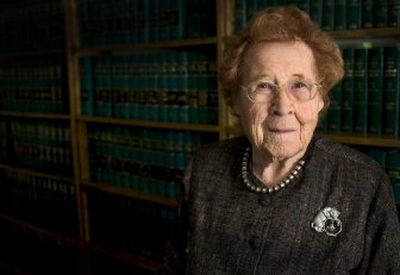 Pioneering Spokane attorney Kathleen Taft had a lifelong goal of traveling to all of the world's seven continents. She had already purchased tickets to travel to Antarctica next month.
But her nearly century-long journey ended Friday morning, when one of the oldest practicing attorneys in the country died at Deaconess Medical Center. She was 98.
"I think she really lived on her terms and died on her terms," said Superior Court Judge Tari Eitzen, a longtime friend whose husband Tim Mackin was a law partner of the woman everyone called "Mrs. Taft."
"She was incredibly generous and very straightforward," Eitzen said. "It really hasn't hit me because she has been a part of our lives for so long."
Superior Court Judge Neal Rielly, a former law partner, spent time with Taft and her family at the hospital after she suffered a stroke Sunday. She could no longer speak but recognized all of her loved ones, he said.
"I'm deeply saddened by it because I love her very much," said Rielly, who went to work for Taft as a law clerk in 1973. "She's meant everything to me in my life. But by the same token, I am so happy she has passed on to a better place. I know of no man or woman who lived a life better."
Taft was born Kathleen Mitchell in 1907 in what is now Grant County, one of four children of homesteader parents. As a child, she helped tend the animals and take care of the farm.
"We shucked hay," she said in an interview earlier this year. "We milked cows. It was good for us."
She graduated from high school in Ephrata, Wash., before attending what is now Western Washington University in Bellingham. She earned a teaching certificate and spent her winters in front of a classroom to pay her way through law school in the summers.
She earned her law degree from the University of Washington in 1935.
"I would've graduated sooner but I had to work," she said in the earlier interview.
In October 1938, three months after their first blind date, Taft married Willard "Duke" Taft.
After World War II began, Kathleen Taft landed a job with the Office of Price Administration, which controlled rationing and helped prevent inflation during wartime.
When the war ended, Taft briefly worked for another law firm before launching her own. Meanwhile, Willard Taft – a Republican – was elected Spokane mayor from 1955-1958 after several years in the state Legislature.
Kathleen Taft, who never met a Democratic cause she wasn't willing to support in some way, did not talk politics much with her husband, she said in the previous interview.
"I respected his position and kept my big mouth shut until after he was gone. Then I came out of my shell," she said.
Willard Taft died of prostate cancer in 1971. The couple had no children.
Two years later, a penniless Neal Rielly – who had one year of law school under his belt – told his wife he was going to go get a job. He put together a poorly worded resume, slipped into his only sport coat and headed downtown. On his way, he saw Taft's office.
"I thought I would do a practice spiel. I walked in and there was a secretary and an older lady sitting in a chair," Rielly said. "Before the secretary could say much, the older lady said, 'Why don't you come in Saturday.' "
Rielly turned around and deftly realized that this older lady must be Taft. "I asked, 'Don't you want to see my resume?' She said, 'No. Just come in on Saturday.' "
Rielly called his wife elated that he had found a job. He then realized he didn't know which days he would be working or for how much money.
"Just walking into that office changed my life," Rielly said. "That woman was the most incredible person I've ever met."
Rielly and Tim Mackin, Eitzen's husband, later joined Taft – who was already in her 70s – as law partners.
The practice prospered and Taft never slowed down. Then one day when she was in her 80s, she told her partners, whom she referred to as "the boys," that she had a big announcement and instructed them to call a staff meeting, Rielly said.
"Tim and I said, 'Finally, it's here. She's going to retire,' " Rielly said.
Taft came to the meeting and said, "Boys, I'm sorry I haven't consulted with you, but I have just made up my mind. I am no longer going to work on Sunday mornings."
"We couldn't believe it," Rielly said. "Tim said, 'I don't think that's fair that you would make a decision like that without consulting us.' Oh God, we laughed about that."
Along the way, Taft's clients became family. She would always find five minutes out of a busy day to talk with them. Many of the former clients would bring her baked goods or gifts, Rielly said.
"She taught me more about life and people and how to treat people," said Rielly, who was appointed to the bench in 1989. "I knew I could probably make more money different places, but I couldn't leave this woman. She espouses all the properties that I believe in. When you had her as an attorney, you had a bulldog."
Taft earned more respect from her colleagues as her career became legendary.
"A few lawyers, at least when I practiced there, called her Kitty. The next generation called her Kate. Then the next generation called her Kathleen," Rielly said. "My generation called her Mrs. Taft. You saw that respect. I just couldn't call her anything else."
One of Taft's employees, Joan Stueve, started working for Taft as a secretary when she was 18. Stueve retired three years ago after nearly 50 years at the firm and having had Taft outlast her, Eitzen said.
Former Washington Supreme Court Chief Justice Richard Guy worked for Taft as a clerk in the morning and a secretary in the afternoon when she was working as a court commissioner, Eitzen said.
"I never, ever, ever in all the years I knew her, heard her complain about anything as to herself," Eitzen said.
Aside from her practice, Taft's personal goal was to visit every continent. Even after she turned 80, she traveled on two African safaris, visited Russia and boated to Komodo Island to see real Komodo dragons for herself.
Antarctica remained her last conquest.
"Until maybe a week ago, she was still determined that she was going on that trip," Eitzen said. "We were all a little concerned, but nobody was going to tell her she couldn't go."
Rielly said he, too, hoped Mrs. Taft would make it.
"I questioned whether she would come back, but that was OK with me," he said. "She spent her life devoted to other people. I thought if that was her dream, she earned it."
Local journalism is essential.
Give directly to The Spokesman-Review's Northwest Passages community forums series -- which helps to offset the costs of several reporter and editor positions at the newspaper -- by using the easy options below. Gifts processed in this system are not tax deductible, but are predominately used to help meet the local financial requirements needed to receive national matching-grant funds.
Subscribe now to get breaking news alerts in your email inbox
Get breaking news delivered to your inbox as it happens.
---