News > Features
Solo RVer discovers peace on open road
Sat., Dec. 24, 2005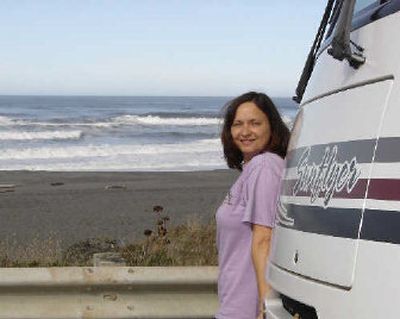 It's Christmas Eve and Malia Lane is alone – but she's not complaining or feeling sorry for herself.
"There is a big difference between loneliness and solitude," said the solo RVer during a telephone conversation from her temporary resting spot in Yuma, Ariz.
"Solitude is completely distinct from loneliness," she said. "Some of the times when I am unaccompanied are the times I feel the most connected to everyone and everything around me. On the other hand, I have felt lonely in a room full of people."
Lane has been living full time in her 2000 36-foot Class A Itasca Sunflyer since the spring of 2001.
"I turned 50 in April and took off from Austin, Texas, in June," she recalled.
Her dream was to stay three to six months at a time in places she wanted to explore. To finance her dream, Lane planned to work temporary jobs as a paralegal.
Portland, Maine, was her first destination.
"I made up a business card with a picture of myself and my motor home," she said. "I wrote a short cover letter as to what I was doing, saying I needed temporary work to support my 'travel habit.' I attached my resume and letters of reference. I then dropped them off at about six law offices in the downtown historic district."
The next day Lane did follow-up calls and got her first job, and stayed until October. She then followed the leaves changing south to Charleston, S.C., where she repeated the process of obtaining temporary work.
After Charleston, she's traveled to Florida and then Seattle before staying almost a year in Portland, Ore. "I fell in love with the place," she said. "If I had to quit traveling, I'd settle down there. The Columbia River Gorge is gorgeous."
But she didn't quit traveling.
She headed north toward Alaska and then back to Washington state, where she spent last summer working.
"When I first started thinking about this lifestyle I thought I wanted to be on the road more," she said, "but if you are working temporary full-time jobs like I do, there is little time to explore except on the weekends, so you have to stay for a while to see things."
Lane's mother joined her in September for a trip down the West Coast to San Diego and then over into Yuma before flying home in November. Next month Lane will be giving a talk to an Escapee RV group at the huge RV gathering in Quartzite, Ariz., before heading back to Austin to visit family and work until spring.
"My dad always dreamed of traveling," she said. "He died before he could do it. I am determined that being alone is not going to stop me from living my dreams."
Safety concerns
In addition to loneliness on the road, safety is a top concern for single women RVers, according to Jaimie Hall, co-author with Alice Zyetz, of the e-book "The Woman's Guide to Solo RVing."
"Safety is No. 1 for both men and women," said Hall by telephone from her home base in Arizona.
"There is a risk to everything," she said, "but if you take precautions, go by your gut and use common sense, you can avoid most bad situations."
The best defense RVers have against any sort of threat is the ability to drive away.
Sharlene Minshall, author of six RV-related books and a 20-year solo RVer, said she always keeps her motor home's keys in the ignition ready for a quick getaway. Lane keeps her RV slides in when she's boondocking along the side of the road, "so that I'm ready to go at the drop of a hat."
Other safety hints
• Don't advertise that you are a woman alone. Keep curtains drawn at night. Some women place a pair of well-used men's boots outside the front door.
• Have a fully charged cell phone handy at all times.
• Be totally aware of where you are and able to give emergency personnel clear directions on how to find you.
"One night after a long day of driving," said Lane, "I remember thinking I didn't know exactly where I was and if I had a medical emergency I wouldn't know how to tell someone to get here."
After that, she started writing concise directions (such as: "I'm off Exit 32, on I-5 at the Flying J") on a note pad she keeps on her nightstand next to her cell phone. "That way I can just read that to them," she said.
For more information
•Follow Malia Lane's travels through her online journal on www.maliasRV.com. She has a new site, www.MaliasMiles.com, as an "information service for RVers by a full-time RVer."
•Read more about books by Jaimie Hall and Alice Zyetz at www.RVHometown.com or write to Pine Country Publishing, 127 Rainbow Drive, # 2780, Livingston, TX 77399-1027; or call (928) 607-3l81.
•Sharlene Minshall's books, all published by Gypsy Press, include: "RVing Adventures with the Silver Gypsy" ($14.95), "RVing Alaska and Canada" ($16.95), "Adventures with the Silver Gypsy" ($14.95), "Full-Time RVing: How to Make it Happen" ($14.95), "In Pursuit of a Dream" ($8) and "Freedom Unlimited, The Fun and Facts of Full-timing" ($9).
Local journalism is essential.
Give directly to The Spokesman-Review's Northwest Passages community forums series -- which helps to offset the costs of several reporter and editor positions at the newspaper -- by using the easy options below. Gifts processed in this system are not tax deductible, but are predominately used to help meet the local financial requirements needed to receive national matching-grant funds.
Subscribe now to get breaking news alerts in your email inbox
Get breaking news delivered to your inbox as it happens.
---