News > Features
Spreading his wings
Sat., Dec. 24, 2005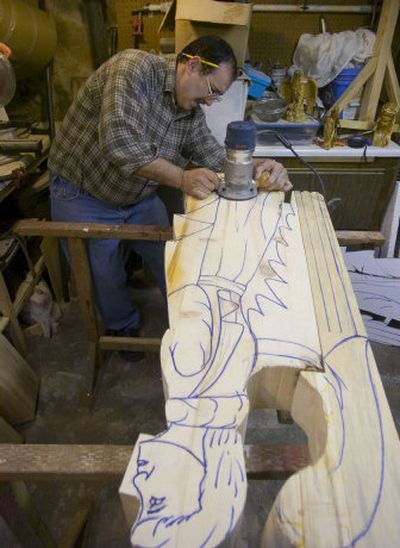 Now the man from Bethlehem carves angels in his basement. Bassam al Hayek, a Christian Palestinian artist we profiled in the IN Life section last May, grins broadly as he shows a pair of visitors into his basement studio on Spokane's North Side. There, propped in pieces around the room, their wings askew, lie the wooden angels he's crafting for a church bell tower on Spokane's South Hill.
Since May, al Hayek's life has slowly improved. The victim of oppression in his homeland, al Hayek moved to Spokane to find healing, peace and a new life. Slowly he brought most of his family with him, and just last month, his son Jimmy, named for President Jimmy Carter, arrived in Spokane to see his first snowfall.
Jimmy al Hayek, a handsome young man with dark brown eyes, wears the scars of bullets on his forehead. He was shot in 2000 at an Israeli checkpoint.
"You can't imagine our life there," his father says. "It's very hard."
Graduate students at Whitworth College created a business plan for al Hayek and entered it in a competition at Gonzaga University. Last spring they won second place.
Al Hayek's share of the winnings, about $1,000, have gone to buy new wood-working tools for his basement studio.
He no longer works at Honeywell – his temporary job there has ended – but now he's building laptop computers for Itron. He usually starts work at 5 a.m., which leaves part of his afternoons free for his art.
He can't get the distinctive olivewood of the Holy Land here. He's carving his angels from cherry instead.
They're four matching two-dimensional figures, each about 4 feet tall, with large wings. They'll replace the originals – now long gone – from a bell tower being restored at St. Mark's Lutheran Church at 24th and Grand.
Since the IN Life story appeared, other churches also have called to inquire about his art. For one South Hill church, he plans to build a huge "stable" out of plastic foam, a cave-like structure for Christmas pageants.
Al Hayek has designed two pieces of art for Whitworth College, and he says committees there are evaluating his ideas. He's displayed his olivewood carvings and his watercolor and ink paintings at local galleries. His work is for sale at the Episcopal Cathedral of St. John the Evangelist, 127 E. 12th Ave., and at Kaufer's Religious Supplies, 907 W. Boone Ave.
But some of the best news lately has been that his application for political asylum in the U.S. has been recommended for approval. That opens the way to obtaining lawful permanent residency status – and, one day, citizenship.
Now al Hayek finds hope in his new work and the angels propped on their sides in his basement.
On this afternoon, he turns on a new Bosch table saw. It grinds and whirls loudly as he carves the folds of an angel's robes. The rich, spicy fragrance of sap fills the room. It smells like Christmas trees.
And a wide smile breaks out on Bassam al Hayek's face once again.
Local journalism is essential.
Give directly to The Spokesman-Review's Northwest Passages community forums series -- which helps to offset the costs of several reporter and editor positions at the newspaper -- by using the easy options below. Gifts processed in this system are not tax deductible, but are predominately used to help meet the local financial requirements needed to receive national matching-grant funds.
Subscribe now to get breaking news alerts in your email inbox
Get breaking news delivered to your inbox as it happens.
---