Marketing > Advertorial
The 'Cars of our Lives' for 2005
Sat., Dec. 24, 2005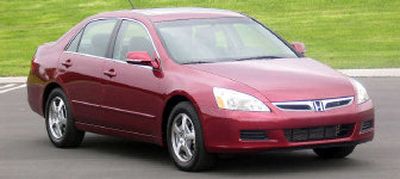 As 2005 slips 'neath time's floorboards, we cast a glance in the rearview mirror at the Cars of Our Lives, 2005. It's a mixed lot, ranging from assertive Korean imports to a passel of high-tone European sporting machines, with much in between.
Forthwith:
Don's Car of the Year
In a little over a weekend, I logged some 2,500 miles in the Honda Accord Hybrid, making it, perhaps, a sentimental favorite. Even so, I say it's a watershed vehicle because it brings gas-electric hybrid technology into the heart of the mainstream.
Nothing about the Accord screams "hybrid." It's virtually identical to its siblings and its standard-equipment list includes leather-covered and heated seats, automatic climate control, cruise control, an audio system with a six-disc CD changer and satellite radio, anti-lock brakes, curtain-style airbags and automatic transmission.
By pairing a wafer-thin electric motor with the Accord's 3-liter V-6 engine, Honda has built a hybrid that scoots from 0 to 60 mph in 6.7 seconds, three-tenths of a second quicker than the regular V-6-powered Accord. That car manages "only" 21/30 mpg in the EPA ratings while the Hybrid scores 29/38 and releases far fewer hydrocarbons into the atmosphere.
Yes, you'll pay a $3,000 differential for the technology but for those who can afford it, it's a small price to pay for doing their part. And, as market share increases, the cost of the technology will drop.
Honda's alternative-energy efforts extend far beyond hybrids, but this is a great place to start.
Cars We Went Elsewhere to Drive
Manufacturers introduce their new cars at functions they call press launches. Normally, those vehicles find their way into the Northwest regional press fleet, where we get a weeklong crack at them.
This year, two of my favorite press-launch cars failed to put in a local appearance — BMW's revised 3-series and Volkswagen's Jetta GLI.
The GLI gets my vote as the year's top entry-level luxury-sport sedan. It marries VW/Audi's direct-shift gearbox, electronic stability control and a brilliant, 2-liter, 200-horsepower turbocharged four with near-sybaritic levels of comfort — all for as little as $23,790.
At the 3-series press launch, BMW turned us loose on the new Beaver Run racetrack outside Pittsburgh. No matter which version we were driving — manual or auto — the 3 proved itself a worthy inheritor of the tradition established by the world's first sport-sedan, BMW's legendary 1600-2. After 40-some years, BMW hasn't softened its grip on the top rung of the ladder.
The General's Heartbeat
Yes, the news of late from General Motors has been persistently unpleasant. And, yes, GM should probably jettison a brand or two to reduce redundancies. And, yes, the company has been slow to adapt to changing times.
However, the General continues to make interesting — and worthy — vehicles.
Tops among the GM entries this year were the C6 Corvette convertible and Cadillac's STS, with an honorable mention going to the HHR.
Cadillac has been fussing at the fringes of the midsize luxury-sport category for several years, but the STS is its first concerted effort to shake the title free from the Europeans. It's a lovely car and if Cadillac sustains its enthusiasm for it, the STS could rearrange the global balance of power.
For its part, the continually evolving 'Vette may never be as sophisticated as its high-toned European competitors, but fans will tell you that's a fair trade for affordable, world-class performance.
The HHR is Chevy's little wagon-cum-utility-vehicle sporting throwback styling with contemporary standards of comfort and space utilization.
Ford Goes Whole-Hog on Cars, Sort of
It was the Year of the Car over at Ford, but you wouldn't know it from where we sit. We drove exactly two cars from Ford this year, the all-new Five Hundred and the made-over '06 Mustang GT.
The Five Hundred is a midsize sedan whose chief claim to fame is its availability in both front- and all-wheel-drive iterations. It has a huge interior, the largest trunk of any sedan sold in America and a batch of great European technology. Based on a platform developed by Volvo for its S80 sedan and XC90 crossover SUV, it incorporates Volvo's all-wheel-drive system and energy-channeling frame.
As for the Mustang, we said, "Quite simply, this is the best Mustang yet, with looks to kill and the first purpose-designed platform in its 25-year history."
Year of the Tiny Pickup Bed
We drove two rigs this year that by virtue of bed-size beg the definition of pickup.
HUMMER's H2 SUT utilizes GM's "midgate" design to expand its tiny, 30-cubic-foot bed to 56 cf, but that means leaving the midgate open, which renders it a fair-weather solution.
With Honda's Ridgeline, what you see is what you get — a rubber-lined, 4-by-5-foot mini-bed; what you don't see is what makes it interesting. Under that diminutive bed hides a lockable storage space with drain plug. If your idea of a perfect pickup is one that keeps the beer cold, this may be your rig.
Sports Car for All Seasons
I've finally found the perfect four-season sports car.
Mitsubishi's 286-horsepower Lancer Evolution has a newly revised center differential with three driver-selectable settings — "tarmac," "gravel" and "snow" — and it arrived in our burgh wearing the fattest set of Blizzak winter tires I'd seen.
So armed, the Evo took everything this crazy winter threw its way and with a sheen of ice coating packed snow, I did my best rally-driver imitation: At full throttle, with the car half-sideways and all four tires scrambling for traction, the Evo always found its balance. Yes, you could put the Evo in the ditch, but that would be your fault, not the car's.
A full review of the Evo appears next week.
Local journalism is essential.
Give directly to The Spokesman-Review's Northwest Passages community forums series -- which helps to offset the costs of several reporter and editor positions at the newspaper -- by using the easy options below. Gifts processed in this system are not tax deductible, but are predominately used to help meet the local financial requirements needed to receive national matching-grant funds.
Subscribe now to get breaking news alerts in your email inbox
Get breaking news delivered to your inbox as it happens.
---