News > Spokane
I wish my gobblers could be home for the holidays
Sun., Dec. 25, 2005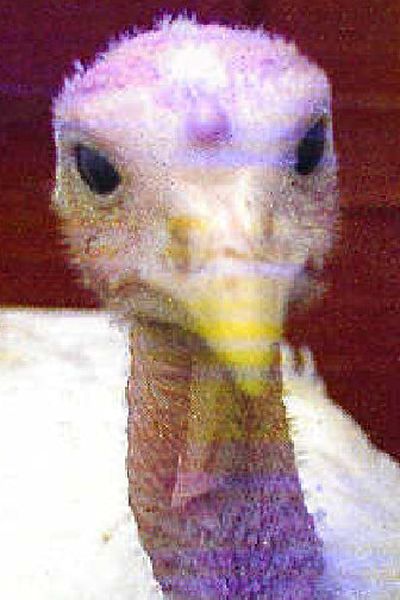 Sorry to be the sugar plum buzz-kill on this holly jolly high holy day.
But two members of the Clark family are absent, and I'm having a blue Christmas without them.
I should look at the positive side, I know.
Ben and Emily made it safely to Spokane. My lovely wife, Sherry, and I picked up our son and daughter at the airport Thursday night.
But it's hard to be merry and bright knowing Wylie and Whisper won't be home for the holidays.
Wylie and Whisper are my new adopted turkeys.
I didn't know I had adopted any turkeys until one day at work. I opened an envelope to find two cards from a New York-based organization called Farm Sanctuary.
One card featured a color photograph of Wylie. The other contained a similar snapshot of Whisper striking a pose. The outside of the cards read "Save a Turkey – Don't eat one!"
What a bunch of giblet-brained bozos.
Turkeys are among the most uncomely critters on this scrumptious smorgasbord we call planet Earth. Elevating these birds into menu items is doing them a huge favor.
Whisper and Wylie were adopted as a gift for me by Chris and Bob Anderlik, two local vegetarians and animal advocates.
The Anderliks are not amused by my meat-lovin' high jinks – like when I handed out pieces of tasty KFC at a PETA protest.
"His chicken giveaway, which he thought was so clever, making fun of the protest, was actually the real ridiculous and stupid thing done," groused Bob in a letter to the editor.
A meatless diet apparently starves the funny bone.
The Anderliks made a small donation to have these two turkeys placed in a rescue shelter on my behalf. They thought it was a clever way to send an animal-rights message to a serial animal eater like ol' Doug.
Unfortunately, all they did is make Doug hungry – and lonesome.
Christmas is the No. 1 time of year for depression. I'm normally a happy-go-lucky guy. But this season – thanks to the Anderliks – I've got this Butterball-size void in my appetite.
Even hearing those old familiar carols play makes my stomach rumble.
I'm talking about blessed classics like "O Come, Get a Forkful."
And what's that tune with the repetitive "pah-rumpa yum-yum" line?
Oh, yeah. "The Little Drumstick Boy."
Visions of stuffing and gravy dance in my head. I see Wylie and Whisper, golden brown and steaming on silver platters.
Oh, sure. I could go to Safeway. I could pick out a couple of processed, ready-to-roast birds.
But it's Christmas.
Nothing can replace the joy of having your loved ones for dinner.
I'm a family guy. I take my parental responsibilities seriously. Wylie and Whisper are my peeps now. And I will not stop salivating until they are out of the animal orphanage and under my wing.
Gimme my turkeys!
I've even cleaned out a nice space for them – in the freezer.
Or maybe I'll be generous and loan one of them to the Spokane Valley Food Bank.
I'd give up Whisper over Wylie. That bird has a kisser even Dr. 90210 couldn't fix.
It looks like I'll have to hire a lawyer and start a custody battle.
My call to the Farm Sanctuary went nowhere. The nice-sounding woman I spoke with wouldn't give me my birds. And if that wasn't hurtful enough, she encouraged me to become a vegetarian.
Gag me. Why, even Santa Claus is a carnivore.
You don't get a belly like St. Nick's on a diet of tofu and turnips.
"I'm dreaming of some white breast meeeeeat….."
Ah, it's a wonderful life when you're on top of the food chain.
So happy holidays, my merry meat eaters. And remember as you dig in: Gobble is not just a silly sound turkeys like Wylie and Whisper make.
Gobble is a verb.
Local journalism is essential.
Give directly to The Spokesman-Review's Northwest Passages community forums series -- which helps to offset the costs of several reporter and editor positions at the newspaper -- by using the easy options below. Gifts processed in this system are not tax deductible, but are predominately used to help meet the local financial requirements needed to receive national matching-grant funds.
Subscribe now to get breaking news alerts in your email inbox
Get breaking news delivered to your inbox as it happens.
---