Sports
Boller's barrage dashes Vikings' playoff hopes
Mon., Dec. 26, 2005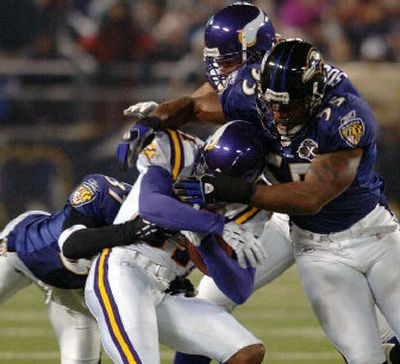 BALTIMORE – The Minnesota Vikings' flickering playoff hopes were snuffed out by a barrage of precision passes from a suddenly effective Kyle Boller.
Boller went 24-for-34 for 289 yards and three touchdowns, and the Baltimore Ravens eliminated the Vikings from the postseason hunt with a 30-23 victory Sunday night.
Needing a victory to stay alive, the Vikings (8-7) came up with their worst defensive performance in two months. Minnesota, which hadn't given up more than 23 points since Oct. 30, allowed the Ravens to go 10-for-15 on third down. The Vikings loss gave the New York Giants (10-5) a playoff berth.
Baltimore (6-9) trailed 20-17 before Boller threw a 39-yard touchdown pass to Derrick Mason with 14:47 left. Then, after Minnesota punted from the Ravens' 38, Boller directed a 68-yard drive that produced a 38-yard field goal by Matt Stover with 1:55 to go.
Any chance the Vikings had of winning their fourth straight road game vanished when quarterback Brad Johnson fumbled on a sack by Adalius Thomas. Baltimore turned it into a field goal with 1:03 remaining, and the Ravens followed Paul Edinger's 46-yard field goal by recovering the ensuing onside kick.
Boller backed up a breakthrough three-touchdown effort Monday night against Green Bay. The third-year quarterback still hasn't assured himself the starting job in 2006, but he has at least provided the Ravens a reason to consider the possibility.
Mason had nine catches for 103 yards and a touchdown. He has 83 receptions this season, breaking the team record of 76 by Michael Jackson in 1996.
Johnson was 25-for-36 for 248 yards and two scores.
The announced crowd was 70,246, but several thousand fans decided to spend Christmas night at home rather than watch the Ravens conclude their home schedule.
Baltimore's Chester Taylor fumbled the second-half kickoff, and Minnesota's Raonall Smith recovered the loose ball, setting up a 26-yard field goal by Edinger for a 17-10 lead.
For the third time, the Ravens answered a Vikings score with one of their own. On a third-and-7 from the Minnesota 47, Boller hit Mark Clayton with a pass over the middle, and the rookie ran the final 20 yards to tie it.
On the ensuing drive, the Vikings moved 18 yards after a holding call on a third-down play by Baltimore's Chris McAlister, and Edinger kicked a 40-yard field goal that put Minnesota back in front.
The Ravens answered again, this time with a 79-yard drive that gave them their first lead. After Darren Sharper was called for roughing the passer on a third-and-9 incompletion, Mason got behind Dovonte Edwards for the score that made it 24-20.
Minnesota scored touchdowns on its first and last possessions of the first half to take a 14-10 lead.
Minnesota had been 6-0 this season when leading at halftime.
Local journalism is essential.
Give directly to The Spokesman-Review's Northwest Passages community forums series -- which helps to offset the costs of several reporter and editor positions at the newspaper -- by using the easy options below. Gifts processed in this system are not tax deductible, but are predominately used to help meet the local financial requirements needed to receive national matching-grant funds.
Subscribe to the sports newsletter
Get the day's top sports headlines and breaking news delivered to your inbox by subscribing here.
---