News > Idaho
For truckers, it's roam for the holidays
Mon., Dec. 26, 2005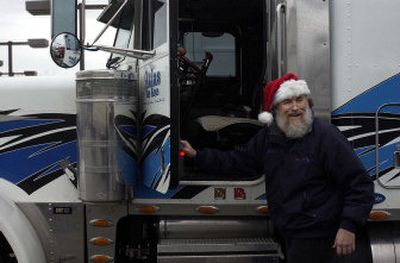 There might be better places than a truck stop to spend Christmas morning, but Bob Sawyer doesn't seem fazed.
Sawyer, a trucker from Minnesota, stopped at the Flying J Travel Plaza in Post Falls just long enough to top his twin tanks with diesel. His only Christmas wish was to have his load of frozen food to Portland by nightfall, in time for him to cook some pork chops and catch a Vikings football game in the comfort of his tractor's cab.
"Just another day," Sawyer said. "They're all the same: Drive, go to bed, drive, go to bed."
Factories, restaurants and stores might close on Christmas, but the products they manufacture, the ingredients they cook and the wares they sell keep on moving. Evidence of this could be seen in the expansive asphalt parking lot at the Flying J, where at least 30 tractor-trailers idled in the damp Christmas morning air. Another six rigs were pulled up to the pumps, preparing for the next leg of their day on the road.
Some of the drivers admitted to being homesick on the holiday, but most sounded nonchalant.
Lapwai, Idaho, resident William Marcum has been driving truck since 1963. He is no longer married, his family is grown, and working the holidays means a $300 bonus.
"It gives somebody else a chance to be home," Marcum said, as he wiped a side mirror.
Hours earlier, Marcum dropped off a load near Yakima. He was now hauling an empty trailer to Missoula, where he will pick up a new load. "Then someplace east. I don't know where, but they tell me it's 1,700 miles east," Marcum said.
Marcum won't be home for another 25 days. Christmas on the interstate doesn't faze him much. "I just think about being safe, warm, dry and having a job."
Traced in the road grime on a nearby trailer were the words "Merry Christmas" below a crude drawing of a frowning face. Not all truckers were bah-humbug over the holiday. Missouri-based Paul Moore wore a red and white Santa hat as he loaded his driver-side tank with $254 worth of diesel.
"Giving the reindeer some extra fuel," he explained, smiling. Moore waved to another trucker and shouted out, "You gotta have that Ho! Ho! Ho! Otherwise you'll be down in the dumps!"
Moore drives for DeVries Moving, based in Spokane. He had just finished hauling a load of household goods and would spend the holiday in Spokane before picking up his next load. The DeVries family invited him to share Christmas dinner, Moore said. "They've always treated me good."
Last year Moore also spent Christmas in Spokane. "Geez, I can't even remember where I was the year before," he said.
After serving in the Army for 21 years, Moore said he's used to Christmases away from home. But it's still tough being away from his wife of 24 years. He probably won't see her again until early February. Before leaving on this latest run, Moore wrapped and hid a gold cross at his house. He called his wife just before Christmas and told her where to find the gift.
Moore doesn't keep a television in his Peterbilt and he rarely listens to the radio. Mostly he likes to pray and think while crossing long stretches of highway. He gets a bit sad when he considers Christmas in modern times.
"It's so commercialized. Christmas should be about family, friends, Jesus Christ," Moore said, adding that he is especially saddened by the focus on material gifts. "You can't take it with you. I ain't never seen a hearse yet with a bumper hitch."
The truck stop is one of the few places open for a meal on Christmas. The tables inside were crowded and covered with special ham and turkey dinners, sold at $8.99 a plate. For many truckers, this would be the closest they would come to camaraderie and a home-cooked holiday meal.
Texas-based Brenda and James Matthews are an exception. Originally, the married-couple driving team was scheduled to drop off a load near Los Angeles. At the last minute, they were diverted to Kent, Wash., where three of their children and six grandchildren live. The Matthewses expected to be eating Christmas dinner with family shortly after sundown.
"It's kind of funny how things work out," James Matthews said, as he fueled his Volvo tractor. "It's going to be a Merry Christmas after all."
Local journalism is essential.
Give directly to The Spokesman-Review's Northwest Passages community forums series -- which helps to offset the costs of several reporter and editor positions at the newspaper -- by using the easy options below. Gifts processed in this system are not tax deductible, but are predominately used to help meet the local financial requirements needed to receive national matching-grant funds.
Subscribe now to get breaking news alerts in your email inbox
Get breaking news delivered to your inbox as it happens.
---