News > Spokane
Generosity bowls over patrons
Mon., Dec. 26, 2005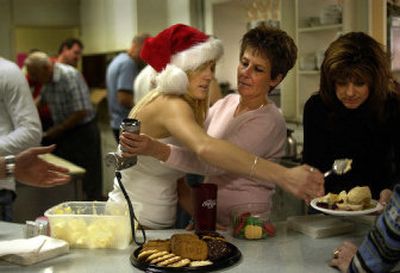 Lynn Gregory, a longtime kingpin in Spokane's bowling community, served up turkey Sunday afternoon.
And it wasn't only in the bowling sense, which refers to three strikes in a row.
At Gregory's Valley Bowl, the Christmas turkey came with mashed potatoes, gravy, green beans, pie and the traditional holiday goodies. It was all compliments of the house, along with free bowling and rental shoes.
It was the first time Gregory offered her holiday largesse, extending the invitation to the homeless or anyone driving on a deserted Sprague Avenue who happened to stop in.
Gregory did minimal publicizing of her idea. Some people found out about Christmas at the Dishman bowling alley by reading it in the newspaper. Some saw the posters at social service agencies, and many found out by word of mouth.
"I thought it would be a great idea and fun for us to do," said Gregory, whose introduction to the bowling business came in the 1960s when her father, Victor R. Felice, bought Colonial Bowl, which was recently demolished.
Her idea was to open Valley Bowl from 9 a.m. to 5 p.m. on Christmas. Seven turkeys, seven hams and most of the other food were donated by Food Services of America or by family and friends.
By day's end, about 200 full dinners were served, leaving turkey sandwiches for the late arrivals.
"She's the kind of person who would give you the shirt off her back," said Gregory's close friend Loretta Higgins, while preparing to help out in the food line.
Gregory's sons and the alley's part-owners Donnie Tennison, 25, and Chris Gregory, 21, were at the lanes before opening, setting out cookies, trays and candy canes. Members of the Gregory family who were in town from Seattle volunteered. Many of the 20-some employees of Valley Bowl also gave up part of their Christmas to lend a hand.
Along with the free bowling – which normally costs $2.25 a game and $2 for rental shoes – gifts were given to children.
Gregory said employee Julie Morrow's daughter, 5-year-old Lacey, came up with the idea to buy gifts for the less privileged.
The patrons ranged from the homeless to families home for Christmas.
Shannon Dupree, a homeless 30-year-old, said she and her friends hopped a bus out to the Valley. They learned about Gregory's holiday gift at the House of Charity shelter on West Pacific.
"Last Christmas I was at a motel in Seattle," said Dupree, whose 2005 Christmas plan included visiting her boyfriend at the Airway Heights Corrections Center.
Allen Coburn and his family had plans to eat elsewhere, but they felt like it was their lucky day when they showed up for a little pre-feast bowling.
"It was a great surprise to us," Coburn said. "We were looking for something to do and then we found out it's free."
The Wass family, in town from Seattle visiting relatives, also was out for a family activity. When they were told bowling was free, the family of five wanted to give a donation. Gregory wouldn't accept it.
"Just enjoy the day," she told patrons. "This is my donation to the community."
Local journalism is essential.
Give directly to The Spokesman-Review's Northwest Passages community forums series -- which helps to offset the costs of several reporter and editor positions at the newspaper -- by using the easy options below. Gifts processed in this system are not tax deductible, but are predominately used to help meet the local financial requirements needed to receive national matching-grant funds.
Subscribe now to get breaking news alerts in your email inbox
Get breaking news delivered to your inbox as it happens.
---