Sports
Holiday Heat beat Lakers
Mon., Dec. 26, 2005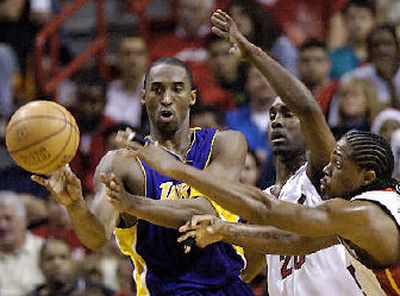 MIAMI – Gary Payton distances himself from what he calls "the Shaq-Kobe nonsense," saying he stays neutral because he's friendly with both players.
Choosing sides on the court, well, that's another matter – because Shaquille O'Neal is clearly Payton's favorite there.
Payton tied a season-high with 21 points, including the go-ahead 3-pointer off O'Neal's assist with 1:05 left as Miami beat the Los Angeles Lakers 97-92 on Sunday, the Heat's second straight Christmas triumph over Kobe Bryant's team.
"I'm proud that the Miami Heat won. I've been in the league too long for me to be proud of anything right now," said Payton, who got a hug from Bryant after the game. "I've had great games. I've had marvelous games. So this is really not (anything) to me. We've still got a lot of games. We're still trying to build."
Bryant, who missed a 3-pointer at the end of the Lakers' 104-102 loss to Miami last Christmas, missed a potentially tiebreaking one from behind the arc in the final seconds – sealing the Lakers' fourth consecutive Christmas defeat.
With Payton hounding him for much of the second half, Bryant finished with 37 points on 12-of-30 shooting, including an 0-for-8 effort from 3-point range.
"Gary's been a hell of a defender his entire career," Bryant said. "He taught me how to play defense."
O'Neal had 18 points and 17 rebounds, while Dwyane Wade added 18 points for the Heat. Brian Cook had 15 points and Lamar Odom had 14 points and 16 rebounds for the Lakers, who lost for the third time in their last 12 games.
Payton spent the 2003-04 season with the Lakers, the year they lost to Detroit in the NBA Finals – and the last year that O'Neal and Bryant were teammates. He went there because he thought O'Neal could help him win an elusive first title, and signed a one-year deal with Miami to continue that pursuit.
"We didn't bring him here on a gurney," Heat coach Pat Riley said. "This is not a quick trip to South Beach. He still has the ability to make some big plays, and at the same time, he did a great job defending Kobe."
Miami led 80-72 on Payton's layup with 9:21 left, but the Lakers answered with a 13-5 run that ended with Bryant hitting a jumper with 3:38 remaining for an 85-83 lead.
"We had the opportunity down the stretch," Bryant said. "That being said, we still played like crap."
O'Neal grabbed an offensive rebound and tied the game at 91 with 1:49 left, before the Lakers took their last lead on a free throw by Odom 20 seconds later. Payton followed with his critical 3-pointer from the corner, before Wade and James Posey added three free throws in the final 12.1 seconds.
"Gary Payton was instrumental. … He was the difference in the game," Jackson said.
And that went deeper than just the boxscore. Payton and Odom spent a good portion of the game jawing at one another, with Odom saying afterward that the Heat guard's mouth "is horrible and atrocious." The two exchanged more words shortly after the final buzzer.
"That's just the way he is," said Odom, adding that his 5-for-12 night had nothing to do with Payton.
Local journalism is essential.
Give directly to The Spokesman-Review's Northwest Passages community forums series -- which helps to offset the costs of several reporter and editor positions at the newspaper -- by using the easy options below. Gifts processed in this system are not tax deductible, but are predominately used to help meet the local financial requirements needed to receive national matching-grant funds.
Subscribe to the sports newsletter
Get the day's top sports headlines and breaking news delivered to your inbox by subscribing here.
---