Kaipo taught lessons in living before his death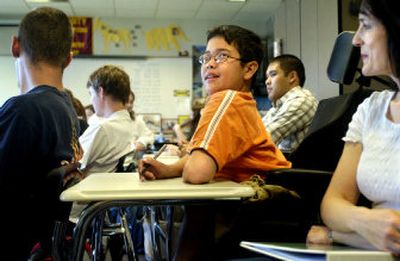 Kaipo Manners wasn't long for this world, and he knew it. He suffered from a disease so rare that doctors considered naming it after him. At 16, just two years ago, the Spokane Valley boy began planning his funeral.
"I want my ashes mixed with cement and dropped in the ocean off the coast of Hawaii," Kaipo told his parents in a faint whisper. He whispered because tumors attacking his brain had limited his ability to speak at a normal volume. "I want an open mic at my funeral so people can tell stories, and I want the American flag flown above the speakers.
"I want everyone who comes to the service to get a free can of Coke. I want them to count down from 10 at the end, then open their cans at the same time."
"Done," his parents said, not entirely comfortable with the subject, but not wanting their oldest child to think they would let him down. And they won't.
Hundreds of people are expected to gather at 11 a.m. Wednesday at Grace Harvest Church in Spokane Valley to lift their soft drinks skyward and release one final carbonated gasp for a young man who loved ones say knew much about life despite having little of it. Kaipo died the Sunday before Christmas. He was 18.
"He had a depth of compassion and understanding that just can't be taught," said Cleala Kiszer, Kaipo's mother. "I think it was God-inspired."
Kaipo, whose name is Hawaiian for male sweetheart, was a teacher, not a learner. And the biggest lesson of his short life was the difference between living and surviving, between making the best of the life you have and abandoning it to chase the slimmest chance at a life you couldn't.
Two and a half years ago, doctors gave the teen the slimmest chances of survival if he didn't seek aggressive treatment. Benign tumors were attacking Kaipo's brain stem and vital organs. He was hospitalized, again.
Over the span of his life, he lost the ability to walk, to open his right eye, to make a tight fist. Then, he started losing his ability to drink without sucking fluid into his lungs. The prognosis was he'd choke to death in about six months.
Doctors suggested flying him to Boston for experimental treatment, the kind Kaipo had endured his entire life. They convinced his parents this was the right thing to do and were leaving the room to schedule the treatments, when Kaipo said no, which was something he'd never done before.
His parents ushered the doctors out and closed the door. Kaipo took the deepest breath he could and let out a mighty whisper. He understood the power of the whisper, the ability to bring people's ears within inches of his face when he really had something important to say.
"I don't want to freak you out about what I'm going to say, or think I'm trying to be superspiritual, but God has done more for me than any doctors I've seen in these 16 years. I'm tired of going through this and seeing you guys go through this for nothing. I would rather live my life to the fullest as I am now, even if I die tomorrow."
So doctors sent Kaipo home to die, but he didn't. They told him he wouldn't see the end of the 11th grade, but Kaipo enrolled in school anyway and made the honor roll. They sent a hospice aide to his home to help him prepare for death, which he did, but he also prepared for college, just in case.
The hospice nurse quit coming after it was clear Kaipo's last days were more than six months out. The boy graduated from University High School last spring and went on a three-party tour celebrating his good fortune.
He enrolled in Spokane Community College this fall and made the president's list for academic performance. He was even talking about touring Europe with his mother after he graduated, but the trip he planned two years ago, the one to the ocean reefs off the coast of Hawaii, finally caught up with him.
"We're going to do it just like he wanted," said Dan Manners III, Kaipo's father. It seemed like the least they could do for a boy who never asked for much.
Dan Manners is native Hawaiian. His kids were all born in mainland North America, but he immersed them, especially Kaipo and his younger bother, Kalani, in Hawaiian culture. Over Cokes – because Kaipo did almost everything over Cokes – the three would listen to Hawaiian ballads about how the islands existed before tourism and statehood. They'd listen until becoming overwhelmed with a feeling of what Hawaiians call "ohana," a word that means family, but describes something even deeper.
Wednesday, the family will don Hawaiian shirts and sing for Kaipo along with anyone who cares to join them. They'll sing for the life Kaipo had, not the one he didn't. And they'll toast him one last time with sweet carbonated syrup.
---