Sports
Princeton's offense nearly at a standstill
Mon., Dec. 26, 2005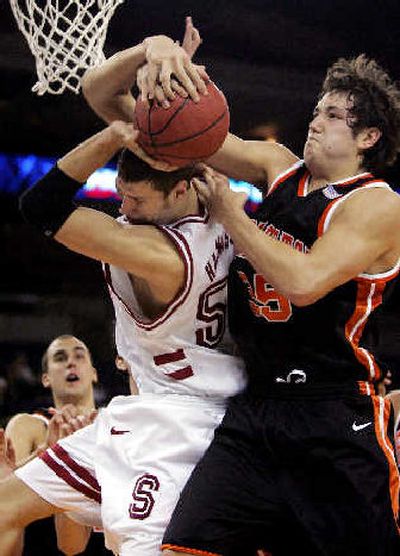 No team has been through as tough an offensive stretch as Princeton currently is enduring.
Never known as a program looking to run and gun, the Tigers simply are having trouble scoring. They have scored 97 points – over their last three games. They are barely averaging a point a minute, and things have been worse in the first half.
Princeton (2-7) is averaging 43.7 points per game. In six games, the Tigers failed to reach 20 points by halftime. The worst of the opening halves was 11 points in the 41-21 loss to Monmouth. The 21 points tied the Division I record for fewest since the shot clock was introduced for the 1986-87 season.
In 2004-05, Joe Scott's first season as head coach at Princeton, the Tigers averaged 56.3 points. That was a far cry from the 66.5 under John Thompson III in 2002-03, the highest average for the program since 1974-75.
The Tigers last started 2-7 in the 1979-80 season. They were 2-11 before going 11-3 in the Ivy League to tie for the title, losing to Penn in a playoff game.
Noah Savage (11.2 points per game) is the only Tiger averaging in double figures. Senior point guard Scott Greenman missing the last four games with a back injury certainly hasn't helped.
There has been one offensive bright spot this season. The Tigers have hit at least one 3-pointer in every game to extend their run of making a "trey" in every game since the line was introduced for the 1986-87 season. Only Vanderbilt and UNLV match Princeton's streak.
Williams returns
There's a familiar face at Connecticut practices these days. Marcus Williams, last year's Big East assists leader, rejoined the team after a semester-long suspension for his role in the theft of stolen laptops over the summer.
The junior point guard also is serving 18 months probation for first-time offenders, which allows the criminal charges to be erased if he successfully meets all the requirements, including 400 hours of community service.
Williams and teammate A.J. Price were arrested on charges of trying to sell laptops stolen from dorm rooms. Price received a similar probation but is banished from the team all season.
Williams is expected to be with the second-ranked Huskies when they open the Big East season Jan. 3 at Marquette.
"He's a terrific kid who made a dumb, dumb selfish mistake," coach Jim Calhoun said. "He's not the first and he won't be the last, unfortunately. Hopefully, it's not going to be on my watch. I'm a great believer that people should be allowed, and are allowed, a second chance."
Calhoun knows all too well what Williams can expect when the Huskies hit the road. He's been through it before with Khalid El-Amin, the pudgy point guard who helped lead UConn to its first NCAA title in 1999.
El-Amin was jeered constantly for his weight and the fact that he had a child out of wedlock. He didn't flinch. In fact, he welcomed it, Calhoun said.
"Khalid El-Amin put up with a great deal of grief on the road," Calhoun said. "And it was the best coaching that anybody could have done for me, because Khalid loved every single second of it. He loved to show you."
Yemi time
Yemi Nicholson of Denver is getting accustomed to seeing NBA scouts wherever he goes. When you're 6-foot-11 and 260 pounds and move well, it just comes with the territory.
The reigning Sun Belt Conference player of the year, Nicholson is a communications major who is scheduled to graduate a quarter early in March. He plans to be a computer scientist when his basketball career is over – but he hopes that's well down the road.
He already creates Web sites, and fans can follow his All-America campaign at www.DenverPioneers.com/yemi.
"It's every boy's dream to play in the NBA," Nicholson said after struggling through a 71-49 loss at Stanford this week. "Of course it's my dream, too. I don't care where I play, as long as I get picked."
While Nicholson was held to 10 points on 4-for-12 shooting with 11 rebounds against the Cardinal, he has had other performances that have demonstrated how he can dominate a game, facing double-teams much of the time. He had a season-best 27 points, eight rebounds and two blocked shots in a 79-66 loss to North Dakota State on Dec. 13.
Nicholson is averaging about three blocks per game, in addition to leading the Pioneers in scoring and rebounding.
Quiet return
Almost seven weeks after being acquitted of rape charges, former La Salle star Gary Neal returned to the basketball court. He tied a Towson record with six 3-pointers and had 28 points in 29 minutes in the Tigers' 80-78 loss to VMI.
"I was just excited to be back out there," said Neal, a former Atlantic 10 Conference Rookie of the Year who averaged 18.6 points during two seasons at La Salle. "My hands were sweating in the locker room."
Neal has been enrolled at Towson for two semesters, paying his way to attend the school north of Baltimore. He began practicing with the Tigers on Dec. 5 as a walk-on, though he could be offered a scholarship after this season.
Towson president Dr. Robert Caret had to approve an administrative committee recommendation to allow Neal to join the team. Last Wednesday was the first day he was eligible to play.
Local journalism is essential.
Give directly to The Spokesman-Review's Northwest Passages community forums series -- which helps to offset the costs of several reporter and editor positions at the newspaper -- by using the easy options below. Gifts processed in this system are not tax deductible, but are predominately used to help meet the local financial requirements needed to receive national matching-grant funds.
Subscribe to the sports newsletter
Get the day's top sports headlines and breaking news delivered to your inbox by subscribing here.
---