Sports
Seahawks look ahead to time off
Mon., Dec. 26, 2005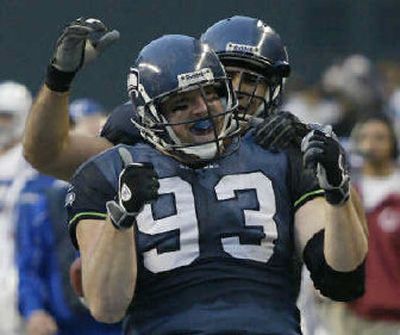 Good morning, ladies and gentlemen, and welcome to the final act of the Seattle Seahawks' 2005 regular season. The part of Jim Sorgi will be played by Seneca Wallace this week, while Maurice Morris will fill Dominic Rhodes's role.
Anyone who felt a bit dissatisfied watching Sorgi, Rhodes and a host of other backups lead the Indianapolis Colts on Saturday might want to avoid this Sunday's Seahawks-Green Bay Packers game. With the NFC's top seed all wrapped up, and absolutely nothing on the line, the Seahawks (13-2) are likely to pull an Indianapolis-like disappearing act when it comes to some of their star players.
Coach Mike Holmgren might not have said as much after Saturday's win, but he has proven his philosophy late in games this month by sitting starters like quarterback Matt Hasselbeck, running back Shaun Alexander and left tackle Walter Jones to avoid the risk of injuries.
Holmgren tipped his hand a bit Saturday when asked about putting Alexander back in the game during the fourth quarter, just so the Pro Bowl running back could tie the NFL record for touchdowns in a season.
"If he were to go back into the game, and he were to get hurt," Holmgren said afterward, "I would have never spoken to him again."
Holmgren will probably make an effort to let Alexander break the record this Sunday, but he's not going to put his runner at risk for very long.
As of Saturday, Holmgren was still vague about how he would handle the Packers game.
"We have reached all our goals that we can meet in the regular season," he said after the win over Indianapolis. "And now we have to function and prepare for the playoff season. We have to think about that."
Some starters are in favor of getting rest, while others would just assume play.
"Hey, it's cold in Green Bay," fullback Mack Strong said. "It's cold on the sideline when you're not playing. I want to play. But obviously, coach Holmgren will make all those decisions."
Defensive end Grant Wistrom knows that Holmgren might not have many options along the defensive line, where injuries to tackle Chartric Darby (knee) and end Joe Tafoya (hamstring) could leave Seattle with just six healthy bodies.
"I don't anticipate sitting a lot," Wistrom said after Saturday's game. "The way Coach has described it, we're going to keep going the way we're going. And until I hear otherwise, that's the way it's going to happen."
Some starters would welcome the chance to watch their teammates carry the load Sunday.
"If we've got to play, we've got to play," wide receiver Bobby Engram said. "But if you can rest, it's always good to get a little healthier."
Other than the possibility of it being the final game of Green Bay quarterback Brett Favre's career, Sunday's game doesn't have a whole lot to offer.
Unless you happen to be Seneca Wallace or Maurice Morris. Their act is just beginning.
Local journalism is essential.
Give directly to The Spokesman-Review's Northwest Passages community forums series -- which helps to offset the costs of several reporter and editor positions at the newspaper -- by using the easy options below. Gifts processed in this system are not tax deductible, but are predominately used to help meet the local financial requirements needed to receive national matching-grant funds.
Subscribe to the sports newsletter
Get the day's top sports headlines and breaking news delivered to your inbox by subscribing here.
---