News > Features
With his own new album, Foxx is back in the hunt
Mon., Dec. 26, 2005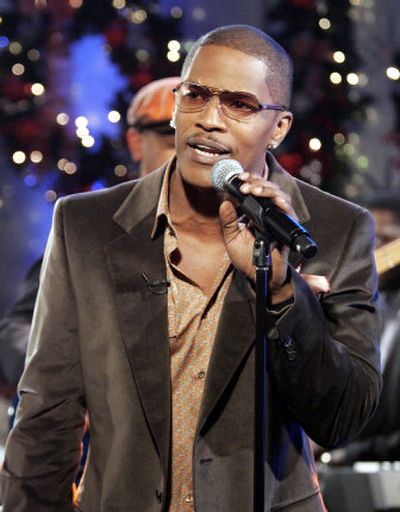 Jamie Foxx is on such a roll that he didn't even need to put out an album to become a chart-topping singer.
Oscar winner Foxx earned a Grammy nomination thanks to his No. 1 hit from 2004, the Kanye West-Twista collaboration "Slow Jamz."
The "Ray" biopic star followed that up with an even bigger one this year, singing the hook on West's Ray Charles-inspired hit "Gold Digger."
Now Foxx is looking for success on his own with "Unpredictable," released last week. Though it features cameo appearances from West, Mary J. Blige, Ludacris and others, whether it hits or misses is squarely on Foxx's shoulders.
Q. You said you didn't want to do a "Jamie Foxx thing" on this record – what would that have been like?
A. The Jamie Foxx thing is how you get into your own thing and you sing your own songs and you write these cushy songs and try to be safe. We just linked up with the hottest cats. I let them know my ideas and they would let me know if it was cool.
Q. "Gold Digger" was one of the year's biggest hits. Now that you've had such amazing success, you're probably getting a lot of attention from gold diggers yourself. How do you handle that?
A. I appreciate women that want to be with someone who's doing something. …The song is really not about a gold digger. It's about a girl who's not messing with no broke cats. 'Cause I got friends like that. I even tell my sister, I tell anybody, we're not hanging around nobody who ain't doing nothing.
Q. You've been working on the "Miami Vice" movie – I heard it's been a hard time.
A. It's been a tough shoot. It's been a very tough shoot, and we've been there for 10 months, we finished it finally. I know (co-star) Colin (Farrell) has gone into rehab now because he had back injuries and things like that so we have our thoughts for him, hoping he gets on his feet and recovers and comes on back, because he's a great guy … hopefully the movie will come out and it will be fantastic.
Q. You once said you have to be careful about what films you pick now that you've become an A-list star. What does that mean for your future roles?
A. You just want to pick the ones that have meat on the bones. Like, with "Miami Vice," what's lucky is you have (director) Michael Mann who's shooting it so it really is a film. So the next thing I am going to do is with Eddie Murphy and Beyonce in "Dreamgirls."
Q. Do you think fans are more eager to see musicals these days?
A. I know the thing that we have to be careful with is doing a musical. We have to do a movie that happens to be a musical. If it's too musical and it doesn't become a movie, then we're in trouble.
Q. You talked about doing stand-up again.
A. I sneak on stage at the Laugh Factory and do my thing. I think it's important because it kind of keeps you grounded, you come out of the clouds.
You can float up into the clouds with people telling you that you're this and you're that … and next thing you know you're behind your gates and you've got security and you're doing all these things and you slip off away from where real folks are.
The birthday bunch
Actor Richard Widmark is 91. Record producer Phil Spector is 65. "America's Most Wanted" host John Walsh is 60. Drummer Lars Ulrich (Metallica) is 42. Actor Jared Leto is 34.
Local journalism is essential.
Give directly to The Spokesman-Review's Northwest Passages community forums series -- which helps to offset the costs of several reporter and editor positions at the newspaper -- by using the easy options below. Gifts processed in this system are not tax deductible, but are predominately used to help meet the local financial requirements needed to receive national matching-grant funds.
Subscribe now to get breaking news alerts in your email inbox
Get breaking news delivered to your inbox as it happens.
---