News > Features
Wonders of Kids Night Out
Mon., Dec. 26, 2005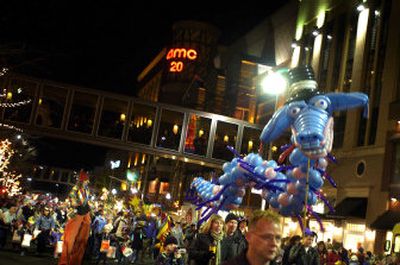 On New Year's Eve Inland Northwest kids have their own downtown party to attend: Kids Night Out. Beginning at 3 p.m. Saturday, Kids Night Out is part of the city-wide First Night festivities.
Event planners expect as many as 5,000 children to participate in this year's kid-friendly activities. If that sounds like a lot of preparation, it is. But Kids Night Out co-chair Dianne Fields, said that for her, "The biggest reward is watching the kids."
"From performing artists to the arts and crafts projects, we tried to make Kids Night Out as interactive as possible in every respect," said Jauna Kozee, First Night Performing Arts Chair. "We basically are trying to encourage imagination, education and diversity. And remember, if you're under the age of 10 you get in free."
Fields and Kids Night Out co-chair Mary Uptagrafft, both retired educators, are in their second year as Kids Night Out coordinators. And this year they've gone all out.
"With the exception of one thing – the mad hatter hats from last year that were so popular we had to bring them back – everything is new," said Fields. "We have five very distinct and different venues. Wonders of Diversity, Wonder of the Earth, of Sea, Sky and Percussion. In each of the venues, there will be items to create based on the themes."
Kids should expect to end the year with lots of crafts they've created under the watchful eyes of Kids Night Out volunteers. Some of the crafts were partially constructed over the course of the year by students at Middle Schools Sacagawea, Salk, Glover, Shaw, Gary; and Willard Elementary.
"It's great to see all the kids leaving with their little arms full at the end of the night," said Kozee.
Materials for all the masks, bookmarks, picture frames, drums, and kaleidoscopes will be provided by Kids Night Out and made available at the various creation stations.
"For example, at the Wonders of Diversity venue, the bookmarks are made by gluing kid heads and feet to the top and the bottom of ribbons," said Fields. "At the Wonders of the Sea stations, they will use rainbow colored pieces of cord and different kinds of sea animal charms for beads. At Earth the kids will use flowers, and bugs and lizards to decorate their crafts."
Organizers this year have provided goofy glasses in addition to the popular half masks of last year.
"In the diversity venue, they'll be doing African masks and Aztec masks," said Dianne. "And in the Sea (venue) the glasses look like swim goggles and they'll decorate them with fish and sailboats and octopuses."
Dick Frost, magician and puppet master, marks his fifth year anniversary with First Night this year.
"I've been with them since the beginning," he said. "I felt invigorated after my first First Night performance. I thought what a way to end the year. Then I thought wait a minute, what a way to start the year. I don't know if it was the freshness of the air or the snow or what, but I was hooked."
Frost performs with his puppet friends – Mr. Long Ears the top-hat wearing rabbit, Mikey the mouse that lives in a piece of cheese, Genie in a bottle, Blue Bear, and Ted E. Bear, whose middle name is Edward. But he says, "Clyde the dodo bird is the only puppet who can do a magic trick. He performs the Hindu rope trick."
In Frost's shows, "I try and get the kids to feel part of it. I want them to feel the magic so when they leave they can feel special – like they were in on something."
The Spokane Children's Theater is planning some improvisational games for this year's Kids Night Out. Maria Caprile, President of Spokane Children's Theater Board, said that last year, "The kids bought into the games right away and the adults played into it as well and enjoyed it."
The Spokane Children's Theater will also preview its upcoming production, The Little Mermaid: A Story of Aloha, with a few hula numbers.
Kids Night Out also features performances by Northwest Hula, the Rainbow Fiddle Kids, Christian Youth Theater, and funny song extraordinaire Eric Herman.
"We're trying to get kids excited about the arts," said Kozee. "The arts are the first to go when cutting school or community center budgets. We're trying to keep that channel alive through First Night."
Fields believes that it is working.
"One of the neatest things that happened last year was a little girl who goes to the same church that Mary and I do leapt into Mary's arms the day after the kids festival and said 'That's the best thing I've ever done in my whole life,' " Fields remembered. "Now that excitement is what I call worth it."
Local journalism is essential.
Give directly to The Spokesman-Review's Northwest Passages community forums series -- which helps to offset the costs of several reporter and editor positions at the newspaper -- by using the easy options below. Gifts processed in this system are not tax deductible, but are predominately used to help meet the local financial requirements needed to receive national matching-grant funds.
Subscribe now to get breaking news alerts in your email inbox
Get breaking news delivered to your inbox as it happens.
---