News > Spokane
Local politician McCormick dies at 81
Wed., Dec. 28, 2005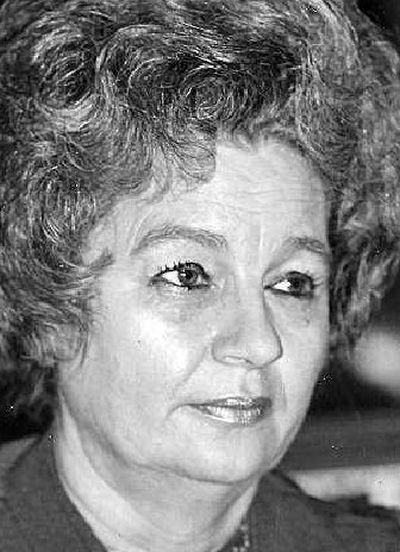 Geraldine McCormick, a longtime Spokane legislator noted for her independence and opposition to tax increases, died Monday. She was 81.
McCormick served in the state House of Representatives from 1968 to 1982, following on the heels of her late husband, William, who held the same seat before dying of a heart attack at age 42.
"I think she was one of the old-time, classic statesman politicians, and we don't have many of those anymore," said Lois Stratton, who served with McCormick in the House, as a Democrat from the 3rd District.
Another former lawmaker, who served across the aisle as a Republican, echoed those sentiments, and praised McCormick for being forthright and unwavering in her positions.
"She didn't play the legislative games a lot of people played," said Dick Barrett. "A lot of legislators might think one way and vote another, and say, I had to vote that way because the party wanted me to or I found some information that changed my mind. … When she started talking about an issue, she was very firm in it."
Barrett and McCormick represented northwest Spokane's 5th District, which has since been shuffled to the West Side.
When she decided not to seek re-election in 1982, it marked the first time in 26 years that a McCormick didn't represent the 5th District.
McCormick's husband, William L. McCormick served 10 years as a Democrat and was noted for pushing legislation to require seat belts, after surviving an auto crash himself in 1962, according to Spokesman-Review archives.
Geraldine McCormick, who was then raising their two daughters at home, applied to Spokane County Democrats to be appointed to her husband's seat but wasn't selected by members of the central committee.
"So Geri was angry and she ran for it and got the seat," Stratton said.
It was the snub that provoked a 14-year legislative career. McCormick was a conservative Democrat who consistently opposed tax increases, co-sponsored legislation to require the teaching of "creation science" in schools, and worked on transportation and utility committees.
When the state's large unions endorsed candidates, they sometimes declined to endorse her. The traditionally conservative Moral Majority gave her a 100 percent approval ranking in the 1980 election – her final campaign before stepping down in 1982 at age 56.
"She was extremely well-liked," Barrett said. "I can't think of anybody who didn't like Geraldine McCormick in the Legislature."
McCormick is survived by two daughters, Diane McCormick and Tami Falkner; five grandchildren; and four great grandchildren. Services will be held Friday at 2 p.m. at Hennessey/Smith Funeral Home, 2203 N. Division.
Local journalism is essential.
Give directly to The Spokesman-Review's Northwest Passages community forums series -- which helps to offset the costs of several reporter and editor positions at the newspaper -- by using the easy options below. Gifts processed in this system are not tax deductible, but are predominately used to help meet the local financial requirements needed to receive national matching-grant funds.
Subscribe now to get breaking news alerts in your email inbox
Get breaking news delivered to your inbox as it happens.
---