Sports
Seahawks' Wallace hopes to make the grade Sunday
Wed., Dec. 28, 2005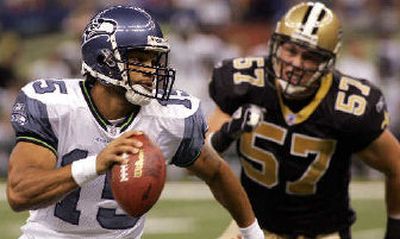 KIRKLAND, Wash. – Just like his teammates, Seneca Wallace has been subject to the grading pencil all season long.
His sideline signals may have earned a B-plus. His clipboard-holding has been worthy of an A-minus.
And, oh, that handoff he navigated in the fourth quarter of the Philadelphia Eagles game on Monday Night Football. That had to be A-material.
"(The coaches) always look at it and grade you on it," Wallace said, "even if you go in there with a minute left and hand the ball off."
At least this Sunday, the Seattle Seahawks' backup quarterback will have a chance to get graded on what quarterbacks get paid to do.
While truly meaningful playing time still eludes him, all indications are that Wallace can expect to see the most extensive regular-season playing time of his NFL career on Sunday.
With homefield advantage throughout the playoffs all wrapped up, the Seahawks (13-2) are expected to give their reserves plenty of playing time when they face the Green Bay Packers at Lambeau Field in four days. Stars like quarterback Matt Hasselbeck, running back Shaun Alexander and left tackle Walter Jones might not even play past the first quarter as head coach Mike Holmgren pushes his team's health to the top of the priority list this weekend.
"Whoever is playing, I expect them to play well," Holmgren said. "We want to win the football game. Every time we suit up, we're going after a win. But it is different because you do have certain things wrapped up now."
When approached Monday, Wallace initially said something about preparing for every week – just in case. Further pressed, he admitted that this Sunday's game will be different.
"Yeah, I'm probably going to be out there the majority of the time," he offered.
And he might actually get to throw a few passes, which would be a welcome change.
"In the last couple games I have gotten in, it's basically been the end of the game. We've been trying to run the clock out and get first downs," said Wallace, who will probably replace Hasselbeck sometime during the first half Sunday. "So hopefully this week, we open it up and play football."
Wallace has been on the field for 53 plays this season. He has handed the ball off 40 times, thrown eight passes and been credited with five rushing attempts. Wallace has as many fourth-quarter kneel-downs – four – as he has complete passes this year.
Sunday's game should include a few more pass plays, which is just fine with Wallace.
"Just being able to go in and throw the ball around a little bit," Wallace said, "that's fun."
While Hasselbeck is in no danger of losing his starting job, Sunday's game will give Wallace a rare opportunity to show what he can do against a first-string defense.
Local journalism is essential.
Give directly to The Spokesman-Review's Northwest Passages community forums series -- which helps to offset the costs of several reporter and editor positions at the newspaper -- by using the easy options below. Gifts processed in this system are not tax deductible, but are predominately used to help meet the local financial requirements needed to receive national matching-grant funds.
Subscribe to the sports newsletter
Get the day's top sports headlines and breaking news delivered to your inbox by subscribing here.
---