News > Spokane
Faith brings collegians together
Fri., Dec. 30, 2005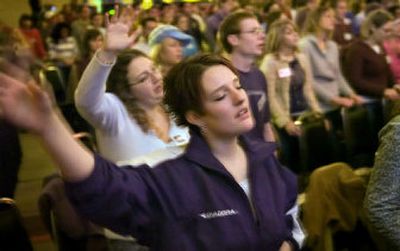 Steve Yen isn't interested in the stereotypical fraternity experience.
The recent Washington State University graduate is the live-in adviser at the Pi Kappa Phi house in Pullman, holding Bible workshops and swimming against the stream of parties and other distractions that might sway him from his Christian faith.
"It's not difficult at all," Yen said. "I feel like God's calling me to reach out to the guys in my house and guys in all fraternities."
Yen is one of hundreds of college students and campus workers in Spokane this week for the regional conference of the Campus Crusade for Christ, the country's largest evangelical organization. At a time when most college students are at home, blissfully free of classes and dorm food, these students paid to travel to the five-day conference of workshops, worship and entertainment.
"Most people go to school to get their job or find their husband," said Michelle Pernack, a 21-year-old senior at WSU from Issaquah, Wash. "I'm also there to make an eternal impact."
This week is the winter conference for the Greater Northwest region of Campus Crusade, which encompasses colleges and universities in Washington, Idaho, Oregon, Montana, Nevada, Utah and Alaska. More than 700 students are expected, along with 160 Campus Crusade staffers, said Matt O'Brien, regional operations director for the group.
Students crowded into a conference room at the Spokane Convention Center on Thursday morning to listen to a Christian rock band, and pastor and theologian Ronnie Stevens – whose speech was accompanied by a painting done in real time by artist Anneli Anderson. The conference also includes improv comedy, a movie trivia contest, workshops on how to reach out to fraternities or athletes, and the Worship Jam Circle.
There's also a "prayer journey" set up at the Red Lion – an interactive experience in which students walk through a kind of re-enactment of Isaiah's experience in the Old Testament. The journey includes symbolic stops at a cross, a throne and a globe, and asks the students to contemplate their relationship with God.
"This is a personal time for them to really interact with the Lord," O'Brien said.
Today, students will head into the community, challenged to have two "spiritual conversations" with people in Spokane, said Bobby Ulrich, a Campus Crusade staffer based in Pullman. He said they'll be urged to listen more than talk, though they'll share their faith if people are interested.
At Thursday morning's session, Stevens urged students to be wary of "secularists, nontheists and atheists" who argue there is no design or purpose in the world. He quoted from a litany of famous writers and thinkers who have criticized religion – many of whom students are likely to encounter in class, like Nabokov, Sartre and Nietzche. He said the critics were attempting to elevate themselves above God.
"If this is all there is, then life is an insoluble riddle," he said.
Stevens told the story of Isaiah, who was caught in political turmoil between kings and who had a divine experience when he prayed for guidance.
"Isaiah saw the true king, and it marked him," he said. "It marked him forever."
After Stevens' presentation, a group of WSU students talked about the way that their faith and Campus Crusade influenced their lives.
Freshman Jessica McFaul of Spokane said she became involved in the group through meeting others with Campus Crusade in her Pullman dorm. She said that network of friends helps her stay true to her ideals.
"It sort of conflicts with how the world lives," she said, "but I haven't found it as hard as I thought."
Renee Beason, a WSU senior, said this is her second Campus Crusade conference.
"I think it's an awesome time to get away from the world, day-to-day life, and focus on my relationship with God," she said.
Yen, the fraternity adviser in Pullman, said he hopes to get a job with Campus Crusade in the coming months. He's not sure where he'll end up, but he's passionate about the work he's doing now.
"I really do have a heart for WSU and the Greek system there," he said. "I think God's been transforming that part of the community."
Local journalism is essential.
Give directly to The Spokesman-Review's Northwest Passages community forums series -- which helps to offset the costs of several reporter and editor positions at the newspaper -- by using the easy options below. Gifts processed in this system are not tax deductible, but are predominately used to help meet the local financial requirements needed to receive national matching-grant funds.
Subscribe now to get breaking news alerts in your email inbox
Get breaking news delivered to your inbox as it happens.
---