News > Idaho
Mayor honors longtime city attorney
Sat., Dec. 31, 2005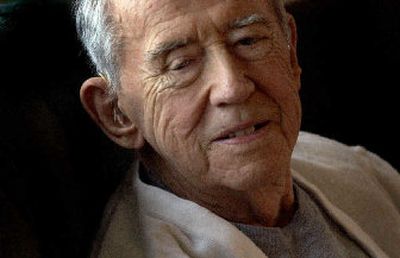 Bill McFarland sits with his back to the picture windows. The coffee table is laden with plaques, framed documents and photos, and 40-year-old newspaper clippings. The apartment walls are covered with original oil paintings by his wife, Lina, and black-and-white photos of the early days in Coeur d'Alene. The dining room wall is lined with 15 classic, oak, glass-fronted law-office bookcases from the '30s, minus the legal tomes, now used to display a stunning collection of crystal. But it's the scene out the south-facing wall of glass that takes one's breath away. A good many people around the globe go their entire life without seeing anything as lovely as the McFarlands' view of Lake Coeur d'Alene and the surrounding hills. At 84, Bill McFarland is a little hard of hearing and blind in one eye but he can still see the lake and appreciates the beauty of his hometown every day.
Coeur d'Alene Mayor Sandi Bloem proclaimed Dec. 15 "Bill McFarland Day." The McFarlands hosted an open house in their home and enjoyed visiting with the many well-wishers who attended, some of whom brought newspaper clippings from the past that featured Bill, his father and his grandfather.
Bill McFarland represented Coeur d'Alene as city attorney for many years, following in the footsteps of his father and grandfather, both of whom served the community in legal capacities.
Robert McFarland, Bill's grandfather, was appointed registrar for this area by the president of the United States and opened the land office here when the government released the Native American lands to the general public around 1888.
Bill's dad, William B. McFarland, was city attorney from 1920 to 1961. Bill rises from his chair and heads down the hallway to his photo gallery with the use of a walker. He says, "I've got to use this or my doctor (Bill's nephew) will give my wife hell." Bill points to a photo of his dad, who graduated from Georgetown University. "He was brilliant," Bill says. "The finest man I ever knew."
Bill himself was the prosecuting attorney from 1951 to 1954. He took the position to "get experience trying cases before a district judge and jury. I almost made enough to pay my secretary."
The plaque given to Bill McFarland this month by the mayor reads in part, "since 1948 served the city of Coeur d'Alene as a trusted legal advisor and counselor and during the 57 years that he has served … helped guide the city leaders and provided invaluable guidance, support and friendship to the city's legal department and city staff."
Bill had a hand in several important cases in his career: Getting a well for the public golf course, acquiring Tubbs Hill for the city and settling the firefighters' strike of 1977. But it's the old clippings on the coffee table that list his accomplishments. He's modest and feels more comfortable sharing his memories of the old days.
At 84, Bill McFarland has seen his share of change in this area. One of his earliest memories is wandering out of town at age 4 or 5 with Jackie Riplinger, who later started English Funeral Home. "When he didn't have anything else to do, we'd wander out of town together. We always found our way back home by using the steeple of St. Thomas Catholic Church as a marker."
He remembers fishing for perch as a kid from the dock at Fernan Lake. "My maternal grandmother was the most patient person I've every known. She'd eat every last perch we'd catch. Valet Ice and Fuel got their ice from Fernan Lake. They used to be on 11th and Mullan … I think there's a mobile home park there now.
"I remember riding a dairy truck with Louise Shadduck," Bill said. "She delivered milk so her brothers could go to college. She had an old pickup truck. We got in a wreck once, but not a bad one. Cars didn't go very fast back then. No one drove fast … the 'paved' streets just had that oiled crust of dirt on top."
Bloem is from "one of those generations in between that I don't know. Now, I remember her granddad had a hardware store downtown. They used to shoot the sales slips up to the bookkeeper on the mezzanine.
"I had an older brother and sister who were twins who always worked it to get to do things at a certain time. A year later or so, I'd get to do whatever it was. So I was driving a car – it was a '32 V8 Ford – at about age 15. I was crossing Sherman one night – you know, the middle of Sherman used to be dirt – and a state patrolman saw that I didn't stop at the stop sign. He pulled me over – his named was Davis – and gave me hell, but it was night and he couldn't read my license, so he let me go."
Dr. Duane Daugharty, a lifelong friend, upon hearing that Bill had shared some fun memories of the old days but was hesitant to reveal any of the more racy stories, said, "That's good."
Before leaving the apartment, Lina McFarland smiled and said, just out of earshot, "Call me for the good stuff."
Local journalism is essential.
Give directly to The Spokesman-Review's Northwest Passages community forums series -- which helps to offset the costs of several reporter and editor positions at the newspaper -- by using the easy options below. Gifts processed in this system are not tax deductible, but are predominately used to help meet the local financial requirements needed to receive national matching-grant funds.
Subscribe now to get breaking news alerts in your email inbox
Get breaking news delivered to your inbox as it happens.
---