Sports
Armstrong focused on future
Tue., Feb. 1, 2005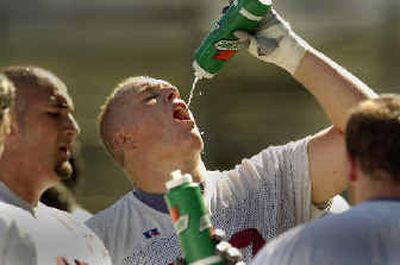 PHOENIX – Sitting on a trainer's table, Calvin Armstrong can look out the front window and see the peaks of Camelback Mountain rising above the cacti and the posh hotels of the desert.
He isn't looking at them. While icing down a thigh following another day of workouts, he's instead looking out at a roomful of NFL draft hopefuls within the undecorated concrete block walls that surround the rest of the building.
The recently graduated Washington State offensive tackle is one of them, one of about 25 players working out at MakePlays.com, an Arizona company that helps athletes train in the off-season.
At this time of year, almost all the focus there is locked in on one event: the NFL combine.
A weeklong event in late February, the combine includes hundreds of invited college players ranging from schools like Miami to McNeese State.
Armstrong, a four-year starter for the Cougars, finished school in December and decided on the advice of his agent to leave Pullman for Phoenix, where he wakes up, eats, works out, eats more, works out again, eats again, goes to sleep and then does the same thing all over again. All to try and fulfill a dream, to play in the National Football League.
"It's a goal that almost every kid has when he comes into a college program, to play in the NFL," says WSU offensive line coach George Yarno, himself an 11-year veteran of the league. "I know Calvin's working really hard at it, trying to show the strength to play with those calibers of football players. I hope it pays off for him and he gets drafted high."
And whether he gets drafted, or more likely, where he gets drafted, can matter a great deal. That's really the primary reason why he graduated a semester early, why he was willing to leave friends and a longtime girlfriend behind for a few months.
How Armstrong performs in this off-season, the first of his life with no team attached to his name, will in all likelihood mean quite a lot. Expected to be a middle-round pick when the NFL holds its seven-round draft in April, the difference between being a third-round pick and a fifth-round pick can be hundreds of thousands of dollars.
For anyone, especially a 22-year-old from Centralia, Wash.,it's a startling realization.
"Financially speaking, the higher you can go in the draft the more money you'll be making, which is obviously a motivating factor for anybody," he says. "Your lifestyle is going to change. You're going to go to different places, eat nicer foods, drive nicer cars. Things like that are just going to happen. It's a natural progression if you make a lot of money and hang out with people who make a lot of money. Right now, I'm not that kind of person and hopefully the money won't change that."
But like any employer, especially ones investing so much time and money in their employees, NFL teams do everything in their power to make sure they hire the right people coming out of college. That's where the combine comes in. Players are examined mentally, physically and emotionally as an army of scouts and doctors examine the prospects inside and out. It is, as many who go through it say, a surreal experience unlike any other.
"It's kind of a meat market. They're writing stuff down about this and that. It's interesting," says Armstrong, who has talked to a number of players about the process, including longtime NFL star Lomas Brown, who works with offensive lineman at MakePlays. "The weigh-in, they have you standing there with your shirt off and the scouts come in and look at you for 15 seconds. Then you get on the scale. It's an interesting process. They're real thorough; they check everything they can possibly check. Every joint, every disc, every injury, what you did in school, everything. They dig into your past."
At MakePlays.com, executive director Warren Anderson says they can help players get ready for the combine by coaching them on every little detail, from how to run a 40-yard dash (players watch videotape of themselves running to improve technique) to what they might encounter in an interview.
Currently, Armstrong is at 328 pounds, though he may try to drop down to 325 in time for the combine. Meanwhile, he's also working on adding upper-body strength, for now to impress scouts and eventually, he hopes, improve his level of play.
It's not an easy routine, one that he shares with current roommate Nick Kaczur, a star lineman with Toledo. But it's one Armstrong says can help him reach the goals he already has in mind for the combine: a 5.1-second 40-yard dash, a 31 ½ -inch vertical leap and 20-30 bench press repetitions at 225 pounds, among others.
"You come from school, where you're one of the top athletes," he says, thinking about his life at WSU. "You come here, and it's the best of the best. Everybody is a great athlete here. Everybody can run. Everybody can lift."
When the draft finally does roll around in April, Armstrong admits it will be a nerve-wracking weekend – "the longest of my life," he says. But with all the change that surrounds his new life and the even greater change that will come with his new job, there will be some constants.
Regardless of the fame, the attention, the money (the Chevy Silverado is planned purchase No. 1), Armstrong still knows his career and his future will come down to one thing.
"Anything you do, people are going to watch you and see how you react," he says. "They'll put you in adverse situations, not give you enough reps and just tell you to jump in there and do it.
"Fourth-and-one, what are you going to do? Are you going to choke or are you going to compete?"
Local journalism is essential.
Give directly to The Spokesman-Review's Northwest Passages community forums series -- which helps to offset the costs of several reporter and editor positions at the newspaper -- by using the easy options below. Gifts processed in this system are not tax deductible, but are predominately used to help meet the local financial requirements needed to receive national matching-grant funds.
Subscribe to the sports newsletter
Get the day's top sports headlines and breaking news delivered to your inbox by subscribing here.
---