News > Spokane
Teen back on track after motocross injury
Tue., Feb. 1, 2005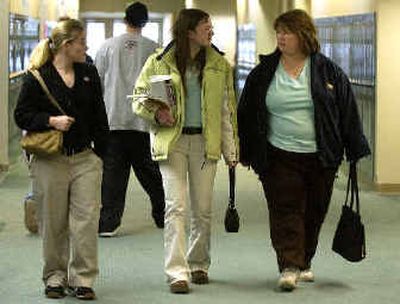 Professional motocross racer Shiri Howell started her senior year a semester late.
The 17-year-old returned to East Valley High School on Monday, after missing the entire first semester while recovering from a brain injury.
"I can't ever remember being late because I always came in early for Strolling Strings," a music group, said Howell, as she stepped into her first-period government class, which was packed with students.
Her injury happened last summer during a practice session at Extreme Motorsports, a motocross track at the Spokane County off-road vehicle park.
Motocross is a sport where motorcycles are raced at top speeds on dirt tracks with curves and hills. Shiri was tackling a jump when a young rider unexpectedly emerged from between two mounds.
While the collision left the other rider uninjured, Howell's brain stem was damaged, and she was left comatose for a month. When she awoke, around the start of the school year, the teenager faced months of rehabilitative therapy.
"It has been a long time. She's worked really hard to get this far," her mother Angie Howell said.
Monday was anything but typical for the teen, who reconnected with friends and smiled broadly as she fielded questions about her absence.
"I always knew she'd come back – I just kept wondering when it would happen," said close friend Erin Stanley, 18.
Some of the students wore green rubber bracelets in support of their classmate. Similar to the yellow Lance Armstrong bracelets that raise money for cancer research, the green bracelets were sold by the senior class and generated $3,000 for the Howell family.
"The senior class really rallied. We're glad to see her back," said Judi Christianson, district information specialist and senior parent who helped with the project.
Over the course of Shiri's rehabilitation, the family was overwhelmed by the generosity of classmates, friends and the motocross community, who helped financially, visited the hospital and sent flowers and cards.
"I was really surprised that that many people cared enough to do something. It was really nice," Shiri Howell said. "I just want to thank all my friends for helping me."
Despite being a semester behind and battling short-term memory loss, the honor-roll student plans to graduate with her classmates in June. With the help of teachers, who have assigned study partners to take notes to share with Shiri, she will double-up English courses and combine government with current world affairs – a feat by any teenager's standards.
Shiri faces additional challenges, her mother said. While damage in her right eye is healing, she still finds it difficult to remember dates and keeps a journal chronicling her daily activities.
"She has always been such a competent student. Now with her memory, she's not as confident," her mother said.
In the past few months, she read five different books but struggled to explain their content to her tutor each time.
"I was embarrassed. I said, 'I don't remember what I read,' " Shiri Howell said, explaining that she started taking notes every 10 pages to help her remember.
However, the teen has a track record of achieving goals, including maintaining more than a 3.5 grade-point average and playing violin in Strolling Strings and school orchestras, while traveling constantly to races.
At the time of the accident, the teen had just taken fourth in the Women's Motocross Association National Championship in Washougal, Wash., and was ranked seventh in the nation for her professional racing division.
Some local racers credit Howell's leadership and competitiveness on the track for influencing the formation of a women's division two years ago.
Her injury hasn't decreased her passion for the sport, which she plans to pursue in the next year, after her doctors say it's OK.
"She's a very determined person. If she wants something, she'll go for it," her mother said. "We love her very much and we're very proud of her."
Local journalism is essential.
Give directly to The Spokesman-Review's Northwest Passages community forums series -- which helps to offset the costs of several reporter and editor positions at the newspaper -- by using the easy options below. Gifts processed in this system are not tax deductible, but are predominately used to help meet the local financial requirements needed to receive national matching-grant funds.
Subscribe now to get breaking news alerts in your email inbox
Get breaking news delivered to your inbox as it happens.
---