Sports
Sonics get rare win in Sacramento
Wed., Feb. 2, 2005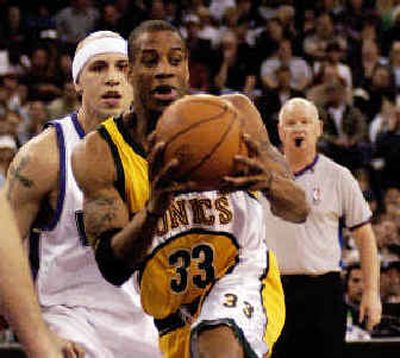 SACRAMENTO, Calif. – Ronald Murray scored a season-high 23 points in place of ill leading scorer Ray Allen, and the Seattle SuperSonics defeated the Sacramento Kings 106-101 on Tuesday night.
Rashard Lewis added 24 points, and the Sonics finished with six players in double figures to end a four-game losing streak at Arco Arena. Seattle hadn't won in Sacramento since Feb. 17, 2002.
Allen missed his second straight game with the flu, but Murray came in and played much bigger than his 4.6 points-per-game average. The Northwest Division-leading Sonics had lost four of seven and are dealing with the absence of coach Nate McMillan following the death of his mother.
Mike Bibby had 25 points, six rebounds and four assists, and Darius Songaila added a career-high 19 points and seven rebounds for the Kings, but Sacramento missed key chances late. Cuttino Mobley had 18 points and five assists.
The Sonics whipped the Kings 108-78 in Seattle in November, one of Sacramento's two season-worst, 30-point defeats.
Neither team is at full strength now because of injuries – and neither looked like a top team in the Western Conference. Both came in at 30-13, but this game featured too many fouls to allow players to get into any kind of a flow.
There were nearly more technicals in the third quarter – five – than there were nice plays.
Allen didn't travel to Sacramento, but the Sonics hope he'll be healthy enough to play Saturday against Charlotte.
Sacramento forwards Peja Stojakovic and Chris Webber didn't dress because of injuries. Stojakovic has back spasms and missed his fourth straight game. Webber has a sore left knee, the same knee he had surgery on last season.
The Kings trailed 82-75 going into the fourth quarter, but kept chipping away at Seattle's lead. Bibby's long jumper with 4:58 left tied it at 93. The teams traded leads late, with Vladimir Radmanovic's layin with 1:15 left giving Seattle a 98-97 lead it wouldn't relinquish.
Associate head coach Dwane Casey coached the Sonics for the second straight game in McMillan's absence.
The Kings jumped out to a 20-9 lead in the first quarter, but the Sonics quickly found their rhythm and got back in it. Seattle led 50-49 at halftime.
Local journalism is essential.
Give directly to The Spokesman-Review's Northwest Passages community forums series -- which helps to offset the costs of several reporter and editor positions at the newspaper -- by using the easy options below. Gifts processed in this system are not tax deductible, but are predominately used to help meet the local financial requirements needed to receive national matching-grant funds.
Subscribe to the sports newsletter
Get the day's top sports headlines and breaking news delivered to your inbox by subscribing here.
---