News > Spokane
ARC program lets disabled buy own homes
Wed., Feb. 9, 2005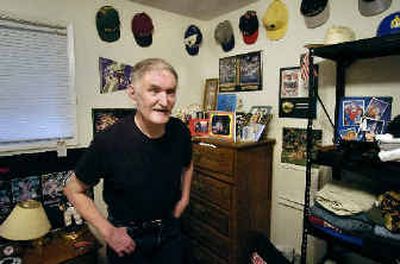 Like many homeowners, Wayne Jack would have a tough time calculating the cost of interest on a 30-year mortgage.
Nonetheless, the developmentally disabled 55-year-old enjoys having a slice of the American dream.
Six years ago, Jack and two friends with similar disabilities purchased a north Spokane home together. Today the three roommates have personalized bedrooms that are painted in their favorite colors and decorated with themes ranging from sports to motorcycles.
The arrangement offers an alternative to group homes, said Robert Alvarado, site manager for the house, who sees to the men's needs making it possible for them to otherwise live on their own.
"They get to make the choices that any of us do as homeowners and it has made them grow immensely" by giving them some control over their daily lives, said Alvarado, who helped Jack purchase the home with Larry Duvon, 65, and Jason Blanchard, 43.
The Arc of Spokane recently started a pilot program that will open the door to homeownership for people with developmental disabilities living in Spokane County.
HomeOwnership Opportunities is funded by a $45,000 grant from the Washington State Developmentally Disabled Council.
Lance Morehouse, advocacy and family support director for The Arc, said Spokane was chosen for the pilot project because it has relatively affordable housing.
HomeOwnership Opportunities will connect a group that's typically excluded from the housing market with experts who will help them complete paperwork and select and purchase a home.
"If you look at the benefits of home ownership, it's no different for them than it is for us. Really, this is just trying to level the playing field," said Morehouse, whose son is developmentally disabled.
Paula Kopczynski of Rockford attended a HomeOwnership Opportunities seminar to learn if purchasing a home is the right option for her grown daughter, Tara Kopczynski, who is preparing to graduate from Barker Learning Center.
As a parent, she worries what will happen to her child when she passes away.
"You try to make your developmentally disabled person as independent as possible so they can survive without you," Kopczynski said.
Homeownership is an appealing option because her daughter could live with close friends and build a family-style living environment, Kopczynski said.
She and a friend could find a roommate and contribute enough income to pay a modest mortgage. However, providing the young women round-the-clock care poses challenges.
Because Kopczynski never applied for government benefits when Tara was young, she was placed on a waiting list for more state funds that pay for hours for personal care assistance. As it is, Tara is eligible for such few hours that Kopczynski thinks her contribution couldn't provide enough funding to make a dent in paying for staff to provide necessary care.
"Those are the kind of things that these parents face, because these kids can't do without their benefits," Kopczynski said.
As site manager at the house owned by Wayne Jack and his roommates, Alvarado works full time, scheduling hours for seven other employees – two full-time and five part-time – who provide 24-hour supervision and help the men with personal and medical care and some chores.
Home specialist Cathie Griffith hopes to help people with developmental disabilities and their loved ones find answers and overcome obstacles. Working in partnership with Spokane Neighborhood Action Programs and Spokane HomeOwnership Resource Center, Griffith is teaching classes that will help people decide if buying a home is a workable commitment.
HomeOwnership seminars will cover responsibilities ranging from home repairs to yard work. Additionally, Griffith will explore the financial aspects of buying and maintaining a home.
People incapable of handling finances can have The Arc serve a protective payee role, receiving funds and paying mortgages and other bills.
Those who qualify will receive varying levels of help to determine their housing needs, and assistance filling out complicated forms.
From there, Griffith will work in partnership with SNAP and other organizations to connect homebuyers with resources, including HomeChoice.
HomeChoice is a Fannie Mae program that relaxes financial requirements and offers specialized financing to help disabled people of low to moderate incomes purchase homes.
Morehouse said many people mistakenly believe they can't purchase homes because they'll lose Social Security benefits.
"Everyone has to have a place to live," he said. "You don't get penalized if you own it or rent it."
Alvarado worked with his clients for over one year to teach them what they needed to know to qualify for HomeChoice. The effort was worthwhile for the three men, who selected furniture and pictures for their new home. When spring arrives, they'll work in the yard and plant flowers, Alvarado said.
"They just really get along well. That's the big thing you need for one person to have ownership with another."
Local journalism is essential.
Give directly to The Spokesman-Review's Northwest Passages community forums series -- which helps to offset the costs of several reporter and editor positions at the newspaper -- by using the easy options below. Gifts processed in this system are not tax deductible, but are predominately used to help meet the local financial requirements needed to receive national matching-grant funds.
Subscribe now to get breaking news alerts in your email inbox
Get breaking news delivered to your inbox as it happens.
---