A&E > Food
Year of the cook
Wed., Feb. 9, 2005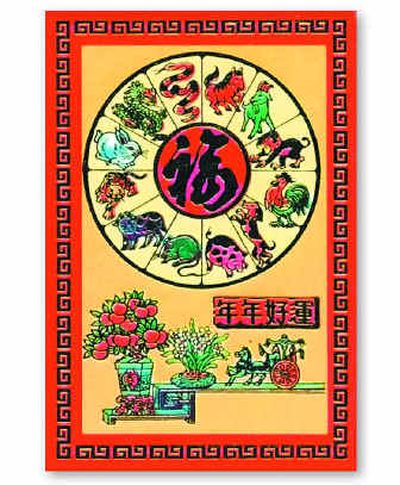 Joan Medina makes sure to leave an offering for the Kitchen God while preparing her Chinese New Year's feast. It is tradition, after all, to leave him a plate of food in exchange for some good luck over a hot stove. But as the furious, daylong cooking session gets underway, the Spokane woman and her friends also pay homage to the Swedish Chef of Muppets fame.
It may not be ancient Chinese tradition but, hey, when you're cooking two dozen or so dishes in one afternoon you need all the luck you can get.
Medina, who is Chinese American, grew up enjoying her mom's elaborate Chinese New Year dinners. Now 35 and married, the Spokane Public Library employee decided a few years ago to re-create the tradition in her own home.
"It's just kind of blossomed into this huge thing at my house … It's definitely a really good excuse to have fun," Medina says. "It is also very much a part of my Chinese heritage that I very much appreciate."
Gods sacred and silly notwithstanding, Medina actually doesn't need much luck in the kitchen.
She cooks Chinese food many nights of the week and spent years watching and helping her mom, Kim Plemons, in the kitchen. Plus, she gets an assist on the big day from two friends: Mike Winderman, who lives near Coeur d'Alene, and used to work as a line cook for a Chinese caterer. And Justin Harris, who moved from Spokane to the West Side five years ago, and is a chef at Seattle's Bastyr University.
The men might have professional pedigrees behind them, but when it comes time to prepare the New Year's meal, there's no question who's boss.
"Joan rules the kitchen," says Winderman, who owns the Bookery book store in downtown Coeur d'Alene. "She tells us what to do and we do it."
The 15-day celebration of Chinese New Year begins today. Many families commemorate the holiday with at least a couple of major, multi-course feasts.
"Chinese New Year is always a big thing because this is a time when families get together, just like Christmas and Thanksgiving," says Kim Plemons, a third-grade teacher at Grant Elementary School in Spokane.
Plemons, who is Chinese, met her husband, Dave Plemons, when he was in the Peace Corps in Malaysia in the 1960s. She's been fixing New Year's dinners for more than three decades now and she has it down to a science.
"My mom, she's one of those amazing people," Medina says. "She doesn't plan a menu. She never uses recipes. She'll cook it all an hour or two before it's time."
Plemons says she cooks at least 10 dishes for her celebration.
"Usually we use every meat except lamb, which I don't like," she says. "And there are a lot of vegetable dishes."
She simplifies things by using some prepared items. She asks her son or sister, who live in Seattle, to bring a roast duck. And she picks up barbecued pork from Costco.
She makes sure to stop at Spokane's Bay Oriental Market to stock up on fresh produce she can't find at a traditional supermarket, things like Asian eggplant, bitter melon and Chinese broccoli.
Plemons always serves soup, either hot-and-sour or a light, tofu-accented broth. There's always a whole fish, a tradition because the Chinese word for fish rhymes with "good wish." There's always a noodle dish since noodles represent longevity. (The noodles must be eaten whole, tradition says; cutting them could shorten your lifespan.)
Family favorites make up the rest of the line-up.
"We kind of ask everyone, 'What dish would you like to have?' Plemons says. "When the meal comes out, somebody's favorite is there."
Medina is even more ambitious than her mom, cranking out some 26 dishes for the 20 friends at her New Year's party last year.
But, to her mother's delight, she has continued many of the same traditions.
"It's great because that's what you need," Plemons says, "to have the next generation pick it up and carry it on. If they don't, the cultural heritage will be lost."
And, like her mom, Medina whips up most of the courses without using recipes or doing much advance planning.
"I don't like to nail down a menu," she says.
She figures out what to make the day before the dinner, then goes to markets to see what's fresh. The menu undoubtedly expands from there.
Last year, she sent out printed menus with the dinner invitations. Among the many offerings were fried won tons, pot stickers, Chinese barbecued ribs, marinated shredded pork, stewed soy sauce chicken, Malaysian shrimp curry, dragon whisker salad, pork-and-shrimp-stuffed tofu puffs, green beans with black bean garlic sauce, jasmine rice, Mongolian stir fry, Phoenix tail shrimp, and several desserts. By the time guests arrived, she had added a half dozen other dishes to the list.
"We always end up with a lot of leftovers," she says.
When it comes to Chinese food, cooking is almost secondary. It's the prep work that takes the most time. There are all of those vegetables to chop, meats to marinate, won tons to stuff.
"The cooking's actually a relief," says Winderman. "Once everything is prepped, then you just throw it into the wok."
To help with the preparation, Winderman brings a gas range, woks, cutting boards, chef's knives and other tools to Medina's house.
If stir-frying on an electric stove (where it's tricky to use a wok), it's best to use a Dutch oven instead of a skillet, Winderman says. That way, ingredients won't fly out of the pan.
Medina and Winderman have also developed a loyalty to certain ingredients crucial for turning out tasty Chinese dishes.
Seek out high-grade soy sauce, which is less salty than other types. When frying foods, use peanut oil. It has a higher smoking point, so you can bring it to a hotter temperature.
For this year's feast, Harris, the Seattle chef, hopes to wow the group with some Chinese garnishes he's been practicing. He's been working on using carrots and onions to make flowers.
Mostly, though, he says, "I show up and they tell me what to do."
"It is a blast," Harris says. "It's a very special and sacred thing to cook and prepare food. It's like creating magic. It's almost like creating something out of nothing."
And, for Medina and her friends, it's also creating a tradition.
Here are some recipes that have been hits at Medina's Chinese New Year's feasts:
■
This recipe from Mike Winderman makes enough filling for a pound of shu mai wrappers. Make sure you have a large work surface before getting started.
Dong Gu Shu Mai
Recipe courtesy Mike Winderman
1 pound shu mai wrappers, preferably Twin Dragon brand
Filling:
1/2 pound ground pork
10 large or 18 small wood ear mushrooms, minced (shiitakes can also be used)
3/4 cup (1 can) water chestnuts, minced
3 scallions, chopped
1 teaspoon light soy sauce
1 teaspoon cornstarch
1 teaspoon Shao Hsing rice wine (mirin, cooking sake or sherry also can be substituted)
Dipping sauce:
1/2 cup dark soy sauce
1/2 cup rice vinegar
Mix all the filling ingredients together in a bowl.
Fill a small bowl with water.
Peel off a wrapper from the block; put slightly less than a tablespoon of filling onto the center of the wrapper.
Dab water along all sides of the wrapper.
Bring your index finger and thumb together to make an "OK" sign, put the wrapper with the filling over the hole between your fingers. Bring up all the sides of the wrapper, and fold all the pleats of the wrapper together. Traditionally, the pleats are folded clockwise.
Tap the shu mai gently on the bottom to flatten it.
Repeat until all the filling is used.
Put all the shu mai into a steamer lined with lettuce leaves. (This prevents them from sticking.) Steam for 30 minutes.
Combine dipping sauce ingredients. Serve with the steamed shu mai.
Note: If you want to freeze them, wrap them and put in your freezer in batches. Defrost them before you steam them.
Yield: About 60 shu mai
Approximate nutrition per serving (about 3): 101 calories, 2 grams fat (.7 grams saturated, 18 percent fat calories), 4.5 grams protein, 16 grams carbohydrate, 9 milligrams cholesterol, 1 gram dietary fiber, 151 milligrams sodium.
Cantonese Barbecued Ribs
Recipe courtesy Mike Winderman
3 1/2 pounds spare ribs
Sauce:
1/2 cup char siu sauce, such as Lee Kum Kee brand
1/2 cup hoisin sauce
1 1/2 tablespoons paste from a jar of chili oil
1 tablespoon dark sesame oil
Mix sauce ingredients well.
You can cook the spare ribs two different ways.
If you are making won ton soup for your dinner, put the ribs in a large stockpot with lots of fresh ginger cut in 1/4 -inch slices.
Cover the ribs with water and bring to a boil. Turn the heat down to low and simmer 1 to 1 1/2 hours, until the ribs are tender.
Remove ribs from the pot and discard the ginger. Skim the fat and scum out of the pot and use the pork stock for your soup. (Recipe follows.)
Coat ribs with the sauce, grill or broil 10 to 15 minutes to finish.
Cut the ribs into individual pieces. Serve immediately, or wrap and freeze.
If you are not making won ton soup, coat the ribs with the sauce, marinate overnight in your refrigerator.
Preheat your oven to 250 degrees. Put the rib on a large baking sheet lined with foil. Cook the ribs 2 to 2 1/2 hours until the meat just starts to pull away from the bones.
Remove the ribs from the oven, put on a cutting board and cut the ribs into pieces.
Serve immediately or wrap and freeze.
Yield: 6 to 8 servings
Nutrition per 3-ounce serving: 338 calories, 24 grams fat (8 gram saturated, 66 percent fat calories), 22 grams protein, 5.8 grams carbohydrate, 90 milligrams cholesterol, less than 1 gram dietary fiber, 371 milligrams sodium.
Pork-and-Shrimp-Filled Won Tons
From Joan Medina
1 1/2 pounds lean pork (sirloin or rib chops with fat trimmed)
1 1/2 pounds cooked salad shrimp
1/4 cup minced fresh ginger
1/4 cup minced fresh garlic
1/2 cup finely chopped green onions
1 cup finely sliced fresh shitake mushroom pieces
1 teaspoon white pepper
1 egg
1/2 cup Lee Kum Kee brand Vegetarian Stir Fry sauce
Couple dashes of sweet white cooking wine
1 package of regular or thin won ton skins
Using a food processor, grind the pork. In a large bowl combine all of the ingredients, except for the wonton skins, and mix well.
Place a single square-shaped won ton skin in the palm of your hand with corners facing up and down and left and right. Scoop about 1 teaspoon of mixture into the center of the skin. Using a finger barely wet the top corner of the skin. Fold the skin up and press the top edge closed, forming a triangle. The water will seal the closure. Continue lightly wetting the top corner as you fold the left and right corners up like a diaper. The end result looks similar to stuffed tortellini pasta, but bigger.
Place the filled won ton on a tray lined with waxed paper.
To fry won tons: Fill a wok, pot or deep fryer with vegetable oil about 4 inches deep. Heat the oil on medium-high heat until a small corner of won ton skin rises and bubbles when placed in the hot oil. The oil should be hot enough to thoroughly cook the filling without burning the outer skin (about 350 degrees Fahrenheit). Fry batches of won tons until cooked, about 5 minutes. Drain fried won tons on paper towels and serve hot with dipping sauces.
To make won ton soup: In a separate pot, bring water to a boil. Boil the won tons until they are cooked – about 5 minutes. The won tons will rise to the surface of the water when cooked. Drain the boiled won tons.
If serving in individual bowls, add 2 or 3 won tons and a bit of the following ingredients to each bowl, to taste. If serving in a large bowl, add all of the drained won tons and the following ingredients to the large serving dish:
Thin slivers of fresh ginger
Finely chopped green onions
Shredded napa cabbage
Slivers of water chestnut
Slivers of shiitake mushroom
Remove the thick ginger slices from the pork broth used to boil the ribs. Add more salt and pepper to taste. Ladle the hot broth over the sliced veggies and boiled won tons in the bowl(s).
Note: Joan Medina recommends using thin won ton skins. The thick skins are tough, she says.
Yield: About 60 won tons
Nutrition per serving: Unable to calculate due to recipe variables.
Cantonese Roast Duck
Recipe courtesy Mike Winderman
3-pound duck or four duck legs
Sauce:
4 tablespoons char siu sauce, such as Lee Kum Kee brand
2 tablespoons hoisin sauce
1 teaspoon peanut oil
2 teaspoons five spice powder
Combine the sauce ingredients.
Marinate duck in the sauce overnight in refrigerator.
Take a sharp paring knife and use the point to make small slits all over the skin of the duck, so that the fat will render and the skin will be crisp.
Preheat oven to 350 degrees.
Put the duck on a roasting rack in a roasting pan lined with foil. Cook the duck 1 hour to 1 hour 15 minutes. The duck is done when the meat on the drumsticks moves easily and has begun to shrink away from the leg bones.
Carve the duck into pieces, serve immediately, or wrap and freeze.
Yield: About 4 servings
Approximate nutrition per 3-ounce serving: 402 calories, 32 grams fat (11 grams saturated, 73 percent fat calories), 27 grams protein, 6 grams carbohydrate, 115 milligrams cholesterol, less than 1 gram dietary fiber, 274 milligrams sodium.
Local journalism is essential.
Give directly to The Spokesman-Review's Northwest Passages community forums series -- which helps to offset the costs of several reporter and editor positions at the newspaper -- by using the easy options below. Gifts processed in this system are not tax deductible, but are predominately used to help meet the local financial requirements needed to receive national matching-grant funds.
Subscribe to the Spokane7 email newsletter
Get the day's top entertainment headlines delivered to your inbox every morning.
---