News > Idaho
Students raise funds to help victims of tsunami
Sat., Feb. 12, 2005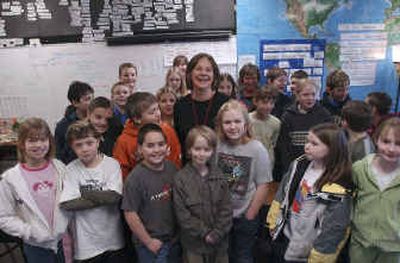 Third-, fourth- and fifth-grade students at Winton Elementary gave their time, their hearts and their imagination in order to help the victims of the Dec. 26 tsunami in South Asia. The students raised more than $1,200, with part of the money going to the Red Cross and the balance to UNICEF.
On Monday, Mary Jo Welch's fifth-grade class presented a check for $843.65 to Debbie Lohrey, the director of the Coeur d'Alene Red Cross. The class raised the money by having a coin drive. Lohrey told the students that 90 percent of the money will go to a relief fund for food, clothing and shelter for the victims.
"Does the money go to the armies?" asked Nathan Larson.
Lohrey assured him that it would only benefit the victims.
Welch told her class that the students really did make a difference, and that she and the bank teller had to roll about 15 more rolls of coins when she got to the bank.
Third-grader Dustin Chavez raised $256.88 for UNICEF through his "cocoa for kindness" effort. Principal Kristin Gorringe said Chavez developed a business plan, and sold hot cocoa outside of the school for an hour before the first bell on two of the coldest days last month.
Dustin said he was inspired to do the cocoa sale after seeing the tsunami on the news. He went to teaching assistant Sally Blair and asked why they weren't doing anything. He decided with the cold weather that cocoa was a good idea.
"Dustin and I set up at 8 a.m. and sold until the first bell (9 a.m.)," Blair said.
The first day they had a line from the school door to the curb. The second day, Dustin expanded the operation to two tables, had the cocoa pre-mixed for expediency and added marshmallows.
He chose to donate the money to UNICEF because "kids don't have much money."
Ann Porter Brown's fourth-grade class held a one-day bake sale and raised $191. They are also donating to UNICEF.
Lohrey said that the Red Cross has also received $1,600 from Woodland Middle School, and $300 from Lakes Middle School.
Essay contest winners named
The Lt. George Farragut Chapter of the National Society of the Daughters of the American Revolution has announced the winners of their American History Essay Contest.
Home-schooled student Alexander Michael Henkoski is the seventh-grade winner and home-schooled student Lauren Nicole McCurdy is the eighth-grade winner. Their essays will advance to the state level, and if they are successful there, will move on to division and national levels.
Student of the Month
Sarah Finley is the Post Falls Rotary Student of the Month for January. She is active with the National Honor Society, Key Club, Idaho Drug Free Youth, Peers Encouraging Abstinent Kids, DARE Role Model, and Tidyman's Healthy Foods and Choices, too!"
Finley has academic honors as Idaho Top Scholar, Scholar Athlete and Scholastic All-Amerian (2003-04). Her athletic honors include eight-time state champion, state record holder in three events, the 100 fly, 200 free and 500 free in swimming, and 11-time district champion, and All-American consideration (100-fly).
She holds a 4.14 grade-point average and plans to continue swimming in college. After graduating from college with a biology degree, she plans to go to medical school. She desires a career in anesthesiology.
Benefit dinner, dance
There will be a dinner and dance today at the Coeur d'Alene Inn, to benefit the Lake City High School drug- and alcohol-free senior class graduation party.
"Valentine Rock and Romance" begins at 6:30 p.m. with a no-host social, followed by a steak and shrimp dinner at 7. Dance to the music of the Renovators from 8 p.m. until midnight, and enjoy the silent auction.
Tickets are available for $30, or $20 for the dance without dinner at Great Harvest Bread or Java on Sherman. For more information, call Denise at 769-1406.
Family Fun Day
Panhandle State Bank is playing host to a Family Fun Day today from 1 to 5 p.m. at the Kootenai County Fairgrounds, to benefit the Shining Star Reading Program. In the past the program has been able to provide book bags for all first-graders and donate $100 to each school. They hope to be able to increase that to $100 for every first-grade class.
Admission is $5 per person or $20 per family, and includes games, food and entertainment by the Kelly Hughes Band.
Local journalism is essential.
Give directly to The Spokesman-Review's Northwest Passages community forums series -- which helps to offset the costs of several reporter and editor positions at the newspaper -- by using the easy options below. Gifts processed in this system are not tax deductible, but are predominately used to help meet the local financial requirements needed to receive national matching-grant funds.
Subscribe now to get breaking news alerts in your email inbox
Get breaking news delivered to your inbox as it happens.
---