News > Features
As Charles might say, it's just karma, Camilla
Tue., Feb. 15, 2005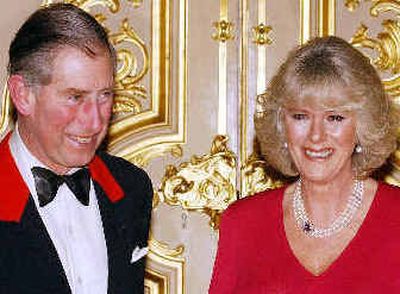 Prince Charles and his fiancee, Camilla Parker Bowles, celebrated Valentine's Day in private at his country estate after the heir to the throne spent the day at work. The couple spent a quiet weekend together following the massive publicity surrounding their wedding announcement Thursday.
In the coming weeks, they are expected to complete preparations for their April 8 civil wedding ceremony at Windsor Castle.
The newly engaged royal couple received the blessings of their local priest at a church service near the prince's country home on Sunday.
"I prayed for their happiness together and that they may come to love one another more each day and more and more draw closer to God," the Rev. Christopher Mulholland said after officiating at the service at tiny St. Lawrence's Church.
"People are very glad when two of the congregation have decided to get married," he added. "There was a great sense of goodwill."
Holy nuptials, Bratman!
Christina Aguilera is engaged to her boyfriend of two years, music executive Jordan Bratman.
Bratman, 26, proposed to the 23-year-old pop diva on Friday night while the two were vacationing at an undisclosed location and presented her with a diamond ring designed by London jeweler Stephen Webster, her spokeswoman said. No wedding plans have yet been set.
Spears, Federline on a roll
Britney Spears' husband of six months, Kevin Federline, says he's through with dancing professionally and will instead create a fashion line with his wife.
"I'm gonna design the men's and she will design the women's," Federline, a onetime backup dancer for Spears' former boyfriend, Justin Timberlake, tells Details magazine. "We're thinking about calling it Pair A Dice – because dice are lucky for us."
Maybe she'll just be his common-law wife
Jude Law's fiancée, actress Sienna Miller, says they're in no hurry to get married after getting engaged on Christmas Day.
"My sister and Jude's sister are both getting married this year," says Miller, 23, who co-starred with Law in last year's "Alfie" remake. "There's no rush, we're just happy to be engaged."
He doesn't really want to lose Leeza
The husband of TV host and producer Leeza Gibbons has filed for legal separation from his wife of 14 years, citing irreconcilable differences.
But Stephen Meadows isn't seeking divorce, his lawyer said: "He still loves her. He hopes that things work out and they can get back together."
Fez, fame has gone to your head
Wilmer Valderrama of "That '70s Show" says there's life after his breakup with "Mean Girls" star Lindsay Lohan.
"Things are good and I'm feeling good," the 25-year-old Venezuelan actor, who plays exchange student Fez on the show, told Access Hollywood.
Valderrama also named a few actresses he wouldn't mind dating to finish healing his broken heart – including Halle Berry, Angelina Jolie and Lucy Liu.
The birthday bunch
Comedian Harvey Korman is 78. Singer Melissa Manchester is 54. Cartoonist Matt Groening ("The Simpsons") is 51. Actor Michael Easton is 38. Actress Renee O'Connor ("Xena: Warrior Princess") is 34. Actress Sarah Wynter ("24") is 32.
Local journalism is essential.
Give directly to The Spokesman-Review's Northwest Passages community forums series -- which helps to offset the costs of several reporter and editor positions at the newspaper -- by using the easy options below. Gifts processed in this system are not tax deductible, but are predominately used to help meet the local financial requirements needed to receive national matching-grant funds.
Subscribe now to get breaking news alerts in your email inbox
Get breaking news delivered to your inbox as it happens.
---