News > Nation/World
Bush to nominate Crawford as new director of FDA
Tue., Feb. 15, 2005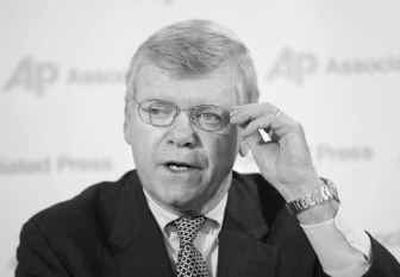 WASHINGTON – President Bush, after a lengthy search, on Monday nominated longtime acting commissioner Lester M. Crawford to head the Food and Drug Administration, despite drug-safety problems on Crawford's watch that have undermined the agency's reputation and credibility.
The appointment of an FDA commissioner had been keenly anticipated by consumer groups and lawmakers, some of whom have criticized the agency for responding too slowly to the discovery that prescription drugs ranging from painkillers to antidepressants and acne medications have been approved even though they were found to have dangerous side effects.
By sticking with Crawford, 66, a pharmacologist and veterinarian who has been running the agency for almost a year, Bush disappointed those who had hoped for a blue-ribbon nominee who would bring dramatic reforms. The president essentially sent a signal that he believes nothing is fundamentally wrong at the FDA, although incremental changes may be needed to strengthen the agency's drug-safety office.
"I do not think (Crawford) should be confirmed unless he is able to articulate some strong priorities that will restore confidence in the FDA," said one critic, Janell Mayo Duncan, an assistant FDA chief counsel for enforcement from 1996 to 1998.
"There has not been a clear message out of the agency that it is playing the safety role that it should," she said.
"The administration could have brought in somebody with a reputation as a tough-minded reformer whose top priority is public health, but instead they are appointing somebody who has been a bureaucrat in the agency, and who does not have a strong record of calling for needed reforms," said Michael Jacobson, director of the Center for Science in the Public Interest, which specializes in nutrition.
But an administration official said, "I think the FDA has gotten a bum rap, and some people may be trying to transfer that bum rap to Dr. Crawford."
Crawford was acting commissioner during much of Bush's first term.
As acting commissioner, Crawford has launched an independent scientific evaluation of the FDA's drug-safety program and won White House approval for an increase of roughly 20 percent in the budget of the safety office.
Sen. Charles Grassley, R-Iowa, signaled his Senate confirmation – considered likely – might not go smoothly.
Grassley, who serves as chairman of the influential Finance Committee, held hearings last year on Merck's decision to recall the arthritis painkiller Vioxx after a study confirmed that taking the FDA-approved drug could lead to heart attacks and strokes. Grassley faulted the FDA for ignoring one of its own scientists, Dr. David Graham, who had repeatedly warned of Vioxx risks.
The senator questioned whether the agency had become "too cozy" with the drug industry.
Local journalism is essential.
Give directly to The Spokesman-Review's Northwest Passages community forums series -- which helps to offset the costs of several reporter and editor positions at the newspaper -- by using the easy options below. Gifts processed in this system are not tax deductible, but are predominately used to help meet the local financial requirements needed to receive national matching-grant funds.
Subscribe now to get breaking news alerts in your email inbox
Get breaking news delivered to your inbox as it happens.
---