News > Spokane
Court rejects bid to recall Sam Reed
Tue., Feb. 15, 2005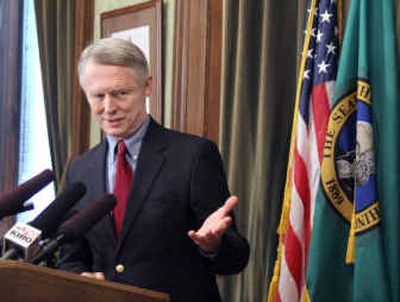 OLYMPIA – An effort to recall Secretary of State Sam Reed will not move forward, after a Thurston County Superior Court judge ruled Monday that allegations Reed mishandled the contested governor's race did not meet the legal threshold to put a recall before state voters.
Martin Ringhofer, a Boeing Co. employee, and Seattle resident Linda Jordan argued that mistakes made by Reed led to Democrat Christine Gregoire ultimately winning a third count and the election by 129 votes.
But Judge Chris Wickham ruled that each of the nine charges brought by Ringhofer and Jordan were either legally or factually insufficient, or both.
Wickham's role was not to determine whether the evidence was true, just whether there was just cause for the recall to move forward to a signature-gathering stage.
"Despite a great deal of attention to the conduct of the 2004 election there has been no showing that the secretary of state conducted his office in bad faith or unreasonably exercised the discretion granted him by law," Wickham said.
"There has been no showing of impropriety by the secretary of state."
Reed was not in court, but said later from his office that he was happy with the decision.
He acknowledged the discontent that led to the court action.
"I do think that this represents the frustration that people feel, that they're unhappy with the outcome of the election, or feel that mistakes were made," Reed said.
But "I took an oath of office to uphold the constitution and laws of the state of Washington. I can't invent it as I go along."
If Wickham had allowed the recall to proceed, Ringhofer and Jordan would have needed more than 600,000 voter signatures to put the issue on the ballot.
The ruling can be appealed to the state Supreme Court. Ringhofer said he hadn't made a decision on whether to appeal, but was leaning toward it.
"People still feel this election certification was wrong. I don't think people feel this is a good election outcome," Ringhofer said after the ruling.
"If this is not sufficient, then can you tell me if ever there is going to be sufficient cause to recall anybody?"
Wickham's decision came after nearly three hours of arguments in which Ringhofer and Jordan attempted to prove there was sufficient evidence that Reed, a Republican, was guilty of misfeasance and malfeasance for certifying the election on Dec. 30 while questions still remained over the validity of votes, and while some counties were late in certifying the results.
"This is not about us against Reed," Ringhofer said.
"This about the people having a right to hold an elected officer accountable to what he is supposed to do and not supposed to do."
Ringhofer said that allegations of felons voting, allegations of votes not matching up with voters, and instances of dead voters were all the responsibility of Reed, the state's head election officer.
Ringhofer brought a stack of absentee ballots to court that he said continued to be sent to his parents as long as eight years after they died.
Assistant Attorney General Jeffrey Even, representing Reed, argued that the allegations were without merit.
He noted that even in the case of the absentee ballots being sent to Ringhofer's deceased parents, the responsibility was with King County election officials, not Reed.
Even said it wasn't Reed's job to go back and review the results of a contested election — he said that was something that is left to the courts.
"The secretary of state had no choice, under the constitution and statutes of the state of Washington but to do what he did," he said.
The Republican candidate for governor, Dino Rossi, has challenged the results of the election in court.
His case is being heard by a Chelan County Superior Court judge who has already ruled that even if Republicans win that case, a new election won't be ordered.
Local journalism is essential.
Give directly to The Spokesman-Review's Northwest Passages community forums series -- which helps to offset the costs of several reporter and editor positions at the newspaper -- by using the easy options below. Gifts processed in this system are not tax deductible, but are predominately used to help meet the local financial requirements needed to receive national matching-grant funds.
Subscribe now to get breaking news alerts in your email inbox
Get breaking news delivered to your inbox as it happens.
---