Sports
D-I has not been a good fit for Savannah
Tue., Feb. 15, 2005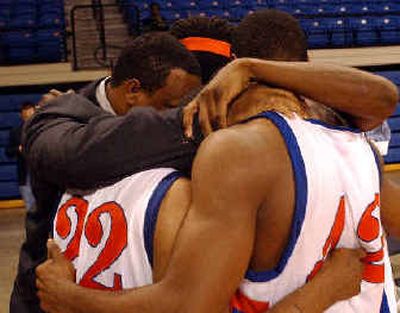 SAVANNAH, Ga. – The coach stood limply in front of the bench – arms folded, a disbelieving look in his eyes.
One of his players sat dejectedly on the court – staring at his feet, not wanting to look up at the all-too-familiar scoreboard.
Savannah State seemed overwhelmed by the finality of it all.
Yep, the Tigers went 0-for-the- season. They finished 0-28 by losing to Florida A&M 49-44 in men's basketball Monday night.
"It's unbelievable," senior Sherard Reddick said. "I don't believe it."
Savannah State became just the second NCAA Division I school in a half-century to go through an entire season without a win.
At least the Tigers didn't go down without a fight, managing their closest loss of the season. They tied it at 41 with 1:57 remaining when Donald Carson – son of former New York Giants linebacker Harry Carson – hit two free throws.
But Michael Harper put Florida A&M (9-13) ahead for good 12 seconds later with two free throws. Tony Tate clinched it at the free throw line for the Rattlers. He made six straight in the final 24 seconds and led all scorers with 23 points.
Reddick scored 12 points to pace Savannah State, which kept it close despite shooting 22.6 percent (14-of-62) from the field.
"It doesn't feel like we lost 28 games this season," Reddick said. "I guess God is testing us."
Savannah State also had a chance to lead at halftime for the first time all season. But Michael Ayodele hit a 3 with 8 seconds left in the period, putting Florida A&M ahead 28-26.
"Two points is real good," said Chris White, a 19-year-old student who was among the crowd of 1,357. "Usually by halftime, we're losing by 20 points. I actually might watch the rest of the game instead of just talking to my friends."
Indeed, the crowd was on its feet in the frantic final seconds. But in the end, it was still a loss.
"Basically," White said, "they're out of their league."
The Rattlers were clearly relieved to get a win. During one of the final timeouts, Darius Glover tried to calm his teammates. "Come on, guys. Relax. Relax."
When Carson shot an airball on a desperation 3-pointer that could have forced overtime, Florida A&M coach Mike Gillespie walked in front of the bench and said defiantly, "We won the … game."
Savannah State couldn't say that all year, joining Prairie View in the hall of infamy. The Texas school went 0-28 in 1991-92 – the only other Division I team in the last 50 years to endure a winless season.
The Tigers won four games last season, but had to forfeit those because of an ineligible player – the son of coach Edward Daniels, no less. Officially, the school has a 55-game losing streak.
This time, Savannah State completed an imperfect season without having to rely on forfeits. The Tigers lost by an average margin of nearly 23 points a game.
"They gave it their best effort all year," Daniels said. "We just needed some additional help."
Daniels isn't sure if he'll be back next season, but that isn't a concern.
"The game is about the kids," he said. "Whether I'm here or not, this will go on. It's more important than me. I just want to make sure my kids are all right. I'm going to spend the next few days with them."
Savannah State has only eight scholarship players – five short of the limit and the most striking example of a school that had no business jumping to Division I.
The Tigers had some success in Division II, but moving up to the highest level has been a major blunder. The school doesn't have enough money to fully fund any of its programs, and no conference stepped forward with an invitation.
So, Savannah State plays on as an independent. The Tigers got the attention they sought when they moved to Division I – ESPN did cut-ins during its regular programining of their plight – but they have scant hope of success.
Local journalism is essential.
Give directly to The Spokesman-Review's Northwest Passages community forums series -- which helps to offset the costs of several reporter and editor positions at the newspaper -- by using the easy options below. Gifts processed in this system are not tax deductible, but are predominately used to help meet the local financial requirements needed to receive national matching-grant funds.
Subscribe to the sports newsletter
Get the day's top sports headlines and breaking news delivered to your inbox by subscribing here.
---