News > Nation/World
It's culture that has set Kurds apart
Tue., Feb. 15, 2005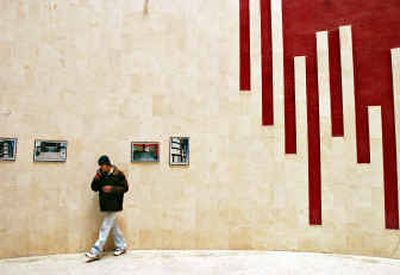 SULAIMANIYAH, Iraq – Persian pop songs blasting from shops compete with Kurdish music from passing cars. Hotel bars and restaurants are packed on the weekends, when people take strolls through peaceful streets.
Kurdish cities like this one in northern Iraq have been largely immune to the kind of violence that much of the country has suffered since the overthrow of Saddam Hussein in the spring of 2003.
History and language differences add to Kurdistan's contrast with the rest of Iraq – differences that will become ever more important when a new transitional government takes power, with the largely secular and independence-minded Kurds playing a major role for the first time.
The key difference between "here and there," said columnist Hiwa Osman, is the feeling of responsibility that Kurds have toward their cities and towns.
"If people see a suspicious car," for instance, "they immediately report it to the security forces," Osman said. "In Baghdad or other areas, there's no sense of ownership."
Kurdistan is exempt from a nationwide emergency law that has been in force since November. Law and order is largely enforced here, a far cry from the chaos that reigns in the rest of the country.
"First of all, the economic situation is better here, so is the security situation," said Noshirwan Mustafa, a senior official in the Patriotic Union of Kurdistan, the party that controls Sulaimaniyah.
Mustafa, who studied at Baghdad University in the 1960s, said that although he still loves Baghdad, it's too risky a place to venture out unless absolutely necessary.
Almost daily bombings, kidnappings and murders have driven many Baghdad residents to take refuge in Kurdistan.
Here, they find a very different culture.
Plenty of shops sell alcohol openly in Kurdistan, unlike in Arab-populated areas where Islamic extremists have murdered liquor vendors.
Although Saddam's army fought a ruinous 1980-1988 war against neighboring Iran, Iranian films and music are popular among Kurdish youths. Most Kurdish youngsters speak Persian, and many were either born or raised in Iran while their parents were exiles during Saddam's regime.
The recent elections, though, have brought out a nascent Iraqi nationalism in some Kurds.
"We finally feel we are Iraqis," Osman said. "People feel they have a new identity."
Local journalism is essential.
Give directly to The Spokesman-Review's Northwest Passages community forums series -- which helps to offset the costs of several reporter and editor positions at the newspaper -- by using the easy options below. Gifts processed in this system are not tax deductible, but are predominately used to help meet the local financial requirements needed to receive national matching-grant funds.
Subscribe now to get breaking news alerts in your email inbox
Get breaking news delivered to your inbox as it happens.
---