Sports
Olivo paid dues during off-season
Tue., Feb. 15, 2005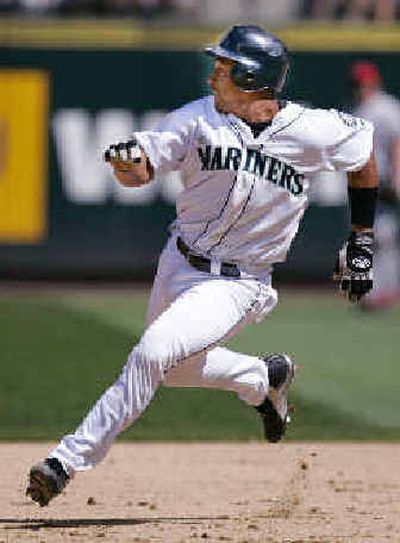 SEATTLE – Miguel Olivo thought he had everything it takes to be a major league catcher. Strong arm, quickness, speed, agility and a confidence that made him believe he's ready to succeed at this level.
Then he met Roger Hansen.
"Like most kids, he portrayed a lot of confidence," said Hansen, the Seattle Mariners' catching coordinator. "They think in their minds that there is nothing wrong, that what he is doing is OK. That's where I step in and say, 'No, it's not OK. We're going to take care of it now.' "
Thus began Olivo's off-season of development behind the plate as the 26-year-old is groomed to become the Mariners' starting catcher this season. He and Hansen worked for a week in October at the Mariners' instructional league camp in Peoria, Ariz. For most of the past month they've gotten together every morning at Safeco Field, working seven days a week for as many hours as it took to get things right.
Olivo, obtained during the 2004 season when the Mariners traded pitcher Freddy Garcia and catcher Ben Davis to the Chicago White Sox, displayed flashes of his wonderful tools in 43 starts for the M's. But mostly, his weakness stood out.
Poor technique and his lack of knowledge with the Mariners' pitching staff led to 13 passed balls. He struggled to block balls in the dirt, waved at catchable pitches and generally looked out of sync.
That, at least, was Hansen's impression when he first laid eyes on Olivo.
"He didn't have one stance when he set up behind the plate, he had 50 different stances," Hansen said. "He had all these things going on."
Hansen, a longtime coach in the Mariners' system who managed the Everett AquaSox in 1996, has taken numerous young prospects over the years, broken them down and built them back into catchers. One of his pupils is Jason Varitek, a Mariners' first-round draft pick in 1994.
"Miguel and Jason remind me a lot of each other," Hansen said. "Jason was a big draft pick but there were questions about whether he was really going to make it. I remember Lou (Piniella, then the Mariners' manager) saying Varitek would never catch in the big leagues."
Varitek was a key element in Boston's success, and Hansen sees a similar future for Olivo.
"There's no question that this kid could be one of the best," Hansen said. "It just takes time."
Over the past several weeks, it has taken time, sweat, bruises, effort and a never-ending demand from Hansen that he get the little things right.
"It is a lot of hard work," Olivo said. "But I have enjoyed working with Roger. We have worked hard together and I am more comfortable with myself."
Under Hansen, he has little choice. The workout sessions have been detailed, grueling and long. In October, they were on the field four hours some days. Most of the work is done in two hours, as long as Hansen is satisfied.
"I want it perfect, nothing in between," Hansen said. "If it takes us all day and all night to get it right, then we won't be going home until that happens. It's me and him for the rest of his life. It's a long, long process. It takes kids a year, two years to really get it. But once they get it, they become someone tremendous."
How much is there to learn?
"Hundreds of things," Hansen said. "A lot of it is balance, receiving and blocking. It's so deep that you can go on forever trying to describe it. Now, he's got a stance with nobody on base, a stance with two strikes and a runner on first base. He's learning where his feet are supposed to be, his butt, his arm, head shoulder, even his thumb."
Olivo has drawn comparisons to Ben Davis because of his defensive problems, but he is far from Davis. Olivo is willing to work beyond exhaustion; Davis rarely showed that.
"It's very tough physically and mentally, and we battle it every day," Hansen said. "Miguel is a kid who will work endless days, and that's the great thing. There's a lot of things he didn't know. He wasn't very consistent at a lot of things. Now, he's learning to be not just a major league catcher, but be a really, really good major league catcher. I think he could be one of the best."
The winter sessions at Safeco Field ended last Thursday, but they will pick up again this week when the Mariners' pitchers and catchers report for spring training in Peoria. The first workout is Thursday.
Hansen says Olivo is ready.
"The last few days were our best days ever," he said. "We're pretty much ready to take it to the games and get it consistent."
Local journalism is essential.
Give directly to The Spokesman-Review's Northwest Passages community forums series -- which helps to offset the costs of several reporter and editor positions at the newspaper -- by using the easy options below. Gifts processed in this system are not tax deductible, but are predominately used to help meet the local financial requirements needed to receive national matching-grant funds.
Subscribe to the sports newsletter
Get the day's top sports headlines and breaking news delivered to your inbox by subscribing here.
---