News > Spokane
People of various religions rally for equal rights for gays
Tue., Feb. 15, 2005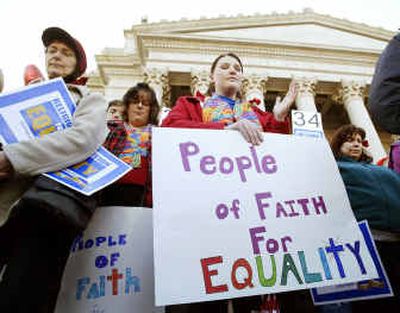 OLYMPIA – As a choir sang the last notes of John Lennon's "Imagine," Sharon Holley stood in the sunshine with her life partner, Jena Rosen, and their 3-year-old son.
"We're people, we're parents, we believe in God," said Holley, 34, of Olympia. "It's not a sin to have the family we have."
Expressions of religious faith and support for gay issues don't always go hand-in-hand.
On Monday, about 700 people attended a religious-themed rally for gay rights to show the two concepts aren't mutually exclusive.
"We have allowed the far-right fundamentalists to distort the truth," Pastor Stephen D. Jones of Seattle First Baptist Church told the crowd.
"God loves each and every one of you, all of us, and reaches out to us with acceptance and love. Don't let anyone tell you otherwise."
On one side of the rally-goers stood the Legislative building, where the state Senate is considering a bill to ban discrimination against gays and lesbians in housing, jobs and insurance.
On the other side was the state Supreme Court, where arguments are scheduled for March 8 in a landmark gay marriage case.
Holley married Rosen in a Jewish ceremony six years ago, and said she'd love to celebrate their anniversary this March by renewing their vows in a civil ceremony in Washington state.
Dozens of leaders from different faiths – Christian, Jewish, Muslim, Unitarian – attended the rally wearing brightly colored robes and prayer shawls.
They were joined by hundreds of other people, some carrying rainbow banners or signs such as "Marriage is Love" and "Family Values for ALL."
"We're here to talk about love," said the Rev. Monica Corsaro, campus minister at the University of Washington, as she kicked off the rally.
"Not the mushy kind … this is the kind of love that stands in front of a tank in Tiananmen Square. This is the kind of love that says, 'I will not sit in the back of the bus.' "
This year, the gay civil rights bill has the best chance of passing it's had since it was first introduced 29 years ago, said Rep. Ed Murray, D-Seattle.
A bipartisan majority in the House passed it last Friday and it's now being considered by the state Senate.
Murray called on the crowd to support lawmakers who vote for equal rights for gays and lesbians, "regardless of party."
Local journalism is essential.
Give directly to The Spokesman-Review's Northwest Passages community forums series -- which helps to offset the costs of several reporter and editor positions at the newspaper -- by using the easy options below. Gifts processed in this system are not tax deductible, but are predominately used to help meet the local financial requirements needed to receive national matching-grant funds.
Subscribe now to get breaking news alerts in your email inbox
Get breaking news delivered to your inbox as it happens.
---