News > Business
Prescription painkiller sales dropping
Tue., Feb. 15, 2005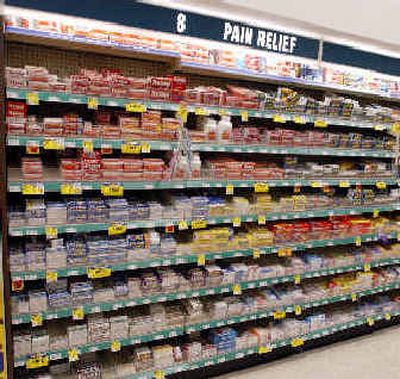 TRENTON, N.J. — For years, Americans have been popping painkillers like they were candy to treat everything from headaches to arthritis. But new data show America's love affair with the medications may have cooled off after the blockbuster drug Vioxx was pulled from the market over safety concerns.
The data say sales of prescription arthritis drugs plunged at the end of 2004, after Merck & Co. Inc. of Whitehouse Station, N.J., pulled Vioxx from the market Sept. 30 and a string of recent studies raised safety concerns about other widely used pain medicines.
Nonprescription pain reliever sales jumped by double digits in late 2004, but doctors and other pain experts believe many patients are simply suffering in silence, confused about what pain medication is best for them.
"I've been in practice for 30 years and I've never seen such a mess," said Dr. Michel Dubois, director of the New York University Pain Management Center.
He estimates about 20 percent of his patients have switched from Cox-2 inhibitors, the painkiller class including Vioxx and Pfizer Inc.'s Celebrex and Bextra, to narcotic painkillers or nonprescription ones. Another 20 percent have stopped taking painkillers altogether.
Advisers to the Food and Drug Administration will meet for three days starting Wednesday to try to find a balance between the benefits and potential dangers of Cox-2 drugs. The FDA eventually is likely to require strong warnings on the drugs' labels, further dampening Cox-2 sales, predicted independent pharmaceuticals analyst Hemant Shah of HKS & Co. in Warren, N.J.
Meanwhile, data released Monday by IMS Health of Plymouth Meeting, Pa., show prescriptions filled for Cox-2 inhibitors — preferred by many patients and doctors because they cause less stomach and intestinal problems than older anti-inflammatory drugs — dropped 43 percent in December 2004 from a year earlier.
IMS, a pharmaceutical information and consulting company, said the number of Cox-2 prescriptions filled at retail and mail-order pharmacies and nursing homes, about 70 percent of U.S. sales, fell from 4.5 million in September to 2.7 million in December.
Lisa Morris, global marketing director at IMS, said about two-thirds of Vioxx patients switched to other Cox-2 drugs and the other third switched to other nonsteroidal anti-inflammatory drugs, or NSAIDS, if they stayed on prescription medicines.
"Whenever there is press around drug safety, you will see that people will sit it out for a while trying to figure out what to do," Morris said.
Total patients taking Cox-2 drugs or any NSAID dropped 9 percent from September until December 2004, she noted.
"It is disconcerting because it could mean there are people, due to the confusion, who are doing nothing and experiencing pain," said William Rowe, executive director of the American Pain Foundation. The foundation recommends people consult with their doctor about other pain treatments.
"There are alternatives, complementary alternatives to pain relief, things like massage and baths and acupuncture and hot and cold (packs) which are documented to provide relief," Rowe said.
Carolyn Nuth, 62, of Baltimore, who has arthritis and fibromyalgia, went off Vioxx in October and has since found other prescription and over-the-counter pain relievers don't help her as much, so she uses hot and cold packs more.
She said the public seems as confused as she is, and inquiries about treatment options jumped about 15 percent after the Vioxx withdrawal.
In the week after Merck pulled Vioxx from the market worldwide because its own study had showed Vioxx increased risk of heart attacks and strokes after long-term use, Celebrex and Bextra picked up most of its share of the prescription painkiller market, according to data from Impact Rx, a Mount Laurel, N.J., a company that tracks doctors' prescribing patterns. That week, there was about a 25 percent jump in the number of patients being switched to a different prescription painkiller or starting on one for the first time.
Local journalism is essential.
Give directly to The Spokesman-Review's Northwest Passages community forums series -- which helps to offset the costs of several reporter and editor positions at the newspaper -- by using the easy options below. Gifts processed in this system are not tax deductible, but are predominately used to help meet the local financial requirements needed to receive national matching-grant funds.
Subscribe now to get breaking news alerts in your email inbox
Get breaking news delivered to your inbox as it happens.
---