News > Spokane
A spellbinding moment
Wed., Feb. 16, 2005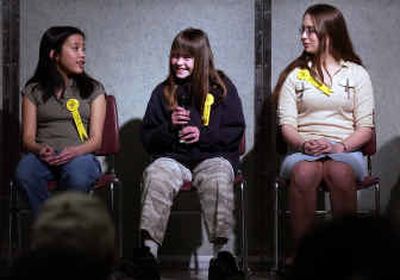 Fourteen-year-old Miles Martin left the Spokane Valley Spelling Bee Tuesday night with an "insatiable" need that may never be filled.
Insatiable was the word that left Cindy Wu, 14, holding the title at the 32nd annual event at Bowdish Middle School.
"I wrote all the words three times a day," Wu said, clutching her trophy and her $100 gift certificate to the Spokane Valley Mall.
Martin gave her a run for her money.
Down to just the two of them, Martin, an eighth-grader at Bowdish Middle School, and Wu, an eighth-grader at Horizon Middle School, went "improvisation," "lexicographer," "femininity" and "diversification" before Martin stumbled on "insatiable."
He didn't go home empty-handed, earning a $50 gift certificate to the mall.
The Valley spelling bee is a rite of passage for Spokane Valley middle schoolers.
Every year since 1974, the top-ten spellers in grades six through eight have had the chance to go syllable for syllable with their peers. When it's over, they don't move on to the state championships or the National Spelling Bee in Washington, D.C.
"It all ends right here," said Kyle Schafer, the bee's coordinator and a teacher at Bowdish.
The bee has always been held at Bowdish, and if Martin had won, he would have been the first Bowdish winner since 1983.
"I really wanted it to go to a Bowdish this year," Schafer said. "It's time."
The winner of the first bee was Buzz Price. No kidding.
Schafer's wife Carolyn, and Bill Bussard, who coordinated the bee for 27 years, were judges Tuesday night. They pick words at random from three master lists that are rotated year after year, so that if a student returns again the following year for another try as the top wordsmith, they don't hear the same word twice.
The first seven rounds of words are from a short list of more difficult words the students knew they would be asked. After that, some words may have been easier to spell, but the students may not have seen them before.
Angela Meter of North Pines came in third last year as a seventh-grader, and was back Tuesday, taking fourth.
Her sister, Nicole Meter, was the spelling champ in 2002. So Angela desired the trophy, but was knocked out with "inadmissible."
"I worked with her as much as I could," Nicole Meter said.
The third to go out was Aaron Briggs, from Valley Christian School. He stumbled on "improvisation."
Local journalism is essential.
Give directly to The Spokesman-Review's Northwest Passages community forums series -- which helps to offset the costs of several reporter and editor positions at the newspaper -- by using the easy options below. Gifts processed in this system are not tax deductible, but are predominately used to help meet the local financial requirements needed to receive national matching-grant funds.
Subscribe now to get breaking news alerts in your email inbox
Get breaking news delivered to your inbox as it happens.
---