News > Spokane
Sister Mariana surpassed her early billing
Wed., Feb. 16, 2005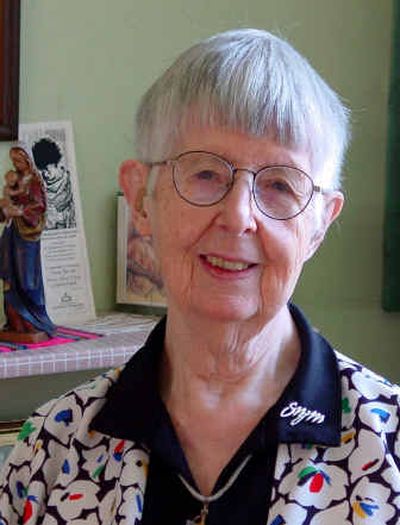 The child nestled in her mother's womb that day, in 1911, when the nun appeared at the work camp in the Cascade Mountains. The child's father was helping build the Milwaukee railroad. The nun asked the father if she might collect alms for the poor from the workers. The father insisted on collecting the donations, knowing the workers would give more if the boss asked.
The nun then met the child's mother and blessed her unborn baby and said, "This will be a special child."
The nun was Saint Frances Xavier Cabrini who traveled throughout the United States in the early 20th century founding hospitals and orphanages. The child in the womb was Sister Mariana Murphy. When this story was told at Sister Mariana's funeral Friday, a murmur of surprise filled the chapel at Holy Names convent on Spokane's North Side. Yet no one doubted Saint Frances had it right. Sister Mariana turned out to be a blessing to all who knew her. And to many who never did.
I believe I have met two saints in my life. One was Sister Peter Claver, who ran Sacred Heart Medical Center for many years; she died in 1991. The other was Sister Mariana, who died Feb. 9 at age 93. Rome will probably never deem either one a saint; it's a complicated process with required miracles and other heavenly hoops.
But both Sister Peter Claver and Sister Mariana had a "saint-feel" about them. This doesn't mean they were relentlessly pious and sweet. Most saints, official and otherwise, were complex human beings. Some of the medieval saints had what would now be classified as eating disorders. Others – think Joan of Arc – heard voices. Even Mother Teresa had a reputation for crabbiness.
Anyway, I first met Sister Mariana in 1999, and our mutual admiration society was born. She had been a Holy Names sister for six decades and was "retired" after years of teaching and parish work. Sister Mariana was a news and politics junkie. Most state legislators knew her by name, because she wrote and called them, and she was a frequent letter-to-the-editor writer.
Sister Mariana was diminutive, with a pixie haircut and ears that pointed outward near the top. You could almost see the eternal second-grader in her – the age at which she first felt called to religious life after receiving a holy card depicting Jesus as the good shepherd.
She entered the convent at 18, in 1930, the same year her father, William Michael Murphy, founded Central Pre-Mix Co., in Spokane. All the nuns prayed for the success of this new company.
The prayers were answered. The business made lots of money, but the Murphy family lives by the philosophy that if you are given much, much is required of you. In 1999, the family made a sizable donation to build a new St. Margaret's shelter for homeless women and children on Spokane's South Hill. They gave the money in honor of Sister Mariana. But when Catholic Charities offered to rename the shelter to include her name, Sister Mariana wouldn't hear of it.
It was never about her. In our narcissistic culture, this alone might qualify someone for sainthood. Family members who gave her gifts of clothes later learned she'd given them to someone she felt needed them more. Her father taught her to stand up for the underdog, and she always did. In one letter to the editor, she took the newspaper to task for running a humiliating photo of the captured Saddam Hussein. "Cruel as Saddam was, he is still a human being," she wrote. "Justice will be done, but need we be brutal?"
Sister Mariana never complained of ill health, though she had her share of it during her last years. She wasn't big on sentiment or fanfare. She scripted her own funeral with instructions not to deviate from the script. The chapel was packed with mourners Friday, and the tears and the laughter were welcome deviations.
On my computer at work, I'll tape Sister Mariana's photo next to a photo there of Sister Peter Claver. It's my reminder that saints can show up in work camps, collecting alms, or run hospitals, or write letters to the editor on a regular basis. They humbly leave some footprints, if you know how to spot them.
Local journalism is essential.
Give directly to The Spokesman-Review's Northwest Passages community forums series -- which helps to offset the costs of several reporter and editor positions at the newspaper -- by using the easy options below. Gifts processed in this system are not tax deductible, but are predominately used to help meet the local financial requirements needed to receive national matching-grant funds.
Subscribe now to get breaking news alerts in your email inbox
Get breaking news delivered to your inbox as it happens.
---