Sports
Eastern falls to Weber State at home in pivotal Big Sky contest
Fri., Feb. 18, 2005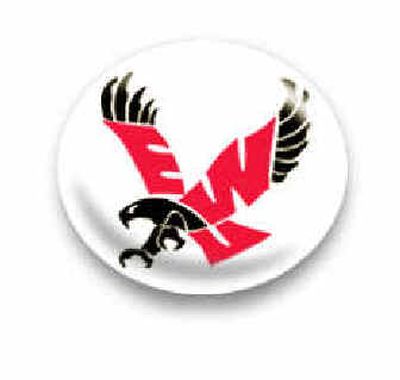 As expected, Lance Allred was a load.
The 6-foot-11, 270-pound Weber State post had a typical game Thursday night with 19 points and 12 rebounds against Eastern Washington.
But that wasn't the main reason the Wildcats dumped the Eagles 65-63 in a critical Big Sky Conference game at Reese Court
The surprise was Terrell Stovall. The 6-3 junior guard came off the bench to score 19 points – more than twice his average – by hitting all five of his free throws and 7 of 9 shots. The last came when he took the ball the length of the court and backed Tim Scheffler under the basket for a layup with 1.6 seconds left.
That followed a Marc Axton 3-pointer from the top of the key that tied the game with 10.5 seconds remaining. Axton finished with 23 points, his high for conference play.
"We kind of knew what (Stovall) was going to do, but he was still able to get it done at a few crucial points," Eastern coach Mike Burns said. "You've got to take your hat off to him for making those plays."
Eastern's grip on the sixth and final spot for the Big Sky Tournament slipped with Northern Arizona blowing out Montana State. The Eagles (7-17 overall, 4-7 conference) are only a half-game ahead of the Lumberjacks (11-14, 4-8) and they're two behind Weber (11-14, 6-7). Last-place Idaho State, two games behind Eastern, is at Reese Court Saturday night for the final home game.
"This is very tough to swallow," Eastern sophomore post Matt Nelson said. "We went into this game knowing how much we need it. Two tough losses in a row is tough. We've got to have this game Saturday."
It appeared the Eagles had the game in control, building an 11-point lead midway through the second half. Eastern led 58-49 at the 5:30 mark when Paul Butorac drove for a layup. But then it went 4:38 without scoring as some shots were rushed and others spun out of the basket for five straight misses. The Wildcats used that to go on a 12-0 run to regain the lead. Allred had four straight points to tie the game and Coric Riggs hit a 3 from the left wing for the lead.
Nelson scored on an offensive board and was fouled with 52 seconds left. When he missed the free throw, Axton rebounded but the Eagles couldn't make the shot.
Then Stovall made two free throws with 22.3 seconds left.
In the final 5 minutes, Weber made all five of its shots and all four of its free throws.
"We've had chances to win these last two games, but we just could not close the deal," Burns said after the Eagles' fifth straight loss. "We are at home, it's crunch time, we've got to make plays and we've got to make free throws… . There were plenty of opportunities for both teams to fold their tents and neither did. It was a good college basketball game and unfortunately we weren't able to make plays down the stretch to win it."
Allred scored 10 points in the last 8:11 despite playing with three fouls for almost 11 minutes.
"He's a beast man," said Nelson, a 6-9, 230-pound sophomore post who finished with eight points and seven rebounds. "You have to use all your energy to just not let him catch it because if he catches it down there it's awful.
"I think we did a good job on him for the most part. He didn't look like he played as well as his numbers show, but he got a lot of easy baskets."
Allred averages 17.9 points and 11.8 rebounds, fourth in the nation.
"I thought we did a nice job," Burns said. "He's a load and he throws his load around in there and when he's allowed to do that he's really hard to guard. I thought for stretches we did a good job and I thought there were times where we probably allowed it to get to him too easily. That's one of those things that happen with a player of his caliber."
Weber State 65, EWU 63
Weber State (11-14, 6-7)—Riggs 5-4 0-0 12, Goodell 2-6 0-0 5, Allred 7-14 5-6 19, Jenkins 4-7 0-0 8, Cox 1-6 0-0 2, Sileira 0-0 0-0 0, Emadi 0-0 0-0 0, Stovall 7-9 5-5 19, Barisic 0-0 0-0 0. Totals 26-56 10-11 65.
Eastern Washington (7-17, 4-7)—Smith 4-6 0-0 11, Axton 8-18 4-5 23, Nelson 3-7 2-3 8, Scheffler 1-4 0-0 3, Pariseau 2-6 0-0 4, Henkel 2-2 0-0 4, Bekkering 0-0 0-0 0, McCulloch 0-0 0-0 0, Loe 0-0 0-0 0, Beitinger 2-3 0-0 5, Butorac 2-6 1-2 5. Totals 24-52 7-10 63.
Halftime—Eastern Washington 28-25. 3-Point Goals—Weber State 3-10 (Riggs 2-4, Goodell 1-2, Jenkins 0-1, Cox 0-2, Stovall 0-1), Eastern Washington 8-18 (Smith 3-4, Axton 3-9, Scheffler 1-3, Pariseau 0-1, Beitinger 1-1). Fouled Out—None. Technical Fouls—Butorac. Rebounds—Weber State 25 (Allred 12), Eastern Washington 32 (Nelson 7). Assists—Weber State 11 (Goodell 4), Eastern Washington 14 (Pariseau 8). Total Fouls—Weber State 15, Eastern Washington 13. A—2,171
Local journalism is essential.
Give directly to The Spokesman-Review's Northwest Passages community forums series -- which helps to offset the costs of several reporter and editor positions at the newspaper -- by using the easy options below. Gifts processed in this system are not tax deductible, but are predominately used to help meet the local financial requirements needed to receive national matching-grant funds.
Subscribe to the sports newsletter
Get the day's top sports headlines and breaking news delivered to your inbox by subscribing here.
---