News > Idaho
Ill ice hockey player needs help with trip back home
Fri., Feb. 18, 2005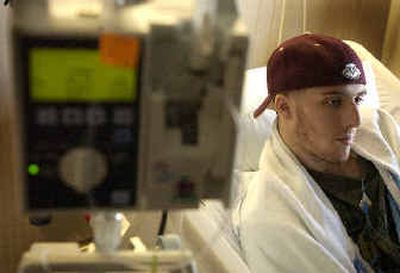 George and Bev Resto taught their three children to protect themselves, particularly on the ice where their two boys played championship hockey.
So the Restos didn't worry last month when their youngest boy, Jason, 18, left their Ashburn, Va., home to play hockey for the Kootenai Colts in Coeur d'Alene. The Junior B team, one step below the Spokane Chiefs, offered Jason top-notch training and exposure to college recruiters and National Hockey League scouts.
But he wasn't prepared for everything. Three weeks after he moved in with Terry Beck, Colts' director of operations, Jason suddenly was wracked with back and chest pain. He called his mom who advised him to go to the hospital.
"I wasn't worried at first. He's strong as an ox," Bev Resto said Thursday.
Then Jason called from Kootenai Medical Center with the diagnosis – acute lymphocystic leukemia. The Restos were numb. Bev Resto had lost a breast to cancer a decade ago.
"I knew my children were at risk," she said. "But they just had to be attentive to their bodies, lifestyle."
The Restos threw a weekend's worth of clothes in a bag and bought one-way plane tickets to Spokane. Nearly three weeks later, they're still here and hoping for help getting home with their son. Doctors don't want Jason on a commercial flight that will expose him to germs his system can't battle right now.
Earlier this week, Beck e-mailed 100 or so hockey families, supporters and coaches seeking a private flight home for the Restos. Jason is responding well to chemotherapy, and his doctors believe he could handle a cross-country flight between Feb. 21 and March 3, when his next round of chemo starts.
Beck's e-mail inspired several offers, including one from Angel Flight, a nationwide group of private pilots who volunteer their time and donate their aircraft and fuel to transport patients with no other flight options. The deal isn't final, but it's close, Beck said.
"The news brought everyone back to reality for a little bit," he said. "You realize how good people are, how giving."
Jason and his parents still have high hopes for hockey. The Restos visualize a college sports scholarship. Jason sees himself as a defenseman in the NHL.
"I want to play hockey the rest of my life," he said. A blue, red and silver No. 4 Colts' jersey covered with team signatures hangs near the foot of his hospital bed.
The Restos can't praise Kootenai Medical Center enough. Jason was diagnosed quickly. Doctors and nurses called his parents with regular updates even though Jason is 18 and an adult.
"This was the best place to be," George Resto said.
They have health insurance. Still, their bills are mounting. Beck opened an account, the Jason Resto Benefit Fund, at U.S. Bank for donations to help them cover travel costs – they want to cover the $2,000 fuel cost for Angel Flight – including motels and dining out, and uncovered medical costs.
The Colts will hold Jason's position for him.
"Doctors said he might be able to come back when he's 20, if things go well," Beck said. "When he can play, he'll have a spot with us."
Local journalism is essential.
Give directly to The Spokesman-Review's Northwest Passages community forums series -- which helps to offset the costs of several reporter and editor positions at the newspaper -- by using the easy options below. Gifts processed in this system are not tax deductible, but are predominately used to help meet the local financial requirements needed to receive national matching-grant funds.
Subscribe now to get breaking news alerts in your email inbox
Get breaking news delivered to your inbox as it happens.
---