News > Features
Coatless kids not likely to catch their death of cold
Mon., Feb. 21, 2005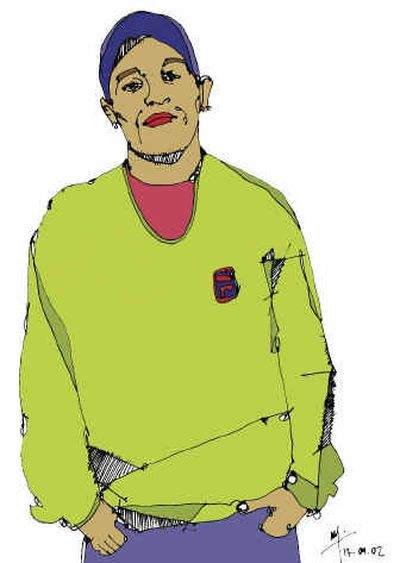 KANSAS CITY, Mo. – Bought a warm winter coat for a teenager lately?
Why? You actually think it's going to get worn?
Yeah, good luck with that.
Take a look at most teens standing outside these days. It could be 3 degrees, with winds cold enough to freeze their lips to a Coke can, and, guess what?
No coat. No hat. No gloves.
"It's definitely a trend," said Heather Keeler, a biology teacher at Olathe (Kan.) South High School.
There are almost as many reasons as degrees on a thermometer.
Winter coats are bulky and don't fit well in today's smaller lockers. They clash with outfits and are a pain to lug through malls. You could lose them and get in trouble. And perhaps most important, they're what Mom and Dad want you to wear – not exactly the highest priority on your agenda if you're a teenager.
Besides, many teens will tell you, they simply don't get that cold. Maybe they're more active, or preoccupied. Maybe their younger, stronger bodies are just more efficient at keeping them warm.
Then there's perhaps the biggest factor.
The hoodie. With all its styles and colors, the hooded sweatshirt has made heavy winter coats for teens practically irrelevant.
"Almost nobody I know wears a winter coat anymore," said Ryan Perransky, a 16-year-old Kansas City teen standing outside Metro North Shopping Center with a group of hoodie-wearing friends. "If they do, you're like, 'Dude, why?' "
There was a time when heavy, fur-lined parkas were all the rage. Bomber jackets and ski jackets had their day, as did sporty Starter jackets, heavy sheepskin coats or those down puffy things that made you look like the Michelin Man.
There is simply no such gotta-have-it winter coat today.
Into the void stepped the hoodie, zip-up or pullover, with or without a center hand-warmer pocket, in a rainbow of colors.
"For teens, the hoodie has replaced regular coats because it is so functional," said Barbara Coulon, vice president of trends for Youth Intelligence, a forecasting company in New York. "They'll throw on a vest over it, or layers underneath. And today, there's a hoodie for every group – urban skaters, hip-hop kids, preppy kids, athletes, boys and girls. They're just everywhere."
As school let out on a recent brisk day at Olathe South, teens wore hoodies by the hundreds. Others wore polar fleece, sweaters or the layered look. Several even wore short-sleeved T-shirts.
Few donned an actual winter coat.
Cece Morris, a 15-year-old sophomore, says not to worry. At least she keeps her ears warm.
"I wear my headphones to school and play music, so my ears don't get cold," she said.
Musical earmuffs. That they'll wear.
But coats?
"Coats are a waste of space," declared sophomore Jason Reed. "They're too heavy, and they get in the way."
Jason doesn't even own a winter coat. The most he ever wears is a light jacket.
Doesn't he get cold in freezing winter weather?
"No."
Zero degrees? Driving snow?
"I just don't get that cold."
What do your parents think?
"They think I'm crazy."
"I think he's crazy," said his father, Alvin Reed, an Olathe truck driver. "He sneaks out without his coat. I try to convince him that he's going to get a cold. But he never gets sick. He's had perfect attendance for the last four years. I just say, 'When you get pneumonia, I hope you learn your lesson.' "
Ah, there it is, the last refuge of caring and desperate parents. It's your funeral. Don't say I didn't warn you.
But do they have a point? Even doctors disagree on this.
No one is arguing that extreme conditions may lead to hypothermia and frostbite. The disagreement is over whether spurning a coat in normal winter weather can make you sick.
You bet, said Jennifer Bernard, a pediatrician and internist with St. Luke's South hospital in Kansas City. If you put your body under too much stress, you may lower your ability to fight viruses. That's just common sense.
"Should you wear a coat?" she said. "Absolutely."
Ed Christophersen, a child psychologist at Children's Mercy Hospital in Kansas City, declares that's "hogwash."
"They're not going to get colds going without a coat. They actually had studies at Yale Medical School to see whether exposure to cold temperatures brought on any more colds, or made them last longer. It didn't."
Besides, Christophersen said, there are far more important things for parents to worry about.
"If it's brushing their teeth where if they don't do it they are going to have bad breath or dental-care issues, then you have no choice. We don't want them into drugs or alcohol or promiscuity where it could have a permanent effect in their lives. But who cares if they wear their coats?"
Certainly not the kids.
So what's a parent to do who grew up believing in the importance of bundling up against the elements?
In a word, said Mike Ragan, a psychologist at the Crittenton Blue Springs Clinic in Kansas City, chill.
"From about the age of 10 on, kids don't learn very much from what you say to them, they learn from how you live your life," he said. "So show it to them, invite them to participate, but don't force it on them. You have to have faith in what you've created. So chill out, and let your kid chill out in a different way."
Local journalism is essential.
Give directly to The Spokesman-Review's Northwest Passages community forums series -- which helps to offset the costs of several reporter and editor positions at the newspaper -- by using the easy options below. Gifts processed in this system are not tax deductible, but are predominately used to help meet the local financial requirements needed to receive national matching-grant funds.
Subscribe now to get breaking news alerts in your email inbox
Get breaking news delivered to your inbox as it happens.
---