News > Nation/World
First in war, first in peace, slipping in polls
Mon., Feb. 21, 2005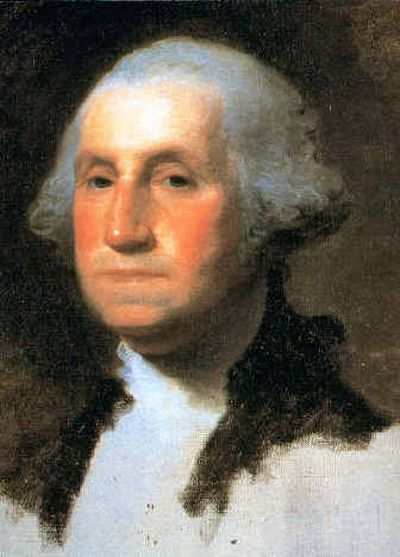 WASHINGTON – When Americans rate their greatest president, they do not agree on who tops the list but seem to rank a half-dozen chief executives ahead of the nation's first.
George Washington tied for sixth place in one recent poll and rated seventh in another.
"Let's face it: 'First in war, first in peace and seventh in the hearts of his countrymen' doesn't sound very impressive," said Ted Widmer, a professor of history at Washington College in Chestertown, Md.
Washington has been considered the "Father of his Country" by schoolchildren for generations. Shortly after his death in 1799, Congress adopted the description Henry Lee used in his eulogy of his fellow Virginian: "First in war, first in peace and first in the hearts of his countrymen."
But in a poll commissioned by Washington College for Presidents Day, Americans rated Abraham Lincoln as the greatest president. A CNN-USA Today-Gallup Poll put Ronald Reagan on top.
Many young adults have only sketchy information about Washington, according to the college's poll.
Asked who was the greatest president, 20 percent of those polled chose Lincoln. Reagan was picked by 15 percent, Franklin D. Roosevelt by 12 percent, John F. Kennedy by 11 percent, Bill Clinton by 10 percent and George W. Bush by 8 percent. Washington was picked by 6 percent.
In the CNN-USA Today-Gallup Poll, Reagan had 20 percent, followed by Clinton and Lincoln in the mid-teens and then Roosevelt and Kennedy at 12 percent.
Widmer said the college hopes to focus more attention on the first president with a $50,000 award for the year's best book on Washington or the early days of the republic.
Local journalism is essential.
Give directly to The Spokesman-Review's Northwest Passages community forums series -- which helps to offset the costs of several reporter and editor positions at the newspaper -- by using the easy options below. Gifts processed in this system are not tax deductible, but are predominately used to help meet the local financial requirements needed to receive national matching-grant funds.
Subscribe now to get breaking news alerts in your email inbox
Get breaking news delivered to your inbox as it happens.
---