Sports
Growing business, new baby keeping Martinez busy
Mon., Feb. 21, 2005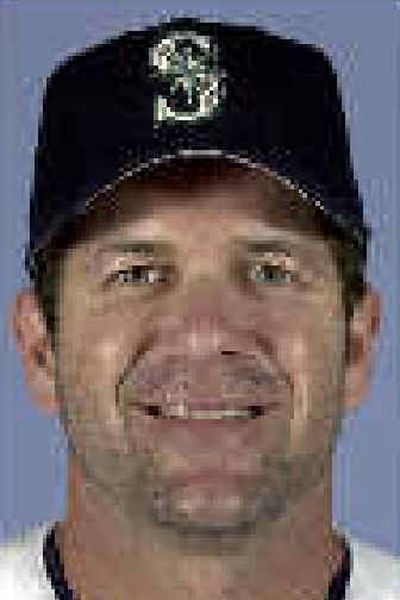 PEORIA, Ariz. – Edgar Martinez is so busy being a proud Papi, he doesn't have time to think about the baseball he is missing.
Today, as the Seattle Mariners' position players report for spring training in Arizona, their retired designated hitter is home in the Seattle area celebrating the birth of his third child.
Holli Martinez gave birth to the family's second daughter, Jaqueline Jean Martinez, Saturday morning. The baby weighed 6 pounds and was 18 inches long at birth.
"She's very healthy and Holli is doing great," Martinez said Sunday by telephone.
The baby makes three little Martinezes, in addition to son Alex and daughter Tessa.
The family, along with a growing embroidery business, has kept Edgar Martinez from thinking too much about what he's missing. This is the first spring training he has missed after 18 major league seasons.
"It's a little different this year," he said. "My mind has been in another place. But now that we've had the baby, I might be able to think about baseball a little more."
When he does think about it, he knows it won't be easy to have left the daily workouts and positive feelings that prevail at spring training.
"I have always enjoyed spring training," Martinez said. "It was a lot of hard work, but it was one of my favorite parts of playing baseball. You have all the expectations and you're getting prepared for the season. It was one of my favorite things about baseball."
Still, he hasn't had a lot of time to miss baseball.
Martinez works out daily and stays in good shape physically, and he keeps his mind occupied with the business he and Holli own.
Caribbean Embroidery is a 10-year-old business in Redmond that handles embroidery services on hats, shirts and other clothing for corporate, retail and wholesale customers.
"At the beginning of the company I wasn't involved that much," Martinez said. "But this winter I've been going there at least every other day."
He spends much of his time talking with customers and solving problems, a regimen that invigorates him.
"I want to make sure we give them the right service and help them succeed," he said. "It is a new experience for me and it's challenging. It's something I feel has been motivating for me.
"It's not quite like baseball. Baseball was a big challenge and there was a lot of adrenaline in baseball, which is hard to replace."
Martinez said he hasn't talked much with his former teammates and he's not sure if he'll visit the Mariners at spring training. If he does, he's not sure how it will feel.
"I'll probably feel like, 'Hey, I want to be playing still,' " he said.
He got that feeling for the first time in October when he went to the World Series to receive the Roberto Clemente Award for community service.
"I saw the guys getting ready for the game there and I remember feeling like I wanted to be on the field," Martinez said. "I guess it's part of the process you go through."
That won't be anything like the feelings Martinez will have when opening day arrives and he won't be a part of it.
"It's going to be more difficult when the season starts," he said. "I know it's going to be on my mind a lot."
Local journalism is essential.
Give directly to The Spokesman-Review's Northwest Passages community forums series -- which helps to offset the costs of several reporter and editor positions at the newspaper -- by using the easy options below. Gifts processed in this system are not tax deductible, but are predominately used to help meet the local financial requirements needed to receive national matching-grant funds.
Subscribe to the sports newsletter
Get the day's top sports headlines and breaking news delivered to your inbox by subscribing here.
---