News > Spokane
New bridge for pedestrians will link trails
Mon., Feb. 21, 2005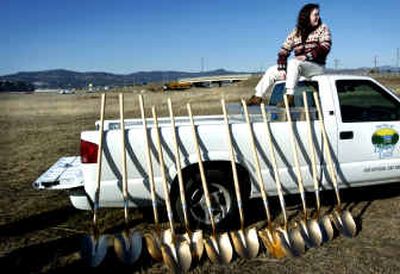 Funding was the toughest bridge to cross when it came time to connect Liberty Lake's trail system on the south side of Interstate 90 with the Centennial Trail on the north.
So says Thomas Specht, who has been working on finding money for a pedestrian bridge over the freeway for about a decade.
"The Centennial Trail is a beautiful trail. The trouble is that so many of the residential areas are on the other side of the freeway," said Specht, chairman of the Liberty Lake Transportation Benefit District.
Now, if everything goes as planned, pedestrians and bicyclists will be able to use a new bridge next to the Harvard Road traffic bridge over the freeway by the Fourth of July, he said.
The $1.5 million project is being financed by state, Liberty Lake and transportation district funds.
Liberty Lake residents voted several years ago to tax themselves to form the district and pay for their trails.
"For the average house, it's about the price of a pizza dinner," Specht said.
The bridge won't be your standard concrete and wire cage.
Plans include artwork such as trees representing the four seasons.
Liberty Lake City Administrator Lewis Griffin predicts the new link will attract more than just Liberty Lake residents, bringing others into the city.
"For people using the Centennial Trail, it gives them a good chance to get off and go to Starbucks or do whatever they have to do," Griffin said.
Interstate 90 drivers might experience slowdowns Tuesday and Wednesday for work on the pedestrian bridge.
Weather permitting, crews are scheduled to put in barriers and re-stripe the area around the Harvard Road bridge.
That will require traffic to be reduced to one lane temporarily.
Fair warning
The Spokane Police Department's traffic unit will be cracking down this week on naughty motorists at Division Street and Third Avenue.
In particular, police will be looking for people who aren't wearing seat belts and who run red lights.
Police also warn drivers to look out for pedestrians, who have the right of way in marked and unmarked crosswalks.
Police Sgt. Rick Dobrow points out in his weekly news release that it is illegal to pass a vehicle that has yielded for a pedestrian.
"Getting There" would like to take that a step further. I often witness drivers speeding around other motorists stopped in the middle of the road, simply because they can't see why the other drivers have stopped. Maybe it would be wiser to consider that there is a reason the other drivers have stopped and that you should stop, too, so you don't hit the person, dog, squirrel or whatever is in the road ahead.
The kind of downer we like
Fewer people are dying on Washington's roads and highways.
Although about 560 people died in Washington traffic accidents last year, it was the first year since 1961 when that number dropped below 600.
Gov. Christine Gregoire credited the state's "Click It or Ticket" seat-belt campaign and aggressive enforcement of drunken-driving laws.
A sobering statistic, however, is an increase in the number of motorcycle deaths – 72 last year, up from 59 in 2003.
West Plains skyscraper
You know that extra 8 percent tax you pay on airline tickets?
Well, you'll soon be able to see your money at work.
A whole host of bigwigs is scheduled to be in town today to break ground for Spokane International Airport's new air-traffic-control tower.
The almost $14 million project is to be completed in 2006 and be in full use by 2007.
The tower will be the skyscraper of the West Plains – more than 200 feet tall, compared with the 75-foot-tall tower the airport has now.
Slow going
It's that time of year again – road-work season.
Work on the Interstate 90 widening project between Argonne and Sullivan roads will begin with some barrier installation Saturday on the eastbound side.
Expect eastbound traffic to be reduced to one lane.
Then next Monday, crews will be setting up some more barriers on the same side.
There won't be any westbound impacts for a couple of weeks, said Washington state Department of Transportation spokesman Al Gilson.
But later in March, expect some changes at the westbound interchange at Evergreen Road.
"We're back in business," Gilson said.
Local journalism is essential.
Give directly to The Spokesman-Review's Northwest Passages community forums series -- which helps to offset the costs of several reporter and editor positions at the newspaper -- by using the easy options below. Gifts processed in this system are not tax deductible, but are predominately used to help meet the local financial requirements needed to receive national matching-grant funds.
Subscribe now to get breaking news alerts in your email inbox
Get breaking news delivered to your inbox as it happens.
---