Sports
Seventh-place Stewart controls frustration
Mon., Feb. 21, 2005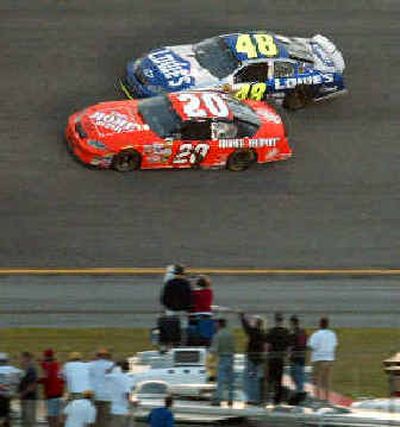 DAYTONA BEACH, Fla. – Tony Stewart had every opportunity to lose his terrible temper after getting pushed up, down and out of his first Daytona 500 victory.
When it was over, a rival crew chief tried to pick a fight with him.
For once, Stewart walked away – sort of.
Although he gave Jimmie Johnson a retaliatory bump on the cool-down lap Sunday as payback for three furious laps of blocking, Stewart resisted the temptation to explode when Johnson's crew chief baited the shortest fuse in NASCAR to blow.
After a brief meeting in NASCAR's office, Stewart and Johnson emerged from the makeup session together and insisted everything was fine.
"You know, Jimmie and I are really, really good friends and this isn't something that's going to linger," Stewart said. "It's over with."
A kinder, gentler Stewart.
Who would have thought?
Especially after coming up short yet again in NASCAR's biggest event.
Stewart was the driver to beat, leading a race-high 107 laps. But he lost his chance for victory when he was shuffled out of the lead with four laps to go.
When the race went to overtime and Stewart had a chance to salvage a respectable finish, Johnson began to block him all over the banking at Daytona International Speedway.
He ended up seventh but still managed an uncharacteristic smile when he climbed out of the car.
"At least we had a car good enough to lead laps," Stewart said immediately after the race. "I was so, so stoked about this car. It was awesome and we just came up short."
But the happy version of Stewart disappeared seconds later when Johnson's crew chief stormed over to complain about Stewart's retaliatory bumping of Johnson after the race.
"What did you do to our car? What's your problem?" Chad Knaus screamed just inches away from Stewart's face.
"Talk to your driver, Chad. He knocked me all over the track," Stewart replied.
The barking continued as Stewart tried to walk on, Knaus trailing him and stopping Stewart's efforts to end the confrontation.
Make no mistake, Stewart was furious and his familiar scowl was back.
But unlike the time he punched a photographer, or shoved a fellow competitor, or knocked away a reporter's tape recorder, Stewart kept on walking.
"I think it's a big disappointment for all of us and we're proud of him," said car owner Joe Gibbs. "He had a great car and a great effort. That was for all the marbles, a lot of money and a lot of pride. It hurts to come up short."
Stewart and Johnson were both called to talk to NASCAR shortly after. Stewart stomped his way over to the truck while Johnson sailed in with a smile.
When they came out, they were side-by-side and ready to move on.
"We were racing on the last lap of the Daytona 500 and I was mad he pinched me" into Scott Riggs, Stewart said. "We both bumped into each other. We both did the same thing to each other.
"We both had good weeks. We're both leaving here in a good situation."
Still, there's no denying Stewart had to be bitterly disappointed.
Just like all his failed opportunities to win at Indianapolis Motor Speedway, Daytona is another place that has tormented him.
He had the best car in 2002 and dominated Speed Weeks, then blew his motor two laps in and finished last. He was strong again last season, only to come up short while pushing Dale Earnhardt Jr. to the win.
And he headed into Sunday's race as one of the favorites after winning a qualifying race last week and Saturday's Busch Series event.
With 10 laps to go, it looked like this one was his. Then late cautions and restarts ruined everything as Earnhardt and race winner Jeff Gordon blew past him.
"Tony fought his guts out," Gibbs said. "I hate it that we got shuffled back like that. It's always tough for any of us and Tony in particular. To be in the lead all day and then get beat in the end, it's a tough deal."
Local journalism is essential.
Give directly to The Spokesman-Review's Northwest Passages community forums series -- which helps to offset the costs of several reporter and editor positions at the newspaper -- by using the easy options below. Gifts processed in this system are not tax deductible, but are predominately used to help meet the local financial requirements needed to receive national matching-grant funds.
Subscribe to the sports newsletter
Get the day's top sports headlines and breaking news delivered to your inbox by subscribing here.
---