News > Business
The rewards are heartening
Mon., Feb. 21, 2005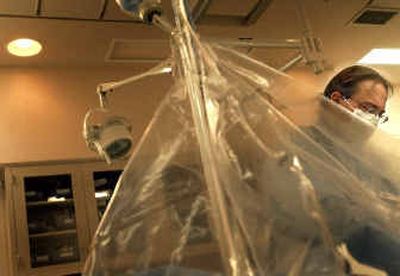 Every day, Darren Powell teaches students how to thwart a leading killer of Americans.
It's not work for the squeamish or the nervous. But the rewards – both personal and financial – are high for cardiovascular technologists.
By helping diagnose what's wrong with people suffering chest pain — often the run-up to heart attack — cardiovascular techs are increasingly important players in health care, says Powell, program director at Spokane Community College.
Studying the human heart has been a 30-year focus at the Spokane school, one of 26 accredited programs in the country.
Cardiovascular techs are usually employed at hospitals and special heart clinics, where they work closely with doctors to insert catheters into the femoral arteries of heart patients. They use the special tubes to deliver images of the arteries and insert specially designed stents to prop open trouble spots, where thick plaque deposits can block the blood highways.
The financial reward is generous. After a tough two-year program with plenty of math and science — students must maintain scores of at least 78 percent — graduates can take solace that there are more jobs available than graduates to fill them. The shortage has helped drive starting wages to at least $18 an hour and often times much more than that.
The downside: Like nursing, local job prospects for cardiovascular technologists are lean.
"We have just saturated the local market," says Powell. "For local patients, that's good news. Our hospitals have picked the cream of the crop."
Tim Ugaldea, the cardiology manager at Sacred Heart Medical Center, says he has about 13 cardiovascular techs on the payroll. A former graduate of the SCC program, he says students are well-trained and can competently step into jobs — a reason the program can achieve a 100 percent placement record.
The shortage of cardiovascular techs is so acute in the Puget Sound area that students there may take Powell's program through video link.
In all, he says, many graduates are able to find jobs in the Pacific Northwest with this caveat: the work of cardiovascular techs is specialized to the point where employment can be found only in larger communities.
But students have a keen understanding of the job market before they start their studies, he says.
Every fall, 34 students are enrolled in the program. The demand can force prospective students onto a two-year waiting list.
After a few quarters, they are split into two groups – noninvasive and invasive.
It's the invasive students who handle catheter work. Noninvasive cardiovascular techs operate machines and focus on diagnosis.
Matt Moore is one student in the invasive group. The 30-year-old spent time in the U.S. Navy, worked construction and decided he had enough.
"I knew I didn't want to break my back for a living," he says, "and I wanted something challenging that pays well and helps people. That's how I got here."
He now looks forward to earning an associate's degree and taking advantage of a bright employment outlook.
Jody Franklin, 20, arrived at SCC from her home in Kent. She heard about the program and the job opportunities, put it together and will be ready to enter the working world as a young adult.
Despite the waiting list, getting into the program isn't the hard part. Acceptance is not competitive, meaning that students can add their names to the list regardless of whether they are straight-A pupils fresh out of high school or haven't opened a textbook in 30 years.
Powell says several former employees of Kaiser Aluminum Corp. used retraining dollars to learn the skill and found work.
He defends the acceptance policy because health care jobs require multiple skills, not just book smarts.
Justin Moon, 23, earned a bachelor's degree in exercise sports science from Oregon State University and learned during an internship program that he would rather do something else.
He moved to Spokane, enrolled in the cardiovascular tech program and thinks he found the right fit.
Even with good wages and ample job opportunities, Powell says the real reward is helping people.
"All that financial stuff aside," Powell says, "the best feeling is seeing the face of a family member when we bring a loved one back from a crisis."
Local journalism is essential.
Give directly to The Spokesman-Review's Northwest Passages community forums series -- which helps to offset the costs of several reporter and editor positions at the newspaper -- by using the easy options below. Gifts processed in this system are not tax deductible, but are predominately used to help meet the local financial requirements needed to receive national matching-grant funds.
Subscribe now to get breaking news alerts in your email inbox
Get breaking news delivered to your inbox as it happens.
---