Sports
Thrill of victory eases some of Hendrick's pain
Mon., Feb. 21, 2005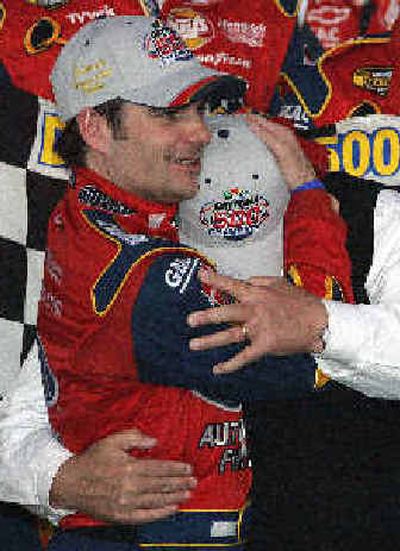 DAYTONA BEACH, Fla. – You could walk the length of this oval two times and be hard pressed to find anyone connected to the sport who wouldn't call this one fitting.
Yet even if team owner Rick Hendrick wins another five Daytona 500s every bit as exhilarating as the one that Jeff Gordon brought back to the garage Sunday, it wouldn't erase the hurt of a plane crash last fall that killed his son, Ricky, his only brother, John, and eight others who were part of the Hendrick family, or close enough to feel like kin.
But in a sport where tragedy always casts a lingering shadow, a sliver of late-afternoon light bathed Victory Lane in a warm glow and let Hendrick feel joy again for a few moments – even if he can't ever forget.
"There was a lot of fire in our hearts. Every race we come to now, I think about all those people," Hendrick said. "And this is the Super Bowl of racing, so coming down here, you always want to do well. You want to start the year off well.
"We feel like it's a way to honor those that we lost and we love and we miss. And so," he added, "sure, it's a great win."
Sitting to Hendrick's left, Gordon struggled for something to add. Hendrick knew the 33-year-old driver once labeled "Wonder Boy" was something special after watching Gordon turn a couple of laps at a Busch race at Atlanta nearly 15 years ago. They have been almost as close as father and son since.
"You know they're looking down smiling," Gordon said finally. "It doesn't get any better than that."
Long before Gordon won here for the third time and delivered the fifth title for Hendrick's operation, the boss was known as the nicest guy in the business. That never kept Hendrick from also being one of the best. It's been 19 years since he won his first Daytona 500 with Geoff Bodine behind the wheel, but it remains every bit as vivid as this latest one.
"The picture that I probably treasure with Ricky more than any other … was when he was on my shoulders here back when Geoff won," Hendrick recalled.
That was the start of the kid's apprenticeship. Ricky was never interested in the first empire that Rick built, turning a single car dealership into one of the nation's largest retail chains. The plan was always for Ricky to take over more and more of the show, so the old man could go down to the Florida Keys more often and do some fishing. Toward that end, the two of them oversaw the building of a state-of-the-art facility atop a hill in Charlotte, N.C., their side-by-side offices overlooking the rest of Hendrick Motorsports complex.
Everything was on course when the plane went down in October, en route to Martinsville, Va., to join the rest of the team for a race. After that, Rick thought about quitting. Slowly, he summoned the strength to get back to work, leaving the office alongside his empty to remind him of the dream they both planned to fulfill.
His team rededicated itself even faster. Jimmie Johnson pulled into the winner's circle in Hampton, Ga., the very next week, the pictures of his 10 lost friends splashed across the hood of the car. He and Gordon roared through the rest of the season as though on a mission, finishing second and third, respectively, to Kurt Busch in the closest-ever race for the NASCAR season title. Then came the start of this one.
"I'm happy for Rick. It's a great win," owner Jack Roush, who claimed second at Daytona with Busch and is Hendrick's toughest rival in NASCAR, said on his way back to the garage.
"Partly because of the tough things he's been through. But he deserved it, too, because he had the best car and a great strategy – the same things he always does."
Even with a fast car at his command, and the patience and experience to know when to pounce, it still took some steely nerves for Gordon to get past Dale Earnhardt Jr., who was leading until the end and wound up finishing third. Great as his disappointment must have been, even Earnhardt felt good about seeing the "W" wind up in Hendrick's column. After losing his father in a last-lap crash at the Daytona 500 just four years ago, Junior understands how tough it can be to get back to the racetrack.
"I don't know if you could be human," Earnhardt said, "and not feel something for Rick."
Local journalism is essential.
Give directly to The Spokesman-Review's Northwest Passages community forums series -- which helps to offset the costs of several reporter and editor positions at the newspaper -- by using the easy options below. Gifts processed in this system are not tax deductible, but are predominately used to help meet the local financial requirements needed to receive national matching-grant funds.
Subscribe to the sports newsletter
Get the day's top sports headlines and breaking news delivered to your inbox by subscribing here.
---