Boeing sells Wichita plant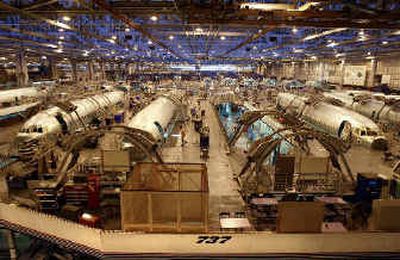 WICHITA, Kan. — Boeing Co. on Tuesday sold its commercial aircraft plants in Kansas and Oklahoma to a Toronto-based investment group, part of the company's strategy to focus on design and final assembly.
Onex Corp. bought Boeing's commercial aircraft facility in Wichita, along with plants in Tulsa and McAlester, Okla., for $900 million cash and the assumption of $300 million in liabilities. The Chicago-based aerospace giant has been trying to sell the plants for more than a year.
Separately, Boeing announced the sale of its Rocketdyne rocket engine subsidiary to United Technologies Corp., parent of jet-engine maker Pratt & Whitney, for about $700 million cash. Rocketdyne, based in Canoga Park, Calif., has sites and assets in California, Alabama, Mississippi and Florida and 3,000 employees.
"Starting from a great foundation, our objective is to build the most efficient and innovative company in the aerostructures industry," Seth Mersky, a managing director of Onex, said in a statement. "There have been terrible job losses at these plants over the last several years. We confidently believe that can be reversed."
The deal includes long-term agreements for Onex to provide Boeing with parts — including fuselage sections and wing elements — on four of Boeing's existing planes and the new 787 Dreamliner, the company's next-generation commercial jet.
Boeing is Kansas' largest private employer; about 7,200 people work at the Wichita commercial plant, along with as many as 1,300 at the two smaller facilities in Oklahoma. Boeing's defense operations in Wichita, which employ about 5,000 workers, are not involved in the sale.
The deal includes long-term agreements for Onex to provide Boeing with parts — including fuselage sections and wing elements — on four of Boeing's existing planes and the 787. Mersky said Onex plans to invest $1 billion in Kansas and Oklahoma in the next few years.
Shares of Boeing fell 63 cents to close at $52.15 Tuesday on the New York Stock Exchange. The sale was announced after the markets closed.
The companies expect to close the deal, which is subject to federal regulatory approval, in the second quarter of 2005. Onex plans to form a new company to run the plants, which will be led by Jeff Turner, who is currently the vice president and general manager of Boeing's operations in Wichita and Oklahoma.
The Wichita commercial plant houses Boeing's largest remaining segment of aircraft-component manufacturing, producing parts for all of the company's commercial jetliners except the 717, which is ending production next year.
"This agreement fully supports our strategy to focus Boeing on large-scale systems integration, which is where we are most competitive and can add the most value to our airplanes and services," said Boeing commercial airplanes chief Alan Mulally.
Harry Stonecipher, Boeing's chief executive, told analysts earlier this month he had no indications a sale would mean a decline in employment levels in Wichita. More than 15,000 aviation workers in Wichita lost their jobs in an industry downturn that accelerated after the 2001 terrorist attacks.
Onex, one of Canada's largest companies, has global operations in service, manufacturing and technology industries.
Among its recent acquisitions, the conglomerate last week completed the purchases of two large U.S. health care firms for about $1 billion: American Medical Response Inc. and EmCare Holdings Inc., which between them have more than 22,000 employees.
Onex specializes in buying distressed companies it believes can be turned around.
---