A&E > Entertainment
Collective Soul goes indie at the Big Easy
Fri., Feb. 25, 2005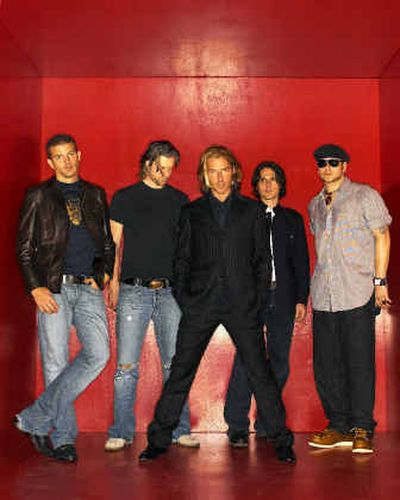 Collective Soul rode the mid-'90s post-grunge wave from indie status to major-label rock stardom alongside bands such as Live and Better Than Ezra.
After the initial rush, the group kept its head above water by pumping out numerous adult- alternative rock radio hits.
Now, more than a decade after "Hints, Allegations and Things Left Unsaid" launched the group into the stratosphere, Ed and Dean Roland's band, which will rock the Big Easy Concert House today at 7 p.m., is consciously heading underground – in a DIY sense of the word – by self-releasing albums on its own label, El Music Group.
The band went on a four-year hiatus shortly after 2000's "Blender," during which time greatest hits album "7even Year Itch" was released on Atlantic Records, and the decision was made to start a new label.
"We've got a great team surrounding us," singer Ed Roland said about the label on the group's Web site. "So it's like truly building your own house with the material that you so choose.
"Our ideas are listened to for a change, which doesn't mean they're acted upon, but they're listened to."
Apparently no one at Atlantic noticed Collective Soul landed 19 tracks on the Billboard charts during its time with the company.
Freedom brought small sonic changes. The group's latest album, "Youth," adds inklings of influence from The Cars' guitar-driven power-pop and Coldplay's modern balladry to its sound.
But fans of the band's classic harder-rocking tracks such as "Gel" and "Precious Declaration" still will find a familiar friend in the new Collective Soul, as will lovers of "Shine" and "The World I Know."
The group acquired a new member during the break, with Joel Kosche replacing Ross Childress as lead guitarist. Otherwise the group is still undeniably Collective Soul – Dean Roland on guitar, Ed Roland on vocals, guitars and keyboards, Will Turpin on bass and Shane Evans on drums.
Entering the independent music world is easier for a band with two multi-platinum albums and numerous other gold and platinum albums in its repertoire.
For example, the group rocked "The Tonight Show with Jay Leno" on Monday night.
So it's not as if Collective Soul is indie in the same way your cousin's self-pressing DIY band is indie.
But while many bands pass their primes and spend the twilight of their careers playing major label games and trying to figure out how to be huge again, Collective Soul is taking the yoke and flying solo. And that has to count for something.
Local journalism is essential.
Give directly to The Spokesman-Review's Northwest Passages community forums series -- which helps to offset the costs of several reporter and editor positions at the newspaper -- by using the easy options below. Gifts processed in this system are not tax deductible, but are predominately used to help meet the local financial requirements needed to receive national matching-grant funds.
Subscribe to the Spokane7 email newsletter
Get the day's top entertainment headlines delivered to your inbox every morning.
---