News > Idaho
Lake City HS staging 'Seussical the Musical'
Sat., Feb. 26, 2005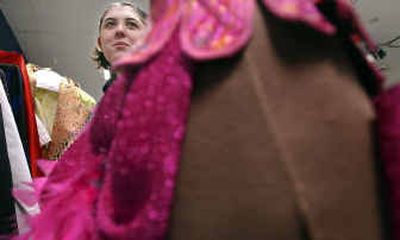 "Seussical the Musical," performed by The Lake City High School theater group, Troupe de Wolf, opens next weekend at the high school. The production is based on 14 stories by Dr. Seuss, and was written for Broadway by Linda Aherns and Steven Flaherty. For the fifth year in a row, New York actor/director Blair Bybee is directing and choreographing the LCHS show. "Blair inspires the kids to be the best they can be," said Sandy Seaton, LCHS theater instructor. "He's worth every penny. The kids come to an understanding of what it means to work in a professional company because he demands that of them."
Proceeds from the ticket sales pay for Bybee's expenses.
Seaton earned her master's degree in the craft at Central Washington University. Bybee was her instructor in musical theater and choreography.
Seaton said that Bybee teaches the kids to move beautifully on the stage. There are many choreographed numbers in "Seussical the Musical," which is in its first year of off-Broadway production.
Seaton's husband, Terry, a musician, did most of the vocal training for the cast, along with parent Brett Sommer, who Seaton describes as a "master musician." The Seatons' daughter, Kit, who studied costume design at North Carolina School of the Arts, has created some eye-popping designs for the show.
Junior Ian McNeely has been cast as the Cat in the Hat, who opens the show. Seaton said McNeely should be familiar to audiences, as he has been in theater both in Coeur d'Alene and Spokane since childhood. Junior Jeff Mollgaard will play Horton, another central character, and junior Jorge Paniaqua has been cast as the Grinch. Paniaqua and another actor, freshman Derek Haller, are both on the football team. Senior Nadine Carr has been cast as Mayzie LaBird, and sophomore Emily Cleveland is Gertrude McFuzz. Freshman Lizzy French plays pivotal character Jojo.
There are 24 cast members. Thirty-two girls auditioned for the 12 females roles, and 16 boys tried out for the male roles.
"The boys were less prepared and the girls worked so hard," Seaton said. "Their auditions were so tough. Any guy with any brains does theater; it's where the girls are!"
Bybee was born and raised in Pocatello, Idaho, heading off to New York about age 17 to live and work. He has been doing theater since in New York and all over the country. Currently he is running the Grand Street Theater in Helena, maintaining residence in both New York City and Helena.
Bybee came to Coeur d'Alene for one day in December for auditions, returning this month to work on the play. Cast members knew their lines by the time he returned, so they could practice in earnest. It takes 60 to 80 hours to mount a show, Bybe said, and the cast has been working about six hours a day.
"I come in and we start staging," he said. "I work them pretty hard."
Bybee said that he tells the kids that they have to understand that the production is an extracurricular activity, and that their school work comes first. The students are learning to sing, dance and act, "pushing the boundaries immensely." He said this is a really, really strong cast.
Bybee said he devotes so much time to LCHS productions because, when he was a student, his high school was lucky enough to have a guest artist from New York visit and teach. He values students, and said that although there may be fewer theater opportunities in Idaho, the talent is still here.
He added that he and Seaton are enough of one mind to be good collaborators. The resources are not as grand in high school theater, but Seaton said that just means they have to be more creative. And a product that comes out of being more creative is superior.
THS Students of the Month
Timberlake High School has announced Students of the Month for January.
Freshman Riley Morton is on the honor roll, and on the football, basketball and track teams. He enjoys snowboarding, hunting and paintball.
Sophomore Jenneal Mathews enjoys snowboarding, horseback riding and paintball.
Junior David Kobaly writes fiction stories, and enjoys painting and art. He has studied piano for eight years.
Senior Aislinn Carney is a member of the band, pep-band, jazz band and the golf team. She is also a member of the Coeur d'Alene Youth Orchestra and the National Honor Society. She was chosen as the Kootenai Rotary student of the month as well as the Elks Association student of the month.
Local journalism is essential.
Give directly to The Spokesman-Review's Northwest Passages community forums series -- which helps to offset the costs of several reporter and editor positions at the newspaper -- by using the easy options below. Gifts processed in this system are not tax deductible, but are predominately used to help meet the local financial requirements needed to receive national matching-grant funds.
Subscribe now to get breaking news alerts in your email inbox
Get breaking news delivered to your inbox as it happens.
---