News > Nation/World
Children's art depicts horror of tsunami
Sun., Feb. 27, 2005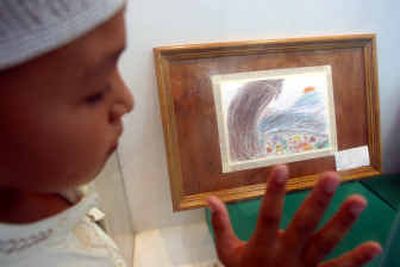 BANDA ACEH, Indonesia – One painting shows a surging blue wave that's about to crash into two houses. Another shows little stick figures attempting to escape a wall of brown, debris-filled water.
These are the eyewitness accounts from children who survived the devastating Dec. 26 tsunami that destroyed their homes and killed their families.
"This is my drawing of the overturned houses and people running for the mountain," said 12-year-old Faisal, whose painting is one of 300 that went on display in the provincial capital of Banda Aceh on Thursday.
"I ran for the hills," said the youngster, who lost his parents and five siblings in the disaster.
The exhibit will run for a week and is expected to go on tour next month in the United States and Europe as part of an effort to maintain support for the rebuilding of Aceh and other areas across the Indian Ocean basin.
The paintings portray a horrific day in which churning water, overturned cars and destroyed homes filled the children's visions. The people in most paintings are either running away from the killer waves or seeking refuge on rooftops or in coconut trees.
One, by 10-year-old Muazzih, showed a helicopter swooping low over hills to rescue him.
"This is my helicopter," he muttered, nervously clasping his hands as he spoke of the tsunami that killed his two sisters and brother on Pulau Aceh, an island off the coast of Banda Aceh.
Local journalism is essential.
Give directly to The Spokesman-Review's Northwest Passages community forums series -- which helps to offset the costs of several reporter and editor positions at the newspaper -- by using the easy options below. Gifts processed in this system are not tax deductible, but are predominately used to help meet the local financial requirements needed to receive national matching-grant funds.
Subscribe now to get breaking news alerts in your email inbox
Get breaking news delivered to your inbox as it happens.
---