Sports
Kentucky king of SEC
Sun., Feb. 27, 2005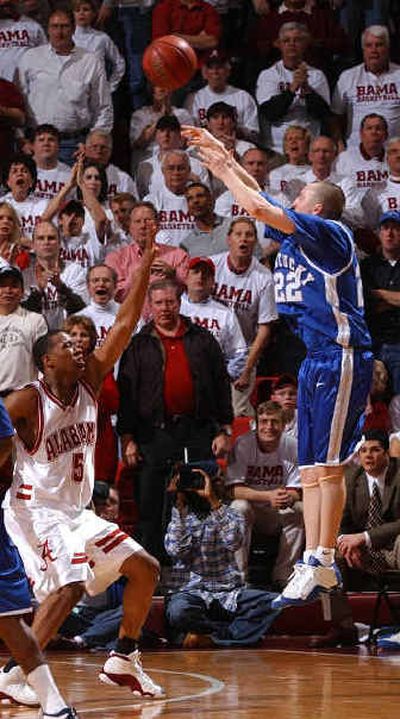 Patrick Sparks hit 5 of 7 3-pointers in the second half and scored a season-high 26 points, lifting No. 5 Kentucky to a 78-71 comeback victory over 16th-ranked Alabama on Saturday in Tuscaloosa, Ala., to clinch the Wildcats' 43rd Southeastern Conference title.
Led by Sparks, Kentucky (22-3, 13-1) turned a 14-point deficit late in the first half into an eight-point cushion. Then the Wildcats held off a late charge by going 8 for 10 from the free-throw line down the stretch, handing the Crimson Tide (21-6, 10-4) their first home loss of the season.
Kentucky made 13 of 19 3-pointers, including Sparks' 5-of-6 performance in the second half.
After Alabama came within three points on Ronald Steele's jumper with just less than a minute left, Sparks sealed the victory. He collected a rebound and hit three free throws in the final 34 seconds to wrap up the conference crown.
(3) Boston College 70, Seton Hall 58: Jared Dudley had 19 points and seven rebounds to help the Eagles (23-2, 12-2) close in on the Big East regular-season title with a victory over the Pirates (11-14, 3-11) in Boston.
Kelly Whitney, who missed the previous game with a suspension, had 10 points and 10 rebounds for Seton Hall. John Allen had 13 points and nine rebounds for the Pirates, who lost for the fourth consecutive game and the seventh time in their last eight. They are 0-7 against ranked teams.
(7) Duke 58, St. John's 47: Lee Melchionni had 14 of his 16 points in the first half to lead the Blue Devils (21-4) to a non-conference win over the Red Storm (9-16) in New York.
Duke's big three of J.J. Redick, Shelden Williams and Daniel Ewing scored a total of four points on 0-for-12 shooting in the first half. They supplied almost all of Duke's offense in the second half, combining for all but four of the Blue Devils' points.
(11) Louisville 53, Memphis 44: Taquan Dean scored 14 points and Francisco Garcia added 12 to lead the Cardinals (24-4, 12-2 Conference USA) to a victory over the Tigers (16-12, 9-5) in Memphis, Tenn.
Louisville used a 12-0 run midway through the second half to take the lead. Although the Tigers tied the game once, they never overcame the Cardinals as Juan Palacios scored six straight points and had a block down the stretch.
(13) Utah 69, Brigham Young 60: Andrew Bogut had 26 points and 13 rebounds and Marc Jackson finished with a career-high 11 assists, helping the Utes (24-4, 12-1 Mountain West) beat the Cougars (9-19, 3-10) in Salt Lake City.
Justin Hawkins added 21 points for the Utes. He made his first 3-pointer of the season to start a 10-point run that put Utah ahead by 12 points midway through the second half.
(15) Syracuse 91, Providence 66: Hakim Warrick scored a career-high 36 points in his final home game and Jim Boeheim got his 700th victory as the Orange (24-5, 11-4 Big East) overwhelmed the Friars (12-16, 2-12) in Syracuse, N.Y.
Boeheim, in his 29th year at Syracuse, is the sixth active coach to reach 700 wins and the 18th overall. Afterward, he saluted the Carrier Dome crowd of 32,804 from center court and held up a team jersey with "Boeheim 700" emblazoned on the back.
(17) Connecticut 73, (18) Pittsburgh 64: Marcus Williams put the Huskies (19-6, 11-3) ahead to stay with a driving layup off the glass with 3 1/2 minutes remaining in a win over the skidding Panthers (18-7, 8-6) in Pittsburgh.
Despite Chevon Troutman's 22 points and 12 rebounds in his final regular-season home game, Pitt lost its third straight game.
(21) Charlotte 81, Southern Miss 58: Curtis Withers scored 25 points and grabbed 11 rebounds as the 49ers (21-4, 12-2 Conference USA) closed their home schedule with their seventh straight win, topping the Golden Eagles (10-17, 1-14).
In his final game at Halton Arena, Charlotte senior forward Eddie Basden had 17 points, eight rebounds, four assists and six steals.
(22) Oklahoma 103, Baylor 60: Taj Gray scored 16 points, Jaison Williams had 15 points and 10 assists and the Sooners (21-6, 10-4 Big 12) shot a school-record 66 percent in a win over the Bears (9-16, 1-13) in Norman, Okla.
The Sooners extended a 16-point halftime lead by hitting their first seven shots of the second half en route to a 26-3 run.
(24) Cincinnati 89, Texas Christian 74: Jihad Muhammad had 21 points and the Bearcats (21-6, 10-4 CUSA) overcame 22 turnovers by shooting a season-best 61 percent in a win over the Horned Frogs (17-11, 7-7) in Fort Worth, Texas.
Cincinnati took the lead for good by ending the first half with a 12-3 run.
(25) Nevada 76, Fresno State 63: At Fresno, Calif., Nick Fazekas scored 28 points and Mo Charlo keyed a big second-half run that helped the Wolf Pack (22-5, 13-2 Western Athletic Conference) hold off the Bulldogs (14-12, 8-8) for their eighth straight victory.
Nevada, ranked in the Associated Press poll for the first time, clinched at least share of the regular-season title.
Vermont tabs Terrapins' assistant
Mike Lonergan, an assistant coach at the University of Maryland, has been named head coach of men's basketball at the University of Vermont.
Lonergan, 39, also spent three years as an assistant coach at Colgate. He succeeds Tom Brennan, who is retiring after 19 seasons at Vermont.
Local journalism is essential.
Give directly to The Spokesman-Review's Northwest Passages community forums series -- which helps to offset the costs of several reporter and editor positions at the newspaper -- by using the easy options below. Gifts processed in this system are not tax deductible, but are predominately used to help meet the local financial requirements needed to receive national matching-grant funds.
Subscribe to the sports newsletter
Get the day's top sports headlines and breaking news delivered to your inbox by subscribing here.
---