News > Idaho
KMC enjoys a healthy business
Sun., Feb. 27, 2005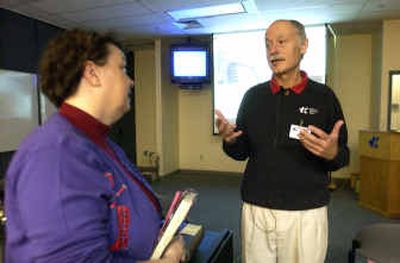 Hospitals across the nation are closing programs and laying off staff in a constant struggle to pay bills. Deaconess Medical Center in Spokane just eliminated 56 jobs as it ended three children's care services. Sacred Heart Medical Center laid off 162 employees last summer and is offering early retirement and separation incentives to employees now to downsize more.
But Kootenai Medical Center in Coeur d'Alene is expanding, basking in the glow of staff approval and working with a budget in the black for the 20th consecutive year. What is KMC's secret? State and national health officials and veteran KMC workers say it's community growth and sound leadership in chief executive officer Joe Morris.
"I think it's one of the best-run hospitals in the state and the nation," says Steve Millard, Idaho Hospital Association executive director. "Joe Morris is an exceptional CEO. He's committed to do the right things for the people in his market area, and he knows how to do it."
KMC is Idaho's fourth-largest hospital with 246 beds, but it has the state's busiest emergency room with 47,000 visits last year. Just 10 percent of its employees leave each year. Most KMC employees stay on the job an average of 11½ years. Morris is the job longevity poster boy. He began at KMC in 1974 and took over as CEO in 1981.
"The average longevity of a CEO is just over five years," says Rick Wade, senior vice president of the American Hospital Association in Washington, D.C. "That's a fairly recent phenomenon of the last 10 years with mergers and consolidations, terrible financial times."
Ten percent of KMC's full-time employees have worked at the hospital more than 15 years, says Betsy Hawkins, KMC's human resources director. The hospital employs 1,600 people. Nursing shortages plague so many hospitals now, but nurses are standing in line for jobs at KMC.
"We have 60 qualified applicants for every nursing opening," Hawkins says. "We've never felt a nursing shortage. We rarely even hire out of the area for most positions."
Financial stability most likely plays a role in staff retention. Morris says KMC's budget has dipped into the red only once during his leadership, in 1985. KMC's $25 million expansion, the Bunker Hill Mine closure in Kellogg that drove people – patients – from the area and a change in Medicare reimbursements teamed up to leave the hospital in debt.
"We had to get lean and grow services," Morris says. "So we added a cancer center and didn't spend any money."
That's when KMC started partnerships with developers, doctors and other hospitals. It teamed with private diagnostic and lab services that opened outside the hospital and replaced similar services at the hospital with new services, like psychiatry.
"I meet monthly with four of the largest hospitals in the state and with Spokane hospitals and we've been in a better financial position than all of them," says Tom Legel, KMC's chief financial officer.
He says the community's growth is a primary reason. Population grew and KMC added services for cancer, neurology, therapy, orthopedics and heart problems. Those services had been available only out of the area. North Idaho's use of Spokane's medical services dropped as KMC's increased.
"We have board members from all sizes of hospitals, and they all have aspirations to do the kinds of things Joe is doing," American Hospital Association's Wade says.
More services, a focus on technology, the hospital's good health and North Idaho's livable environment have enticed top doctors to settle in Coeur d'Alene, Legel says. The community supports KMC's changes with hundreds of thousands of dollars in donations. Hospital workers, for the most part, recognize a good work situation.
"It's fun to be able to come to work every day," says Legel, who marked his 20th year on staff this year. "In the near term, I don't see anything happening to us."
Plenty of employees reflect that confidence. Marcy Horner is the hospital's director of library services and grant development. She started the job 20 years ago.
"Joe's attitude is to find good people and let them do their jobs," Horner says. "If I see something I think I should pursue, I feel like I can go ahead and do it. I haven't needed to ask for permission or forgiveness because a sense of permission is there."
A recent employee survey shows Horner's job satisfaction is not unique. Eleven hundred workers participated in the survey conducted by Avatar International Inc., a national health care research organization. Avatar conducts surveys of 65,000 hospital employees across the nation and compares the results.
Ninety-four percent of surveyed KMC employees believe the hospital has a favorable community image compared to an average of 78 percent at other hospitals. Ninety-four percent also believe KMC's primary focus is on patients compared to 88 percent at other hospitals. And 80 percent of the surveyed KMC workers would pass up a slightly higher paying job somewhere else to stay at KMC, compared to 64 percent at other hospitals.
Morris isn't flawless and mistakes happen at KMC. He admits he tried "13 ways to overbuild" the new hospital 24 years ago. Morris has ended services that have cost a handful of people their jobs. Last year, he shut down KMC's financially struggling transitional care program. Two people ended up jobless. The rest were reassigned.
Such moves shouldn't surprise employees. Three times a year, Morris meets for 30 minutes with everyone on staff – 26 group meetings – to discuss KMC's financial health, patient volume, expenses and goals.
He periodically gives his managers books like "The Five Dysfunctions of a Team: A Leadership Fable" by Patrick M. Lencioni. He trusts them to hire people Morris says "fit" KMC's culture – with no bad attitudes and no big heads.
Don Soltman is KMC's vice president of ancillary and support services. He's worked with Morris for 22 years.
"He's a coach, mentor and also concerned," Soltman says. "We tell new employees at orientation, 'If you don't remember anything else, do the right thing for the right reason.' That's our operating principle here."
Worker satisfaction leads to greater patient comfort. George and Bev Resto, a Virginia couple whose son was a recent KMC patient, bought pizza for the entire staff of the oncology wing because they were so pleased with the care.
"I can't say enough good stuff about this hospital," Bev Resto said the day before she, George and their son flew home. "We'd gladly let him come back here anytime."
Local journalism is essential.
Give directly to The Spokesman-Review's Northwest Passages community forums series -- which helps to offset the costs of several reporter and editor positions at the newspaper -- by using the easy options below. Gifts processed in this system are not tax deductible, but are predominately used to help meet the local financial requirements needed to receive national matching-grant funds.
Subscribe now to get breaking news alerts in your email inbox
Get breaking news delivered to your inbox as it happens.
---